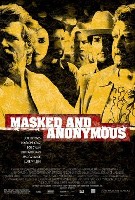 Overview
---
Genre
Drama, Musical
Release Date
July 25, 2003
MPAA Rating
PG-13
Duration
112 min.
Studio
Sony Pictures Classics
Official Site
click here

REVIEWS RATE: Critics Readers Be the 1st!
Cast and Crew
---
Director
Larry Charles
Producer
Jeff Rosenm, Nigel Sinclair
Screenwriter
Sergei Petrov, Rene Fontaine
Starring
Story
---
Set somewhere, sometime, in an America wracked by an endless and senseless civil war, MASKED AND ANONYMOUS is the story of a benefit concert and a musician named Jack Fate (Bob Dylan).
It is the story of Jack Fate's former manager, Uncle Sweetheart (John Goodman), a skimming, scamming, scheming cross between P.T. Barnum and Colonel Tom Parker in debt to mysterious creditors to a tune he can't pay; of Nina Veronica (Jessica Lange) a TV producer who has seen it all and risks everything either because she believes in Fate or because she doesn't believe in anything at all, and of Bobby Cupid (Luke Wilson), the devoted acolyte and ex-roadie, whose entire life has been defined by Jack Fate's music.
Bailed out of jail by Sweetheart to play one last concert, Fate journeys to the network soundstage where the performance will be broadcast. Along the way, he crosses paths with a woman from his past (Laura Elena Harring), a fellow wanderer (Cheech Marin) and a solitary soldier (Giovanni Ribisi), whose lives paint a picture for Jack of the world he is entering. His travels trigger reveries as well--of the dying President (Richard Sarafian), and his Mistress (Angela Bassett)--key players in Jack's personal history. He is drawn back to his own beginnings when he faces Edmund (Mickey Rourke), the next in line to assume the presidency, with the sycophantic Edgar (Steven Bauer) at his side.
When he arrives at the soundstage, he runs into an eclectic cast of characters, including a philosophical Animal Wrangler (Val Kilmer) and a charming song and dance man, Oscar Vogel (Ed Harris), who reminds him of his youth and a vanished past.
Fate is also confronted by veteran journalist Tom Friend (Jeff Bridges), assigned by his Editor (Bruce Dern) to cover the concert. A celebrated reporter who once believed he could make a difference, Tom is now spent and bitter. He has brought along his girlfriend, Pagan Lace (Penélope Cruz) who survives the uncertainty of a volatile world with self-created ritual and prayer and loves Tom more than he can ever love himself.
But mostly, it's about Fate.
Jack Fate: a cult musician--once a presence on the radar of popular culture--someone who had it all but didn't care. Twenty years ago, he refused to cooperate with the powers that were and parlay his early success into a career. Instead, he has lived the past few decades in relative obscurity, playing honky tonks and bars, in and out of the county lock-up, content to be a wandering minstrel.
Now, either his luck has changed or it's just run out.