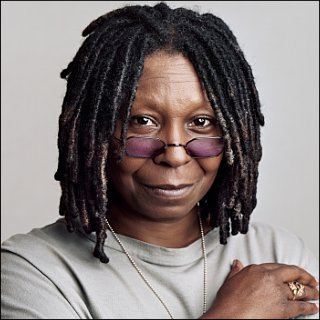 Profile
---
Famous as :
Actress

Birth Name :
Caryn Elaine Johnson

Birth Date :
November 13, 1955

Birth Place :
New York City, New York, USA

Claim to fame :
As Celie in "The Color Purple" (1985)


Had her own range of bedding called "G Beds - Bedding by Whoopi Goldberg" which was inspired by a giant dragon tattoo on her left shoulder.
Was dropped as the spokesperson of Slim Fast in 2004 due to her vulgar comments in public about U.S President George W. Bush during a Democratic fund-raiser at New York's Radio City Music Hall.
Was accompanied by Michael J. Fox to attend the 1986 Academy Awards in which she landed nomination for her role in "The Color Purple" (1985).
Was presented Kennedy Center Mark Twain Prize for Humor by 2001.
Was portrayed as the Genie from Disney's "Aladdin" in part one of a dream scene entitled "Where a Whole New World Awaits" in the "Disney Dream Portrait Series" ads, shot by photographer Annie Leibovitz, unveiled on January 24, 2008.
Was appointed a Goodwill Ambassador by UNICEF in 2003.
Was listed as one of Essence Magazine's Women of the Year in 1999.
Took over the role of Pseudolus from Nathan Lane in the 1997 Broadway revival of "A Funny Thing Happened on the Way to the Forum."
Has become the first woman to host the Academy Awards when she assumed the job in 1994.
Underwent training in singing under the guidance of Seth Riggs to prepare for her role in "Sister Act 2: Back in the Habit" (1993).
Was mentioned Female Star of the Year at the 1993 ShoWest Convention.
Has published two books entitled "Alice" (1992) and "Book" (1997).
Was one of the eulogists together with Nichelle Nichols and Patrick Stewart at the funeral of "Star Trek" creator, Gene Roddenberry, in 1991.
Took seat as one of the juries at the 1991 Cannes Film Festival.
Became the second African American actress to obtain an Oscar after Hattie McDaniel when she won it in 1991.
Acquired the lead role in "The Color Purple" (1985) after carrying out a private stand-up routine entitled "If E.T. landed in Oakland" in front of the film's director, Steven Spielberg, and Michael Jackson among others.
Was chosen as one of the twelve Promising New Actors of 1985 in John Willis's Screen World.
Once underwent jobs as a bricklayer, a bank teller and a funeral parlor make-up artist before her career took off.
Got addicted to heroin during her younger years, but finally managed to overcome it.
Has been one of the spokesmodels of the "Got Milk?" campaign.
Has a rose named after her by a horticulturist as an honor to her.
Her most favorite TV series is "The Young and The Restless."
Received an honorary degree from Wilson College in Chambersburg, Pennsylvania.
Has kept a hairless cat called Oliver.
Her character in "Ghost" (1990), Oda Mae Brown, ranked the 95th in Premiere Magazine's list of 100 Greatest Movie Characters of All Time.
Has a tattoo of Woodstock of Charles M. Schulz's "Peanuts" on her shoulder.
Is the co-owner of a Malibu country store/kitchen named Mary's Kitchen.
Has two granddaughters aside her grandson, Mason, named Amarah and Jerzey, the first one was born when she was only 34 years old.
Owns a production company named One Ho Productions which she has ran since 1992 and has backed up most of her movies and TV projects.
Likes collecting Fiesta Ware (china).
Is a big fan of "Star Trek" series, even once asked its creator, Gene Roddenberry, for a role in "Star Trek: The Next Generation." She finally was given one as Guinan, a bartender in the Ten-Forward lounge.
Her trademark includes her dreadlocks, wire-rimmed sunglass, and facial feature of having no eyebrows.
Prefers bus to airplane since she dislikes flying.
Was delivered by her mother, Emma Johnson, at 12:48pm-EST.
Has nickname of Da Whoop.