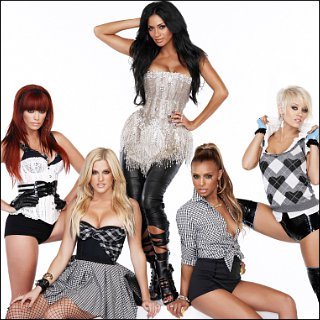 Profile
---
Famous as :
Pop/R&B group

Birth Date :
1995

Birth Place :
Los Angeles, USA

Claim to fame :
Single "Don't Cha" Feat. Busta Rhymes (2005)


Biography
---
by AceShowbiz.com
---
Virtually featured in the hotly anticipated sequel to the Gameloft series, "Asphalt: Urban GT(TM) 2," on the N-Gage platform, The Pussycat Dolls is likely to be the center of world's attention in 2005. Setting out to release their new album, "PCD", on September 13, the group previously enjoyed a massive success with their single "Don't Cha" (2005), proving to the world that they are certainly more than just a novelty act.

A female burlesque flavored revue, The Pussycat Dolls was established by a renowned Hollywood choreographer named Robin Antin in 1993. Gathering some of her girlfriends as the group's members, she started to direct them to hold a number of shows in Los Angeles venues. Christina Applegate who came up as their early guest star then encouraged Antin to get the group performed at Viper Room, a nightclub which at that time was still owned by Johnny Depp. After the troupe had the chance to go onstage at the club by 1995 and made their way to impress Depp, they immediately were offered to have a weekly performance there.

As Carmen Electra took part and became the group's lead performer, The Pussycat Dolls began to draw people's attention. Throughout the rest of 1990s, they had sold out a series of shows at the Roxy while also were asked to be the opening act at a Jane's Addiction concert and spiced up the annual Elton John/InStyle Oscar party. Within a short time, the group received a long list of celebrities who wanted to perform together with them. Among the enthusiastic artists were Charlize Theron, Gwen Stefani, Britney Spears, Christina Aguilera, Dita Von Teese, and Brittany Murphy.

Not only featured famous celebrities, The Pussycat Doll's shows were also watched by many celebrated ones, like Dave Navarro, Marilyn Manson, Leonardo DiCaprio, Heather Graham, David Spade, and Gene Simmons. Feeling the need to take the group into a different musical direction, Antin decided to make a total change in the formation of the troupe in 2003. Through an open audition, she eventually found six girls that satisfyingly suited her criteria: Nicole Scherzinger or known as Nicole Kea, Carmit Bachar, Melody Thornton, Kimberly Wyatt, Jessica Sutta, and Ashley Roberts.

Led by Nicole Kea, The Pussycat Dolls strived to be one of the most extraordinary dance groups in the world. Making a brief yet memorable appearance in "Charlie's Angels: Full Throttle" (2003), they also hummed a ...