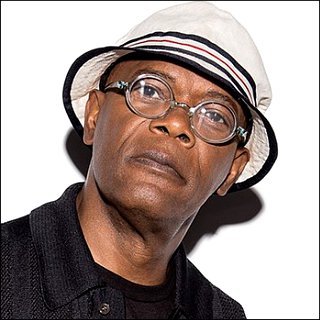 Profile
---
Famous as :
Actor, producer

Birth Name :
Samuel Leroy Jackson

Birth Date :
December 21, 1948

Birth Place :
Washington, DC, USA

Claim to fame :
As Jules Winnfield in "Pulp Fiction" (1994)


Ranked 9th in Forbes' annual list of Hollywood's Most Overpaid Stars in 2009.
Named the Highest Grossing Actor by Guinness Book of World Records in September 2007 after appearing in 75 films which have taken in nearly £4 billion worldwide.
Obtained a sidewalk honor to get his hands and feet printed in front of Grauman's Chinese Theatre on Hollywood Boulevard by January 30, 2006.
Received the nomination of Theatrical - Best Actor category at the 2001 and 2003 Black Reel Awards.
Was named Man of the Year by Hasty Pudding Theatricals in 1999 and The Hardest-Working Actor of the Decade by USA Today in 2000.
Was the MTV Movie Awards' nominee for the category of Best Male Performance in 1998 for his role in "Jackie Brown" (1997) and Best Dressed 2001 for his appearance in "Shaft" (2000).
Was turned down by Quention Tarantino when he auditioned for a role in Reservoir Dogs (1992), but later was included in his 1994 effort, "Pulp Fiction."
Co-founded Just Us Theater of which name was taken from a famous Richard Pryor's routine when studied at Morehouse College in Atlanta.
Permitted Marvel Comics to design the character of Nick Fury in the Ultimate Marvel Universe after his likeness.
Has nicknames of Sam and King of Cool.
Has obtained four nominations at Blockbuster Entertainment Awards; each in 1997 and 1999 while the other two were in 2001. He won one at the former event for Favorite Supporting Actor - Suspense category through his role in "A Time to Kill" (1996).
Was nominated for Choice Movie Actor: Drama category at Teen Choice Awards in 2005 for his role in "Coach Carter" (2005).
Has become the highest-grossing actor in movie history by January 2005 as his films have collected more than $3.8 billion worldwide at the box-office.
Was the commencement speaker at his daughter's graduation from Vassar College in May 2004.
Was honored a star on the Hollywood Walk of Fame by June 16, 2000.
Acquired a Lifetime Achievement Award at the 2000 Deauville Film Festival and a Career Achievement Award for Acting at Palm Springs International Film Festival in 2004.
Received a Career Achievement Award at Acapulco Black Film Festival in 1999.
Was offered the role of Mace Windu in "Star Wars: Episode I - The Phantom Menace" (1999) after revealing his wish to work with George Lucas in an interview on a U.K TV show, "TFI Friday" (1996).
Hosted the 1998 MTV Movie Awards.
Earned the Golden Satellite Award's nomination in the category of Best Performance by an Actor in a Supporting Role in a Motion Picture - Drama at the 1998 Satellite Awards for his role in "Eve's Bayou" (1997).
Got nominated for seven times in the category of Outstanding Actor in a Motion Picture at NAACP Image Awards held in 1997-1999, 2001, 2003, 2004, and 2006.
Earned the 44th rank in Empire Magazine's list of the Top 100 Movie Stars of All Time in October 1997.
Was nominated for Best Actor category at the 1995 Chlotrudis Awards, the 1998 Acapulco Black Film Festival and Berlin International Film Festival. He brought home the latter two titles.
Has collected two Independent Spirit Awards for winning the Best Male Lead category in 1995 and the Best First Feature in 1998 as the producer of "Eve's Bayou" (1997).
Shared the nomination of Best On-Screen Duo category with John Travolta at the 1995 MTV Movie Awards for their role in "Pulp Fiction" (1994).
Became the nominee of Outstanding Performance by a Male Actor in a Supporting Role category at the1995 Screen Actor Guild Awards for his role in "Pulp Fiction" (1994).
Was the top choice to play Fallon in Judgment Night (1993), but it finally went to Denis Leary.
Was a drug user in his younger years, but finally underwent a drug rehab which was completed 2 weeks before he ironically portrayed a drug addict in "Jungle Fever" (1991).
Played the original role of Boy Willie in the world premiere of "The Piano Lesson" at the Yale Repertory Theater in 1987. The role later went to Charles S. Dutton when the play was presented on Broadway.
Underwent a job as a camera stand-in for Bill Cosby in "The Cosby Show" (1984-1992) from 1985 to 1989.
Was suspended from his college in 1969 for taking hostage several members of the board of trustees, including the father of Dr. Martin Luther King, during a protest of the absence of a black studies program and demand of more black trustees in the board.
Has been parodied for two times on "Chappelle's Show" (2003) in sketches involving Mace Windu and a fake commercial beer labeled Sam Jackson.
Had appeared in TV commercials for Krystal Hamburgers and Barclays in which he made 7 ads up to the year 2003.
Requested George Lucas to give his character a purple light saber in the Episode II and III of Star Wars saga.
His "Pulp Fiction" character, Jules Winnfield, was placed on the second position in Coolest Movie Characters of All Time list based on Empire Magazine's polling.
Had worked as a doorman at Manhattan Plaza subsidized apartment during his struggling years as an actor in New York.
Participated in New York Shakespeare Festival to appear onstage in "Mother Courage and Her Children", "Spell #7", and "The Mighty Gents."
Suffered from a stammer until a speech therapist advised him to join audition for a play to help his speech that later led him to change his major to drama.
Played French horn and trumpet in school symphony orchestras from the 3rd grade up to 12th grade.
Is often mistaken for fellow actor Laurence Fishburne.
Was featured in Public Enemy's music video of "911 Is A Joke."
Contributed his voice in the video game of "Grand Theft Auto: San Andreas."
Is a big fan of Harlem Globetrotters basketball team and Liverpool Football Club.
His favorite sports movies include all installments of "Rocky" and "North Dallas Forty" (1979).
Enjoys playing golf which he has been reported to be very proficient at.