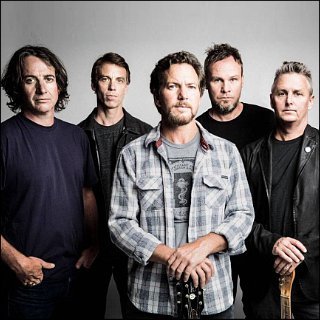 Profile
---
Famous as :
Grunge music band
Birth Name :
Mookie Blaylock
Birth Date :
1990
Birth Place :
Seattle, Washington, USA
Claim to fame :
Album "
Ten
" (1991)

Biography
---
by AceShowbiz.com
---
Florida), in the line-up to make a trio thus began playing recreationally while taking time to record a demo helped by Soundgarden drummer Matthew Cameron (born on November 28, 1962 in San Diego, California). Since none of them could provide the desirable vocal for the tape, they only created instrumental songs on the work which later was passed by Jack Irons (born on July 18, 1962 in L.A) of Red Hot Chili Peppers to his basketball buddy and local San Diego singer Eddie Vedder (born Edward Louis Seversen III on December 23, 1964 in Evanston, Illinois).

Deeply drawn by the tunes, Vedder promptly put some lyrics he had invented to the music also dubbed his vocals onto the tape before mailed it back to Seattle under the title of "Mamasan." Upon hearing the young man's voice, Ament, Gossard, and McCready were so impressed that they immediately invited him to the rainy city to try out for the band, later even took him along when Soundgarden lead singer Chris Cornell asked for their participation in his tribute-to-Wood side project, "Temple of the Dog" (1991). The band's formation ultimately was fixed as Dave Krusen (born on March 10, 1966 in Tacoma, Washington) came in to fill the drummer seat by October 1990, making it a quintet with both Gossard and McCready on guitars, Ament on bass, and Vedder on lead vocal. Initially calling themselves Mookie Blaylock for some time, they eventually settled on the name of Pearl Jam after being signed to Epic Records in early 1991.

Sadly, Krusen did not stay long in Pearl Jam as he surprisingly concluded to leave the band when the troupe had just finished their recording process, prompting the rest of the members to hurriedly hire Matt Chamberlain (born on April 17, 1967 in San Pedro, California) who had previously played with Edie Brickell and New Bohemians. Only joined for a few months before crossing to "Saturday Night Live" band, Chamberlain in turn recommended Dave Abbruzzese (born May 17, 1968 in Stamford, Connecticut) as his replacement and it was this guy who was then featured in the line-up by the time the band released their debut, "Ten", on August 27, 1991. An album introducing Pearl Jam's unusual fuse of the riff-heavy stadium rock of the '70s with the grit and anger of '80s post-punk, "Ten" at first just encountered a moderate sale, but satisfyingly climbed up ...