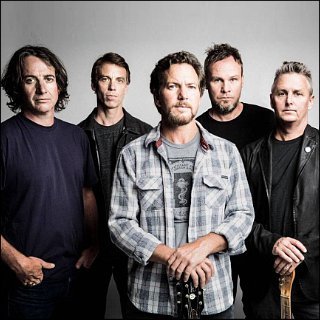 Profile
---
Famous as :
Grunge music band
Birth Name :
Mookie Blaylock
Birth Date :
1990
Birth Place :
Seattle, Washington, USA
Claim to fame :
Album "
Ten
" (1991)

Frontman Eddie Vedder was angry to AT&T Inc. when his anti-Bush comment during 2007 Lollapalooza was censored.
Became the number one Top Pop Artist - Duo/Group and Top Billboard 200 Album Artist - Duo/Group on the Billboard Year-End Charts in 1993.
Was selected as the Best Live Act at Esquire's 2006 Esky Music Awards.
The song of "Comatose" originally was intended to be titled "Crapshoot Rapture." It was premiered live in a March 2005 concert.
Obtained an IMPACT Award given by the Pacific Northwest chapter of the National Academy of Recording Arts & Sciences in 2004 in recognition for their philanthropy.
Recorded "Man of the Hour" for the soundtrack of Tim Burton's "Big Fish" (2003) and the song later was nominated for Best Original Song Writte for Film category at the 2004 World Soundtrack Awards.
Song "Arc" from album "Riot Act" (2002) was composed as a vocal tribute the nine people who were killed at the Roskilde Festival.
Made song entitled "4/20/02" in 2002 in their tribute for Layne Staley of Alice in Chains who died of heroin overdose. It later became the hidden track of their compilation album, "Lost Dogs" (2003).
Their 2000 European tour encountered a tragic incident when nine people were killed after being crushed and suffocated during the rush of the crowds at the Roskilde Festival in Denmark.
Has twice been nominated for Best Hard Rock Performance category at Grammy Awards, the first being in 1999 through single "Do the Evolution" while the second was in 2001 through "Grievance."
Song "Better Man" was mentioned one of the Most-Performed ASCAP Songs of the Year from 10/01/94 to 9/30/95 at the 13th Annual Pop Music Awards of the American Society of Composers, Authors and Publishers held in 1996.
Gained the title of Favorite Alternative Artist at the 1996 and 1999 American Music Awards.
Album "Vs." was nominated Best Rock Album at the 1995 Grammy Awards.
Earned Grammy Award nomination in the category of Best Rock Vocal Performance by a Duo or Group through song "Daughter" in 1995.
Has been nominated in the category of Favorite Heavy Metal/Hard Rock Artist at American Music Awards for 3 consecutive years that were from 1994 to 1996. The band won one at the latter event.
Got nominated for Favorite Pop/Rock Band/Duo/Group at the 1994 American Music Awards.
Was named both Favorite New Artist - Pop/Rock and that of Heavy Metal/Hard Rock at American Music Awards held in 1993.
Their second album was initially given the title of "Five Against One", but later was changed to "Vs." shortly before the album's release in 1993.
Song "Jeremy" scored 5 nominations at the 1993 MTV Video Music Awards in the categories of Best Video of the Year, Best Group Video, Best Metal/Hard Rock Video, Best Direction, & Viewer's Choice. It won all except the latter one.
"Alive" received a nomination at MTV Video Music Awards held in 1992.
Debut album, "Ten" (1991), was named after the uniform number of Mookie Blaylock, the New Jersey Nets basketball player.
Their music could also be heard on some film soundtracks which included those for "Singles" (1992), "The Basketball Diaries" (1995), Dead Man Walking"(1995), and "Hype!" (1996).
"Ten" was listed number 79 on VH1's Greatest Albums and 207 on Rolling Stone's The 500 Greatest Albums of All Time.
Reached 21st position on VH1's 100 Greatest Artists of Hard Rock.
Donated the profits they got from the selling of single "Last Kiss" to the Kosovo refugees.
"Jeremy" also ranked 32nd on VH1's 100 Best Songs of the Past 25 Years.
Song "Jeremy" was included in Rock 'N Roll Hall Of Fame's 500 Songs That Shaped Rock and Roll while ranked 19th on MTV's 100 Greatest Videos Ever Made and 6th on VH1's 100 Greatest Videos.
"World Wide Suicide" has been the first digitally delivered number one track in Canadian radio history.
The animated music video of single "Do the Evolution" was made by famed graphic novel artist, Todd McFarlane.
Changed their name from Mookie Blaylock to Pearl Jam during the recording process for their Epic debut album, "Ten."
The band's name, Pearl Jam, has several stories concerning its origin which includes a reference to peyote-laced jam made by Vedder's great grandma named Pearl.