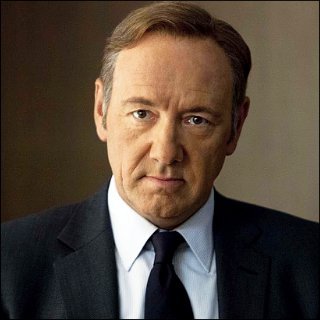 Profile
---
Famous as :
Actor

Birth Name :
Kevin Spacey Fowler

Birth Date :
July 26, 1959

Birth Place :
South Orange, New Jersey, USA

Claim to fame :
As Roger 'Verbal' Kint in "The Usual Suspect" (1995)


Biography
---
by AceShowbiz.com
---
flourish in the field. The older man's instinct was wonderfully proven right for he shortly thereafter was able to earn his Broadway debut in Hendrik Ibsen's "Ghosts" by 1982 followed by a handful performances in other productions, like "Uncle Vanya", "As You Like It", plus "Le Misanthrope."

Much to Kevin's joy, things delightfully turned better in 1986 as he not only managed to experience his first taste in film-making with "Heartburn" but also scored well in his performance in London's Theatre Royal production of "Long Day's Journey into Night" which brought him to secure a role in the acclaimed mob series "Wiseguy" by 1988. Following this, other stints started to flow continuously either on big screen, such as "Working Girl" (1988), "See No Evil, Hear No Evil" (1989), and "Glengarry Glen Ross" (1992) or on small one, like "Fall from Grace" (1990) and "Darrow" (1991). Also successfully acquired a Tony Award for Actor (Feature Role - Play) category in 1991 through his enactment in "Lost in Yonkers", he kept striving to satisfyingly garner larger attention in "Swimming with Sharks" (1994) that subsequently enabled him to join the star-studded cast of Bryan Singer's 1995 effort of "The Usual Suspect."

Delivered such a brilliant portrayal of a fast-talking yet enigmatic con man named Roger 'Verbal' Kint in the crime thriller picture, Kevin this time really made his way to impress both critics and audience so profoundly that it was not quite surprising to find him being bestowed a pile of accolades in turn, notably the triple nods of Golden Globes, Actors, and Oscar in supporting role category by 1996. Eventually winning the latter one, the attainment consequently catapulted the brown-eyed actor right away to the worldwide prominence which undoubtedly led him to more high-profile roles like those in "A Time to Kill" (1996), "L.A. Confidential" (1997), also "The Negotiator" (1998). As if these appearances were not great enough, he struck harder in 1999 with an extremely stunning turn in Sam Mendes' "American Beauty" to gain his second Academy Award in 2000 aside from his triumph at BAFTA Awards and Screen Actors Guild Awards, all for the leading role category.

As the third millennium rolled its early period, Kevin had already seen himself shine radiantly with a series of performances he nailed down effortlessly such as those in "Pay It Forward" (2000) and "K-Pax" (2001), even fantastically garnered another Golden Globes also BAFTA ...