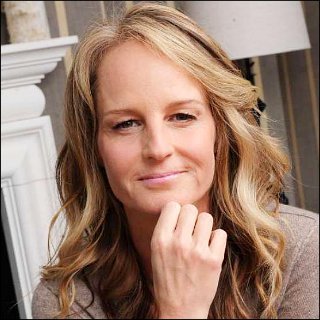 Profile
---
Famous as :
Actress

Birth Name :
Helen Elizabeth Hunt

Birth Date :
June 15, 1963

Birth Place :
Culver City, California

Claim to fame :
As Jamie Buchman in NBC sitcom "Mad About You" (1992 - 1999)


The role Carol Conelly in "As Good As It Gets" (1997) was given to her after Holly Hunter rejected it.
Celebrates Thanksgiving with "ER" (1994) star, Anthony Edwards, every year.
Did a guest voice in "The Simpson's" (1989) as Moe's girlfriend and the voice of Moe was filled by her real life boyfriend, Hank Azaria.
Received a fan letter from Steven Spielberg who watched her movie "Quarterback Princess" (1983) and replied the letter after watching Steven Spielberg's "Saving Private Ryan" (1998).
Her movies "Cast Away" (2000) and "What Women Want" (2000) grossed over $150 million each and appeared in theatres at the same time during the end of holiday season of 2000.
Held the record of winning four Blockbuster Entertainment Awards in 2001 and four consecutive Emmys from 1996 until 1999.
Is the only actress to win all three prestigious awards, a Golden Globe Award, an Academy Award and an Emmy Award in the same year, 1998.
Has no related blood to Bonnie Hunt, the actress who gave up the female leading role in "Mad About You" (1992 - 1999) and eventually the role went to her.
Her performance in sitcom "Mad About You" (1992 - 1999) episode 'The Birth' absorbed as much as 25 million audiences.
Was the highest paid TV actress in 1999 for her role in "Mad About You" (1992 - 1999), earning almost $1 million per episode by the end of last season.
She and her ex-husband, Hank Azaria, have both guest starred in sitcom "Friends", although in different episodes.
Was nominated as one of '50 Most Beautiful People' by People Magazine in 1998.
Eye witnessed the September 11 tragedy from her apartment and immediately booked a personal jet at quite an amount of money to flee from Connecticut.
Was praised as 'hero' by Candice Bergen in her Emmy acceptance speech.
Defeated Teri Hatcher for the role of Jamie Buchman at the final audition of "Mad About You" (1992 - 1999).
Is the best friend of Helen Slater.
Together with Connie Tavel, she owns a production house named Hunt/Tavel Productions.
Shares the same birthday with Courtney Cox, Shane Stanley, Neil Patrick Harris, Leah Remini and Ice Cube.
Donated $100,000 for the good cause of Screen Actors Guild (SAG).
Is a loyal democrat and will support like-minded activities.
Often went to Hawaii in her childhood and it remains her favorite holiday place.
Stole a leotard at the age of 13 but never got charged.
Appeared on and off Broadway in plays such as "Been Taken" (1985) and "Our Town" (1989).