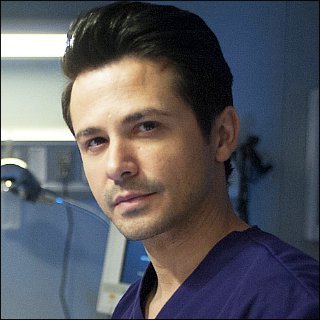 Profile
---
Famous as :
Actor

Birth Date :
January 17, 1975

Birth Place :
Chicago, Illinois, USA

Claim to fame :
As Federico Diaz on HBO's "Six Feet Under" (2001)


Biography
---
by AceShowbiz.com
---
A good film is not whole without the performance of a supporting actor, so does "Six Feet Under" (2001). The HBO TV series would never be 'tasty' enough without the constant witty remarks from Federico 'Rico' Diaz. The man behind the exceptional character was Freddy Rodriguez. Puerto Rican by blood, this petite actor added color to the Golden Globe winning series, not with typical 'hunky' feature of Latin guys, but with his charming and light humor. So pleasant that the Golden Globe nomination for Outstanding Supporting Actor in a Drama Series was bestowed upon him in 2002.

Rodriguez was born on January 17, 1975 in Chicago, Illinois and raised in the same area. His interest in acting began in this city too. When he was 14, a youth theater company, Whirlwind Performance Company locked him in their pilot production. He made an impression and for the talent, he received a two-year scholarship at Chicago Center for the Gifted that was conducting a summer program. Addicted to stage performance, he continued to sum up his record in doing plays up to 20 productions. He chose drama to be his major in Chicago's Lincoln Park High School and had a sip of dancing and choreographing while there. Unfortunately, all of his talents were hidden in his hometown. He felt the need to expand his horizon. Thus, in 1994 he tried playing in "The Fence". The term 'trying' was probably not quite right as, minding that it was his first movie, it offered him a big role as young Terry Griff.

Lucky for him, an actor to fill in the position of a Latin family member was sought in "A Walk in the Clouds" (1995). The fresh actor earned a chance to play along Keanu Reeves and sensed the experience of playing in a Golden Globe winner film. Still in 1995, he took the job appearing in "Dead President". In this movie he met the serious version of Chris Tucker, who was amid his stardom also but not yet funny. Rodriguez was indeed the funny one. In "The Pest" (1997) he played a comical role as Ninja and was next a jock in a teen movie starring Jennifer Love Hewitt, "Can't Hardly Wait" (1998). Since then, Rodriguez's presence was not acknowledged more than teen star, but in "Party of Five" (1999) series and "Payback" (1999), he built himself an invisible bridge to a ...