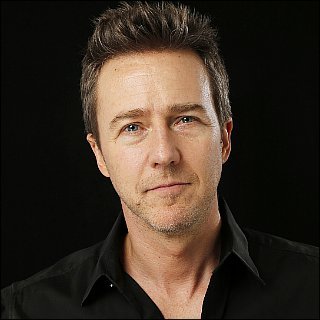 Profile
---
Famous as :
Actor

Birth Name :
Edward Harrison Norton

Birth Date :
August 18, 1969

Birth Place :
Boston, Massachusetts, USA

Claim to fame :
As Aaron Stampler in "Primal Fear" (1996)


Wrote the introductory page in Terry Schreiber's 2005 book of "Acting: Advanced Techniques for the Actor, Director, and Teacher."
Took home a Village Voice Obie Award through his stage performance in the off-Broadway play of "Burn This" in 2003.
Was named International Man of the Year by British GQ Magazine in 2003.
Initially was billed to play a role in "Hart's War" (2002), but later decided to drop out the project.
Assisted Stuart Blumberg in writing the scripts of "Keeping the Faith" (2000), but was not mentioned in the film's writing credits since his name was not included in the Writers' Guild.
Dedicated "Keeping the Faith" (2000) to his mother who passed away due to brain cancer in 1997.
Became one of the few celebrities invited to the wedding ceremony of Brad Pitt and Jennifer Aniston when the couple changed vows in June 2000.
Dropped 17 pounds of his weight for his role in "Fight Club" (1999).
Was considered for the role of Andy Kaufman in "Man on the Moon" (1999) and of Patrick Bateman in "American Psycho" (2000).
Joined soap-making class together with Brad Pitt during the filming of "Fight Club" (1999).
Was offered the lead part in "Fight Club" (1999) after director David Fincher got impressed with his performance in "The People vs. Larry Flynt" (1996).
Was accompanied by Drew Barrymore when coming to the 1999 Academy Awards.
Decided to walk out from "The Thin Red Line" (1998) after the death of his mother.
Added 30 pounds of muscle through non-stop lifting weights and drinking protein plus meat shakes besides shaving his head to prepare for his role in "American History X" (1998).
Refused the offer to play the titular role in "Saving Private Ryan" (1998).
Became a temporary guitar for Courtney Love's band, Hole, in the group's two L.A gigs during December 1998.
Competed against his co-star in "Rounders" (1998), Matt Damon, in the 1998 World Series of Poker at Las Vegas.
Tried for the role of Rudy Baylor in "The Rainmaker" (1997), but ost it to Matt Damon.
Replaced Leonardo DiCaprio to play Aaron Stampler in "Primal Fear" (1996).
Successfully convinced the casting directors of "Primal Fear" (1996) that he came from eastern Kentucky when joined the audition for a role in the film, even managed to spoke with the twang which he developed after watching "Coal Miner's Daughter" (1980)
Created the role of Christian Pilgrim in the stage production of "Bible Burlesque" with the 29th Street Repertory Theater in 1994.
Joined audition for roles in "With Honors" (1994), "Hackers" (1995), also "Up Close & Personal" (1996), but failed to secure any of them.
Once worked in Osaka, Japan during the early 1990s as a consultant for his grandfather's company, Enterprise Foundation while also taught English at the country's popular English Language School, NOVA Group.
Serves on the board of directors in Signature Theater Company and as a member of the board of directors at the Enterprise Foundation in New York.
Originally intended to study astronomy upon enrolling in Yale, but as he quickly found out that physics was "a hurdle too difficult to vault", he then decided to take major in history instead.
His favorite authors are Gabriel Garcia Marquez, Ernest Hemingway, Joseph Conrad, J.D. Salinger, and Tom Wolfe.
Likes writing, reading, playing the guitar, taking photographs, running, doing rally racing, and watching movies.
Is a very concerned person on social also environmental matters and actively supports numerous organizations such as the Grand Canyon Trust, Wilderness Society, Southern Center for Human Rights, and American Museum of Natural History among others.
Helped establishing the Middle East Peacemakers Fund at Yale University.
Was raised in a planned community designed by his own grandfather, James Rouse, who had often been credited with inventing the first shopping malls.
Keeps a tabby cat called Maggie which he named after a character from "Cat in a Hot Tin Roof."
Is a good friend of Peter Sallet and Ron Livingston.
Gave a lecture at his alma mater, Wilde Lake High School, on the day of the dedication of its auditorium which was named after his grandfather, James Rouse.
His favorite music artists include Radiohead, Red Hot Chili Peppers, R.E.M., Tom Waits, and Elliott Smith.
Can speak fluent Spanish and some Japanese.
Was born in the same date and month as Christian Slater, Robert Redford, Patrick Swayze, and Denis Leary.
Once applied to be a taxi driver in New York City but was rejected for the license since he failed to meet the age requirement.
Had worked as a proofreader, a waiter, and a director's assistant in New York City before his acting career took off.
Owns a private pilot license.
Admits that he is a Deadhead, a big fan of Grateful Dead.
Is an avid non-smoker, even once refused to do smoking scenes in "Rounders" (1998).