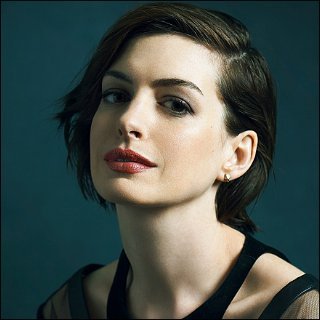 Profile
---
Famous as :
Actress

Birth Name :
Anne Jacqueline Hathaway

Birth Date :
November 12, 1982

Birth Place :
Brooklyn, New York, USA

Claim to fame :
As Mia Thermopolis in "The Princess Diaries" (2001)


Biography
---
by AceShowbiz.com
---
Meg Cabot's novel of the same title. To her embarrassment, she fell of a chair right in front of the film's director, Garry Marshall, who instantly felt that she was the perfect choice to portray the lead character, a clumsy high school girl named Mia Thermopolis. Determined to show that Marshall's decision to sign her was not wrong at all, Anne not only displayed a stunning comedic enactment, but also built a good chemistry with Julie Andrews who acted as her aristocratic grandmother. Beyond everyone's expectation, this family/comedy flick surprisingly turned to be one of the highest grossing movies of that year, scoring more than 108 million U.S. dollar.

The tremendous success of "The Princess Diaries" unmistakably catapulted Anne to widespread recognition while at the same time led her to be nominated for Breakthrough Female Performance at MTV Movie Awards and Best Actress - Comedy at Teen Choice Awards, both held in 2002. With this growing popularity, her career satisfyingly ran smoothly and steadily as she went on filming "Nicholas Nickleby" (2002), "Ella Enchanted" (2004), and "Princess Diaries 2: Royal Engagement" (2004). Realizing that she was in the brink of becoming a typecast actress, Anne made a great turn by 2005 when she joined the big screen production of "Havoc" in which she underwent several nude scenes. From this point, she continued to explore more challenging roles as seen in "Brokeback Mountain" (2005), "The Devil Wears Prada" (2006), and "Becoming Jane" (2007).

More drastic turn was taken by Anne when she decided to take part in Jonathan Demme-directed "Dancing with Shiva" (2008) to portray an ex-model who has been in and out of rehab for ten years. However, the year also refreshingly found her going lighter in "Get Smart", an action comedy based on popular TV sitcom of the same name in 1960s, in the meantime witnessing her initial foray to thriller genre through Columbia Pictures' "Passengers" where she plays a grief counselor helping six plane crash survivors.

Back to year 2005, the period also turned out to be a joyous period in Anne's love life as she has found the right guy to whom she could give her heart genuinely. Spotted going to the premiere of "Brokeback Mountain" with this sweetheart of hers named Raffaello Follieri, a real estate developer, in early December, she openly expressed her excitement of their togetherness. "We're pretty laid back people. We love to ...