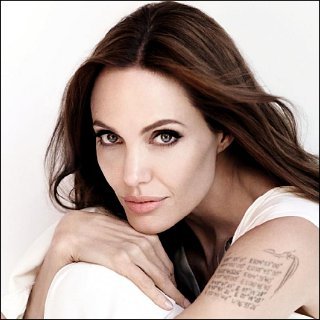 Profile
---
Famous as :
Actress

Birth Name :
Angelina Jolie Voight

Birth Date :
June 04, 1975

Birth Place :
Los Angeles, California, USA

Claim to fame :
As Gia Marie Carangi in HBO's "Gia" (1998)


Ranked 3rd in Forbes magazine's annual list of "100 Most Powerful Celebrities" in 2008.
Was on May 27, 2006, on the same day she gave birth to her biological daughter Shiloh Nouvel Jolie-Pitt, had her legal group snatched the domain name, Shilohnouveljoliepitt.com.
She and Brad Pitt sold the first picture of their unborn baby to an American weekly magazine for not less then 2.6 million pounds and will donate the money to children's charity UNICEF (May 2006).
She and Brad Pitt won the 5th spot on Forbes' list of Hollywood's 20 Top-Earning Couples, earning $34 million between June 1, 2007 and June 1, 2008.
Sold the first pics of her twins with partner Brad Pitt to People and Hello! magazines for a reported $14 million.
Her favorite singers are Madonna, Elvis Presley, Frank Sinatra, The Clash, and Matchbox 20.
Included in Vanity Fair magazine's annual list of International Best-Dressed Women, released on July 29, 2008.
She and partner Brad Pitt chosen the No. 9 Best Dressed Couple in the World in the poll by Vanity Fair magazine in July 2007.
Was included in Time magazine's 5th annual "100 Most Influential People" list, released in May 2008.
Voted 6th in FHM magazine's annual list of 100 Sexiest Women in the World in 2004 then 2nd in the year 2006, 8th in 2007, and 12th in 2008.
Once named the World's Sexiest Woman in Swedish magazine Cafe.
Has her character of Mrs Smith or Jane Smith in the 2005 "Mr and Mrs Smith" chosen by Maxim Magazine as its No. 1 Sexiest On-Screen Assassin in April, September, and December 2007.
Included in The Hollywood Reporter's annual list of the Highest-Paid Actresses in Hollywood three years in a row; ranked 6th in 2005, 8th in 2006, and 2nd in 2007.
Had the $4.1 million pictures of her, Pitt and Shiloh hit newsstand June 9, 2006.
Ranked 6th in Stuff Magazine's list of "102 Sexiest Women in the World" in 2002 then voted 8th in 2007.
Included in Entertainment Weekly's list of 50 Smartest People in Hollywood (November 2007).
Included in People Magazine's annual list of "50 Most Beautiful People" in 2000 and 2005.
Named "The Sexiest Woman Alive" by Swedish evening newspaper "Aftonbladet" (2003).
Started modeling at the age of 14.
Picked 6th on Maxim Magazine's list of 9 Hottest Pregnant Women, Ever (November 2007).
Ranked 4th in Forbes.com's first-ever analysis of Top-Selling Famous Faces (October 2007).
Shared with Jennifer Aniston the predicate of Most Powerful Actress granted by Guinness Book of World Records in September 2007.
The sonogram picture of her child with Pitt appeared on the front page of National Enquirer after being pulled from auction website eBay in January 2006.
Honored for her philanthropic work by joining the Council on Foreign Relations (CFR), an influential and independent, nonpartisan foreign policy membership organization, in June 2007.
Handed the Inspiration Award for her humanitarian work at the 2007 Glamour annual events held June 5th.
Tapped to be the new face of Japanese cosmetic giant Shiseido, promoting its powder eye color and liquid eye color (May 2007).
Included in Time magazine's list of 14 Power Givers in May 2007.
Ranked 2nd in Us Weekly's list of Celebrities with the Biggest Ego in Hollywood, regarded as a "great leader" by those close to her (April 2007).
Ranked 5th in a poll on World's Sexiest Bodies compiled by women magazine Glamour in April 2007.
Voted the 5th on the poll of Women Most Men Want to Marry compiled by British Esquire magazine in April 2007.
Ranked 8th in a poll on Sexiest Women conducted by men's magazine Stuff in April 2007.
Is the Virgin Mary in the controversial painting "Blessed Art Thou" by Kate Kretz, unveiled during a three-day US art show, the "Art Miami Fair", at the Miami Beach Convention Centre begins on January 5 up to 8, 2007.
Ranked 4th in an Internet poll in December 2006 on Women Most Men Fantasize About While Making Love to Their Partners.
Chosen as the 3rd celebrity people would like to have as their substitute teacher, in an online poll conducted by National Education Association in November 2006, with 14 percent of the vote.
Was named the 10th Top Newsmaker for 2005 by US TV show Access Hollywood.
Her favorite TV shows are "King of the Hill" (1997), the "Game Show Network", and "Animal Planet."
Along with Brad Pitt made a donation of $100,000 to the Daniel Pearl Foundation on Oct 10th, 2006.
Along with Brad Pitt created a new charitable foundation, gave away $2 million, $1 million to the Global Action for Children and $1 million to Doctors Without Borders, to help families affected by HIV/AIDS and extreme poverty (Sept 2006).
Tops Maxim magazine's 7th annual Hot 100 list of the Most Successful Women of the Year in Film, Television, Music, Sports and Fashion at No. 4 (May 2006).
The brown suede boots that she wore for her Oscar winning role in the 1999 film "Girl, Interrupted" are up for auction on eBay at a starting bid of $1500 (July 2006).
Chosen as the World's 10th Most Beautiful Woman in the June 2006 poll conducted by the UK magazine Eve.
The digital memory card containing a number of personal copyright protected photographs of her, Pitt, and their children have been stolen and offered for sale.
Has been reported to have posed nude for a set of pregnancy paintings, commissioned US artist Don Bachardy to paint three portraits of her to record the different stages of her pregnancy.
Celebrated the birth if her daughter, Shiloh Nouvel Jolie-Pitt, by donating $300,000 to local hospitals in Namibia while also pledged $15,000 for a school and a community center in Swakopmund, which she and Pitt once visited.
Has her name listed on Forbes list of "Hollywood's 10 Most Generous Entertainers" (May 12, 2006).
Graced the cover of People magazine's "100 Most Beautiful People" issue (April 2006), marks her fourth time to be included on the list, while her first ever as cover girl.
Placed 3rd in the annual survey by Quigley Publishing Co. on Top Moneymaking Stars of 2005.
Was handed the Global Humanitarian Award from the United Nations Association of the U.S.A for her humanitarian work as a goodwill ambassador for the United Nations refugee agency.
Has been chosen as the face of luxury apparel label St. John and will also be the voice behind the company's new charity created in support of children's issues and causes (Sept, 2005).
Has been awarded Cambodian citizenship by Cambodia's king for her conservation work in this poverty-stricken country (July 2005).
Ranked #6 in Grazia Magazine's list of Best-Dressed Women of 2005.
Has been one of the Most Searched Names of 2005 according to STARmeter, an IMDB.com's site search index.
Lost the role of late porn star Linda Lovelace to Courtney Love.
Received cuts from the chandelier scene while performing her own stunts in "Lara Croft: Tomb Raider" (2001).
Voted Hollywood's Sexiest Single Mother, in a poll for website Date.com.
Voted #1 Star Most Men Would Like to Kiss Under the Mistletoe in a poll for Sky Movies.
Voted #2 on VH1's "100 Hottest Hotties."
Voted the 3rd Sexiest Female Movie Star in the Australian Empire Magazine September 2002.
Ranked #87 in Premiere's 2002 annual "Power 100" list.
For her role in "Taking Lives" (2004), Jolie was consulted by real-life FBI profiler Robert Ressler.
Has a tattoo of a blue window on her lowerback representing her who was at any point in her life always found herself looking out a window wishing to be elsewhere.
Along with Egyptian actor Adel Imam, Jolie becoming goodwill ambassador for the UNHCR.
Visited Tham Hin refugee camp in Thailand, May 2002, as part of her role as goodwill ambassador, to check on conditions of 9,000 refugees from bordering Myanmar.
Tattooed the Latin phrase "Quod me nutrit me destruit" ("What nourishes me also destroys me") across her stomach.
Her many other tattoos, like the Japanese sign for death, two pointy black American Indian symbols, a dragon, and a large black cross.
Tattooed the Tennessee Williams quote, "A prayer for the wild at heart, kept in cages," on her left forearm.
Has the letter "H" tattooed on the inside of her left wrist as a reference to Timothy Hutton and her brother James Haven, two people she is close to.
Is appointed Goodwill Ambassador for the UN High Commissioner for Refugees in Geneva, Switzerland after her visits to Sierra Leone, Tanzania and Pakistan.
Has an interest in mortuary science, thus collects knives.
She likes black color because "It goes with everything."
Her favorite foods are McDonalds fast food and Cheerios cereal.
Is of Czecholslovakian, English and Native American descent.
Her childhood dream was to be a funeral director.
Dumbo the flying elephant is her favorite Disney character.
Goddaughter of actor Maximilian Schell and actress Jacqueline Bisset.
Her middle name "Jolie" means "pretty" in French.
Is extremely close to and protective of her brother James Haven.
Has a husky voice that becomes her trademark.
People usually call her Angie or Catwoman.