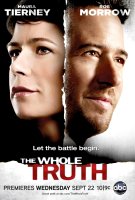 TV Info
---
Episode Premiere
December 01, 2010

Distributor
ABC

Genre
Drama

Show Period
2010 - 2010

Production Company
Jerry Bruckheimer Television


Cast and Crew
---
Director
Jeffrey Hunt
Screenwriter
Jeffrey Lieber, Jordana Lewis Jaffe
Main Cast
Additional Cast
Parminder Nagra
Ellen Gerstein
Judith Ivey
Rosa Blasi
Synopsis
---
Teaser:

Stephanie Concolino is arrested for murdering her ex-husband, Dr. Charles Concolino, D.D.S. But Stephanie tells Jimmy their divorce was amicable. Jimmy and his ex-wife, Danni, understand divorce all-too-well, while Kathryn's mom won't stop bothering Kathryn about her love life. Kathryn lies, and tells her mom she has a boyfriend. Stephanie's divorce story sounds good but "amicable" flies out the window when an angry woman - Bitsie Katz - shows up at Arraignment, claiming she's Charles' fiancé.
The Prosecution:

Bitsie offers to testify that Charles was terrified of Stephanie and one of Charles' colleagues says the Concolinos had a big fight the day of the murder. Kathryn has a surveillance video that shows a woman of Stephanie's build enter Charles' office using Stephanie's keycard. Still concerned, Kathryn's mom comes to town for a visit.
The Defense:

Stephanie swears she'd never heard of Bitsie, and that the fight the day of Charles' murder was over canine custody. Stephanie's best friend, Pilar, also says the divorce was amicable and will testify. Investigator Joy Shulack finds that Stephanie's keycard was regularly used to access Charles' office after-hours. But considering they were divorcing, she doubts it was Stephanie using it. A security guard admits to copying Stephanie's keycard for Charles' eleven mistresses.
The Case 1:

Kathryn rules out mistresses by alibi while Jimmy looks for a killer. The Defense and Prosecution both learn that Charles had one special mistress, who is dubbed Mistress X. Jimmy is convinced she's the killer. When the DA's office loses their surveillance video, Jimmy wins a motion to exclude any discussion of it - Kathryn can't use it to point to Stephanie or away from alternate suspects.
Kathryn struggles to establish Stephanie's murderous character, until Bitsie Katz testifies. But Bitsie's testimony falls apart when Lena catches Bitsie in a lie, proving she barely knew Charles - Bitsie stalked him.
The Case 2:

Pilar testifies and helps Stephanie in an unexpected way because Jimmy's done his homework. He reveals that Pilar and Charles had a long-term affair. Pilar was Mistress X and she doesn't have an alibi. Jimmy's blown the DA's case wide open.
Stephanie said she was at the movies, alone as usual, the night Charles was killed. But when an employee of the theatre testifies that Stephanie seemed odd that night, Kathryn looks into it. She finds that Pilar got a call from the theatre's payphone on her cell before the murder. Kathryn posits that Stephanie called Pilar, found out about the affair, and then killed Charles. Kathryn says Pilar only covered for Stephanie out of guilt for the affair, while Jimmy argues that Pilar is the murderer and wants Stephanie to take the heat. The verdict: Guilty.
The Whole Truth:

Lena can't believe Pilar's behavior but Jimmy understands: Lying is better than letting a loved one discover you aren't the person you wanted to be for them. Old emotions have surfaced, leading Jimmy to offer a heartfelt apology to Danni. She knows he's sorry, and says it was his ambition that killed their relationship - his infidelity just put the nails in the coffin.
Kathryn's mom explains her behavior: she worries because Kathryn's job is incredibly taxing, and not having someone to go home to must make it harder. Just as Mom tells Kathryn she knows she doesn't really have a boyfriend, Jimmy arrives and pretends to be just that. Mom is delighted.
Pilar visits Stephanie in jail to talk appeals, but Stephanie isn't interested in appeals, she's interested in equity. Stephanie is going to tell the truth for a lighter sentence. The truth: Pilar and Stephanie killed Charles together. Stephanie even kept the murder weapon to ensure that if she went down, Pilar would too.