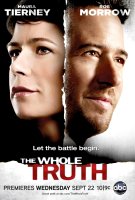 TV Info
---
Episode Premiere
October 27, 2010

Distributor
ABC

Genre
Drama

Show Period
2010 - 2010

Production Company
Jerry Bruckheimer Television


Cast and Crew
---
Director
Ken Fink
Screenwriter
Jonathan Kidd, Sonya Winton
Main Cast
Additional Cast
Stephanie Lemelin
Ellen Gerstein
Synopsis
---
The Case:Madeline Landon a famous, 45 year old fashion designer is arrested for the murder of her young, male model boyfriend. This is the second time in three years that Madeline has been arrested and tried under suspicion of murdering a younger lover, earning her the moniker, Killer Cougar. Jimmy Brogan successfully defended her in the first trial so she turns to him again. It appears that Jimmy will be up against Kathryn, until Edge pulls rank and takes the case.
The Prosecution:The deceased, Ryan Orton (22), was hit on the head and drowned in Madeline's pool after a party. The Medical Examiner notes a prominent contusion on Ryan's head and a tox screen comes back negative for drugs and alcohol. Edge interviews Ryan's ex-girlfriend from Ohio, Brenda, who came to NYC to bring Ryan home she explains that Ryan had gotten into drugs because of Madeline and that he wanted out, but Madeline wasn't happy about it. Edge finds out that he's been assigned a judge who is known for her occasional dalliances with younger men so he takes it upon himself to persuade a court clerk to assign a new judge, a move of questionable ethics called "Judge Shopping."
The Defense:Jimmy hires a private Medical Examiner to find a scenario of Ryan's death that doesn't include Madeline as a killer. Madeline tells Jimmy that Brenda Ryan's ex showed up at that party and accosted her. Jimmy and Alejo talk to Brenda who they think should be a suspect. They run a very detailed tox screen and find something the Prosecution missed: Ryan had a high concentration of Nadolol a relaxant in his system.
In a Molineux hearing, the Judge determines that the death of the man Madeline was accused of killing three years ago cannot be mentioned at this trial even though the circumstances are similar. Chad finds that Madeline has been buying thousands of dollars of Nadolol each month, the drug found in Ryan's system.
The Trial: The Prosecution will try to prove that Madeline drugged Ryan so that he couldn't fight back and then smacked him with a vase and let him drown. The Defense will argue that Ryan accidentally overdosed and bumped his head, falling into the pool.
Both Medical Examiners testify that it is possible that Ryan could have fallen and hit his head on the side of the pool, causing the contusion on his head. Brenda loses credibility as a witness it's clear she has a personal vendetta against Madeline. Madeline's son, Javier, tells a shocked courtroom that he heard Madeline threaten Ryan's life.
Jimmy knows that the case isn't looking good and tries to find a way to make Madeline look more sympathetic to the jury. He brainstorms with her late into the night and ends up kissing her. There's no telling how far it might have gone because Kathryn stumbles upon them. The Defense knows that what Kathryn saw can absolutely kill the case for them if she tells Edge, leading to some very tense moments in trial. Kathryn never tells Edge but he wins a guilty verdict nonetheless.
The Whole Truth:Chad notices that a model he met earlier in the case is on the cover of the new Madeline Landon catalogue. Madeline only put her lovers on the cover of the catalogue (like she did with Ryan) but this model is gay, so Chad goes to see him. The model admits that he saw Madeline kill Ryan and kept his mouth shut during the trial so that he'd get on the cover of the catalogue.