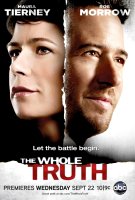 TV Info
---
Episode Premiere
October 20, 2010

Distributor
ABC

Genre
Drama

Show Period
2010 - 2010

Production Company
Jerry Bruckheimer Television


Cast and Crew
---
Director
Eagle Egilsson
Screenwriter
Ian Biederman, Jordana Lewis Jaffe
Main Cast
Additional Cast
Stephanie Lemelin
Ellen Gerstein
Wade Andrew Williams
Synopsis
---
TeaserNYPD officers responding to a 911 call find Victor Esposito and his wife shot in their living room. Their 16 year-old son Anthony, the only person there, is arrested for their murder. While the police conduct an 11-hour interrogation of Anthony, Anthony's brother Mark hires Jimmy. Jimmy rushes to the Precinct only to arrive moments after Anthony confesses
The ProsecutionKathryn knows Jimmy will have Anthony recant his confession, so her case has to be bulletproof. She sends Chad to Anthony's school, who learns Anthony was a problem student whose parents had recently decided to send him to military school. And he was pissed about it. Kathryn visits the crime scene and finds a drawing of Anthony killing his parents
The DefenseAnthony only confessed because the police told him his father fingered him as the shooter. But the police were lying: Anthony's father is in a coma. Anthony tells Jimmy that his father and his business partner, Paul, fought about money. But Paul tells Jimmy the murderer might be the relative of a former employee named Vazquez. As soon as Paul leaves, Jimmy tells Alejo to look into Paul as an alternative suspect. Alejo finds downloaded files on Victor Esposito's computer about partners suing partners over embezzled funds. Anthony now remembers that the detective who interrogated him held up an envelope saying that it contained his father's statement. The cops are allowed to lie, but they aren't allowed to fabricate evidence.
In a Huntley Hearing, Jimmy tries to have the confession thrown out. Before the ruling, Kathryn offers a plea. Jimmy advises Anthony that he shouldn't admit to a crime he didn't commit. But, unfortunately for Jimmy, the motion is denied and the confession stands. Alejo and Jimmy meet with Mark Esposito who acts very strangely. They wonder if Mark might also be an alternate suspect
The CaseKathryn questions the interrogating detective who adamantly believes Anthony is guilty: there was gunshot residue on his hands, blood on his clothes, he was the only person in the house when the shooting occurred, and he confessed. Jimmy crosses and demonstrates that Anthony's confession was not in his own words. A forensics investigator demonstrates how easy it is to transfer gunshot residue. Alejo questions Paul and paints him as another possible suspect. Paul mentions that Victor Esposito was computer illiterate. Jimmy questions Vazquez who admits to threatening Victor Esposito in the past but adamantly denies he murdered the Espositos. Mark testifies, but as Jimmy questions Mark's mental health, Anthony screams for him to stop. During a recess, Anthony orders Jimmy to stay away from his brother. Anthony testifies. He misses his parents and wants them to be alive, but he admits that he used to fantasize about killing them. Soon after, the jury comes back with a guilty verdict
The Whole TruthBecause Paul mentioned that Victor Esposito barely knew how to use a computer, Jimmy investigates the files found on Victor's computer about partners suing partners. Turns out, they were downloaded after Victor was shot. Jimmy brings this up to Anthony who smiles, savoring how his parents looked when he shot them.