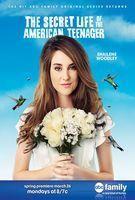 TV Info
---
Episode Premiere
March 08, 2010

Distributor
ABC Family

Genre
Drama

Show Period
2008 - 2013

Production Company
Brendavision!, Prodco, Inc.


Cast and Crew
---
Director
Anson Williams
Screenwriter
Brenda Hampton
Main Cast
Synopsis
---
Leo tracks down Ricky in L.A. and tells him it's time to grow up if he ever wants to be a good father. He hands Ricky the keys to his old apartment, urging him to go back and confront the people (uh, Adrian, Amy, Ben ...) he's angry with.
So Ricky's back at his old place, and Ben comes knocking at the door at 6:30 in the morning. He says he's there to apologize, but then he starts going off about how angry he is over the whole getting-the-girl-he-loves-pregnant thing. In fact, Ben's so angry, he hits Ricky. And ends up hurting his own hand. Nonetheless, he and Ricky sort of patch things up -- even though Ricky tells him Amy will never take him back after what he's done.
Meanwhile. Tom and Grace are not happy about the giggly honeymoon their mom is having at home with Jeff, following their sudden marriage. But Jeff takes Grace aside for a little talk, during which she's not going to wait until marriage after all. Though she would like it to be with the person she'll eventually marry.
The big news at school is that Ricky's back. And while Adrian's dressed to the nines in hopes of winning him back, he tells her it's over, once and for all. Sure, they've broken up plenty of times, but this time he really, really means it. Wait, really? Maybe so -- since Ruben later finds Adrian at home, crying like a baby. Uh-oh.
Over in a different corner of the hallway, Grace and Ben are patching things up. They decide to start hanging out again, "as friends." And she asks for a ride home. Hmmmm.
That night, at the Juergens house, big things are happening. For one, George and Anne get into a fight about when they'll remarry. Anne wants to wait a year -- till their next anniversary -- but George wants to do it NOW. And he doesn't want to compromise. At least Ashley is having better luck with her new boy, Grant. George lets her have him over, in exchange for giving Amy a much-needed pep-talk and a rare moment of sisterly affection.
But poor Ames gets the rude awakening of a lifetime when Ricky comes over. Right after they both admit their kiss was more than just practice, and she says she wouldn't live with Ricky unless they were married -- HUH? -- he announces his plan to take John on weekend. His foster parents, Margaret and Dr. Shakur, have offered to help with the child. And Ricky wants to be a real grown-up for once, someone who can bring John into his own life and around his own family.
Amy, of course, hates this idea, because she feels like John's being taken away from her. When Ricky pushes the issue, she begins to cry. So what are they going to do now.