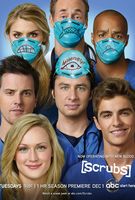 TV Info
---
Episode Premiere
January 13, 2009

Distributor
ABC

Genre
Drama, Comedy

Show Period
2001 - 2010

Production Company
Doozer, Towers Prod., ABC, Touchstone Television


Cast and Crew
---
Director
Ken Whittingham
Screenwriter
Taii K. Austin
Main Cast
Additional Cast
Synopsis
---
Things are looking up for J.D. The evil Dr. Maddox is gone and there's no sign of the Janitor. We also love the fact that he's hanging out with Elliot a lot more. Seems like old times, right?
While out on the town together, J.D. and Elliot spot Dr. Kelso hiding out in a Coffee Bucks, even though he said he and Enid were heading off to wine country. Kelso confesses that he's just not sure what to do with his golden years. He then remarks how happy he is to see the two of them dating again. Wait! What? Dating?!
Dr. Cox calls Turk in for a surgical consult, but insists on staying in the room to observe. Afterwards, Turk confronts Cox about always hanging around during consults. Cox doesn't trust him to help patients make an informed decision, since all surgeons want to do is cut. Ouch.
Turk is hurt by the lack of trust from his colleague. Things get even more confusing for him when, during a consult for a patient who needs a kidney transplant, the patient tells Turk that Cox called him the best surgeon at Sacred Heart. Cox later demonstrates how that's not actually very powerful praise when he shows him how stupid the Todd can be.
Much to J.D.'s chagrin, the Janitor has returned. Ted is very happy to have the leader of the Brain Trust back, even though smiling about it causes him intense pain. We're not sure why. The Janitor reveals that he wasn't actually reinstated. Instead, he posed as Dr. Jan Itor and fired the replacement janitor before reassuming the role. Well played, Janitor. Well played.
Ted's worried he'll be caught, but the Janitor insists that things just work out for him. He's proven right when, as paychecks are handed out, he's able to say he just didn't get his and that he should be in the system. If only all payroll services were so easily duped.
Dr. Cox's kidney transplant patient is, unfortunately, not a match for his wife. He is a match for another kidney transplant patient's wife though. And, by some miracle, his wife is a match for the other patient. Dr. Cox suggests an exchange, but the patient won't go for it, refusing to trust that the other patient's wife will come through with the kidney. It's quite the conundrum, right?
Turk suggests that they do the surgeries simultaneously and it's a huge success. Cox is happy, but Turk is still hurt that there's no trust between them. Stay strong, Bear. Turk is surprised when, during his next consult, Cox leaves the room, finally showing some trust—sort of. He's still listening just outside the door. Hey, he's Perry Cox. We all know he's not going to change overnight!
Inspired by Dr. Kelso's dating comment, J.D. and Elliot have a heart-to-heart about their relationship, They admit to still having feelings for one another, but they've also hurt each other in the past. They want to be a couple again, but they just don't want to put up with all of the judgments from their friends and co-workers, which Kelso rightfully calls "hogwash."
Kelso tells them to do what makes them happy and forget about what other people think. He takes his own advice by going back to the coffee shop at Sacred Heart and owning up to the fact that there's no place he'd rather be. There's no place we'd rather have him either. Besides, we hear Donny's muffins are moist and delicious and who doesn't love a good muffin?
J.D. and Elliot decide to take a chance on what makes them happy, too. As they leave their shift at Sacred Heart, they do so hand-in-hand. Love it!