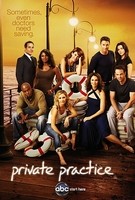 TV Info
---
Episode Premiere
April 24, 2012

Distributor
ABC

Genre
Drama, Comedy

Show Period
2007 - 2013

Production Company
ABC, ShondaLand


Cast and Crew
---
Director
Tom Verica
Screenwriter
Jennifer Cecil, Elizabeth J.B. Klaviter
Main Cast
Synopsis
---
Like most new moms, Addison is glowing as she shows off her new baby boy, Henry. Amelia's first ultrasound reveals that she's also having a boy. Sadly, there's a problem. We're not told what it is right away, but the news is obviously not good. We jump ahead five weeks to see that Amelia has shut down emotionally at work. She's also extremely uncomfortable whenever Addison is around with Henry.
Amelia doesn't want anything to do with Addison. She does, however, listen to Jake as he explains that her baby was dealt a bad spin of the genetic wheel. It had nothing to do with the drugs she took. Later, Amelia lets loose on Addison with a venom-filled speech about how her life has turned into a horror show. Her baby has no brain and Addison now has a healthy child. It makes her hate Addison, who retreats to find comfort with Henry.
A nine-year-old little girl is brought into the hospital with multiple stab wounds. She's in critical condition. Violet believes the girl's sister, Missy, is reacting oddly to this tragedy. It's almost as if she's "acting" upset. Amelia declares the young patient brain dead. The parents are distraught, but Missy only seems to be curious about what's going to happen next. After Violet reveals the details of her own stabbing, she sees that Missy shows signs of sociopathic behavior. She later gets the girl to admit that she stabbed her own sister.
The father of the young stabbing victim wants his daughter's life to count for something. He asks Amelia about donating organs before clutching her hand. Later, Amelia asks Jake to help her stay healthy until she delivers her baby. When that day comes, she wants to donate his organs so that they can save other babies-as many as possible. It's a sad, heroic plan. Amelia leaves a voicemail message for an out-of-town Sheldon to say that she wishes he were there.
Mason isn't talking to anyone. This is fallout from the tragedy of a little boy who just lost his mom. Cooper wants to give Mason time to grieve, but Charlotte thinks it's time for him to talk. She finally gets the boy to speak up. Mason is upset because he's already starting to forget things about his mom. He knows people want things to be normal, but he doesn't feel normal. Cooper feels that Charlotte pushed Mason too hard. This leads to some tension between the two of them.
Violet and Pete are in therapy to try to save their marriage. The psychiatrist notices how polite they are with each other. He's relieved when the two of them finally blow up. He now sees hope because the ugliness he just witnessed was honest as opposed to polite. Later, Pete declares that he doesn't believe that opening old wounds is the way to go. He just wants to love Violet. That's the only thing he wants to do. Then Pete walks out of therapy. Violet actually finds this whole turn of events oddly romantic.
While shooting hoops with Sam, Jake confesses that he kissed Addison the day she got Henry. This leads to some tense moments between the two of them. After Sam lets Jake know that they both kissed Addy on the same day, the two men realize they aren't the problem here. Guess that's why they bond over their current situation. Addison is fine with this because for the first time in a long time she has exactly the man she wants. His name is Henry.