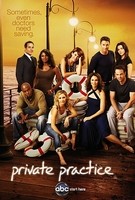 TV Info
---
Episode Premiere
March 15, 2012

Distributor
ABC

Genre
Drama, Comedy

Show Period
2007 - 2013

Production Company
ABC, ShondaLand


Cast and Crew
---
Director
Paul Adelstein
Screenwriter
Barbara Kligman
Main Cast
Additional Cast
Synopsis
---
Erica is admitted to the hospital with abdominal pain. She's spitting up blood. Cooper promises Mason that he'll be honest with him once they find out what's wrong. The news is not good. Erica has developed new tumors all throughout her body. She has about a week to live. The end will be very painful. Erica doesn't want Mason to see her in pain, so they need to say goodbye to each other sooner rather than later.
Cooper and Charlotte are straight with Mason as they tell him what's in store for Erica. It's a difficult conversation. Mason knows that his mom is scared, so he puts on his bravest face when he visits her. He promises to listen to Coop, do his homework, eat his green beans and more. Erica says "I love you" repeatedly as she watches her son step out of the room.
Mason runs into Charlotte's arms. He's so happy that he didn't cry. He wanted his mom could remember him smiling and being a good. Mason finally does let the tears flow out in the hall. Coop stands in the background. He's also in completely choked up. This was an emotional, painful, heroic farewell between a little boy and his mom. How could anyone not be moved to tears?
Sheldon wants to admit Corinne into a facility where she can receive round-the-clock care. Sam doesn't believe that's necessary. He tries his best to care for his little sis at home, but it's extremely difficult. Addison tries to convince Sam that he needs help. Her argument doesn't fly either. Sam promises Corinne that he will always be there for her, but fears for her safety when she says she'd rather be dead. He then questions his own ability to care for Corinne when he tries to forcibly make her take her meds. It's a scary scene.
Sam finally asks Sheldon to help him get Corinne into a care facility. The fact that it's the best thing for her doesn't make it any easier. Corinne promises to be better. She begs Sam to not give up on her. That's not what's happening here. Nevertheless, Corinne's last words to Sam before entering the facility hurt him deeply. She says, "I never should have called you." Then she's gone.
Scott comes into the ER after being badly beaten while responding to a domestic violence call. Violet helps Pete pop his dislocated shoulder back into place. The painful procedure gets the job done, but Scott's not out of the woods. He's bleeding into his belly. Thankfully, Scott pulls through. He later lets Violet know that she, Pete and Lucas are a family. He can't compete with that even if he wanted to. He encourages her to go be with her family.
Jake's daughter, Angela, lets him know that she had sex for the first time. Not exactly the thing any dad ever wants to hear, but Angela wanted him to know how happy she feels being in love. She then grills Jake about the woman in his life. That would be Addison, and Angela would like to meet her. That's why she pops by the office to do just that.
Sheldon lets Amelia know that it's time to decide what she wants to do about her baby. It's a tough decision, as her drug use could certainly lead to complications. Amelia also doesn't want Addison to hate her after all the struggles she's been through trying for a child of her own. Ultimately, Amelia decides she wants to have Ryan's baby. She's beyond relieved to see how happy Addison is when she finally breaks the news. Aunty Addy has a nice ring to it, doesn't it?