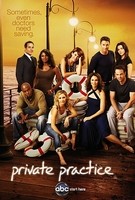 TV Info
---
Episode Premiere
February 16, 2012

Distributor
ABC

Genre
Drama, Comedy

Show Period
2007 - 2013

Production Company
ABC, ShondaLand


Cast and Crew
---
Director
Allison Liddi Brown
Screenwriter
Steve Blackman, Craig Turk
Main Cast
Additional Cast
Synopsis
---
In the "Have You Seen Me Lately?" episode of Grey's Anatomy, Amelia and Derek (guest star Patrick Dempsey) came up with a way to possibly save Erica's life. They will have a 90-second window of opportunity to complete one vital part of a risky procedure. Lexie (guest star Chyler Leigh) says they've hit their target time just twice during numerous practice runs. The operation needs to take place ASAP. Erica persuades them to give her a day so that she can have a talk with Mason.
During a rainy day in the park, Erica, Cooper and Charlotte finally tell Mason about the tumor in his mom's brain. He's angry that she didn't tell him sooner. Cooper's also upset, as he believes he's handled everything wrong. Charlotte assures him that he did the best he could. Later, Charlotte tells Mason exactly what's going to happen to his mom. He appreciates hearing the truth.
Erica lets Mason know that she'll always love him no matter where she is. She also has a heartfelt conversation with Charlotte to let her know that her son will need a living mom if she dies. Once Erica is wheeled into the OR, Derek lets Amelia know that the fear she has is a good thing. That's because when she's scared she fights. He's known that since they were kids.
The countdown is on. Amelia and Derek work in perfect harmony to beat the 90-second deadline. They do so with five seconds to spare. It's a new record! Unfortunately, Erica has a clot that's causing her to stroke out. Amelia clears it out and the patient stabilizes. They still have a long way to go after this little scare, but Erica pulls through. When she awakens, she gives Mason a wave to let him know that she's okay.
Everyone is overjoyed by the result of this incredible surgery. Cooper screams, "I love medicine!" This gets a laugh out of Charlotte, who declares that she loves Mason. That's probably because she loves Coop so much. Derek lets Amelia know that he loves her, too. If she ever thinks about doing drugs again, she should simply remember what they did together. They brought a mother back to her son. They did something great.
One of Sam's heart transplant patients, Gloria, is pregnant thanks to some help from Jake. He had no idea she was a heart donor recipient. Gloria refuses to have a C-section, as it's still too early. Her heart starts to fail just as her water breaks. Sam, Jake and Addison work to save both mother and child, but only the baby survives. This case had Jake and Addison at odds. He wants to know if there's anything more than a physical attraction between them. She assures him there is.
Hot Scott wants to move his relationship with Violet to the next level. He wants her to meet his friends and spend some time with Lucas. As far as things with Pete, they are still pretty awkward, but not as acrimonious. In fact, they are borderline pleasant. Violet lets Scott know that she doesn't want more out of their relationship. She just wants to continue to have mind-numbing sex. He agrees to her terms.
Sam's sister, Corinne (guest star Anika Noni Rose), is bubbling over with vibrant enthusiasm. She's ready to start over, but Sheldon believes there are limitations to what she may be able to do. Sam doesn't want to accept that. He's also angry to learn that Corrine has been in L.A. for the past five years. For over a decade, he thought she was dead. Sam screams, "What happened to my baby sister?" Corrine claims he doesn't want to know.
Sheldon diagnoses Corrine as having bipolar disorder. There are ways she can balance things, but she has to let him help. As for Sam, Corrine lets him know that he's selfish for complaining about how worried he was. She's had an incredibly painful existence all due to an illness she didn't even know she had. Sam later admits that he thought Corrine took off because of him. He now knows that she left because she was sick. These two have had a rocky past, but the hug they share is a sign of hope for the future.