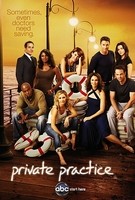 TV Info
---
Episode Premiere
January 05, 2012

Distributor
ABC

Genre
Drama, Comedy

Show Period
2007 - 2013

Production Company
ABC, ShondaLand


Cast and Crew
---
Director
Ed Ornelas
Screenwriter
Elizabeth J.B. Klaviter
Main Cast
Additional Cast
John Sloan
Jamie Silberhartz
Synopsis
---
Sam's moving out so that Addison can impress a social worker as she attempts to adopt a child. When Addy gets news that a birth mother wants to meet her, she knows that she could very well be a mom in less than a month. Woo hoo!
The birth mother, Melanie, is thoroughly impressed after Addison opens up about her past abortion. Things take an accelerated turn when Melanie goes into labor early. When complications arise, Addison shoos away a rookie doc to bring the newborn into the world herself. It's a beautiful baby girl. But will it be Addison's baby girl?
Addison has already fallen in love with Melanie's baby. That's why it's so heartbreaking when she learns the child is not going to be hers. Addy breaks down in Jake's arms. Later, Sam tries to comfort her, too. They love each other, but they can't keep going the way they have been. It looks like this is the end of the line for AddiSam.
Cooper is unsure of what to do when he catches Mason shoplifting trading cards from a toy store. He doesn't want to be the bad guy. Sam tells him to man-up and be a father. Coop does just that. He lays down the law with his son. Mason doesn't like his punishment especially after he thinks it means he won't be seeing his dad now. Coop assures him that's not the case at all.
Amelia is still adjusting to clean and sober life. Charlotte offers her the opportunity to get back into the surgical game. Amelia is nervous, but pulls off the procedure without a hitch. That's the good news. The bad news is that things are very strained with Sheldon. Charlotte takes him out to the shooting range to help clear his head. Sheldon feels better, but Amelia still thinks he hates her. Charlotte assures her that it's just the opposite.Rose, Kendra and Evan are a part of a polyamorous triad who want to have a baby. Jake instructs them to have a chat with Violet in order to brace themselves for the life changes that are headed their way. Unfortunately, medical issues make Rose's biological participation in childbirth impossible. For that reason, she dismisses any notion of having a baby.
After a chat with Jake, Rose decides to go along with the baby plans with Kendra being the sole biological mother. Evan is overjoyed, but Kendra knows that they can't do that to Rose. They can still have a baby, but it'll have to be in a way that doesn't exclude anyone. This has Evan realizing that he wants his own child.
Pete wants Violet to stick to the plan of being with Lucas only during their predetermined times. This leads to the idea of Pete moving out altogether. The experience with Rose, Kendra and Evan has Violet believing that she and Pete need to follow the rules they established. Pete breaks down saying he can't lose Lucas. Violet promises that she will never keep him from his son.