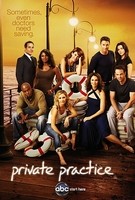 TV Info
---
Episode Premiere
November 17, 2011

Distributor
ABC

Genre
Drama, Comedy

Show Period
2007 - 2013

Production Company
ABC, ShondaLand


Cast and Crew
---
Director
Jeff Bleckner
Screenwriter
Christopher Fife
Main Cast
Synopsis
---
Amelia is scared as she walks through the front door of the rehab facility. Addison is right by her side as her friend takes the first step on her 50-day journey to getting clean and sober. Amelia rooms with a young girl named Hailey. The two of them go through the painful detox process together. They bond in the days that follow. Amelia seems to be making progress, but still doesn't want to face her friends when they come to visit.
As Hailey nears the end of her rehab run, she calls out Amelia about her lack of sharing during group. It's an intense scene as Hailey tells Amelia that she didn't kill Ryan. The guy made his own decision to take the drugs. When Amelia bursts out in tears, Hailey knows that it's okay to leave. These two new friends say goodbye. Amelia's parting words to Hailey are "don't use drugs." Haley's last words to Amelia are "let your friends in."
On Day 32 of her rehab stay, Amelia finally lets Sheldon visit her. It's awkward, but Sheldon points out a sign that has a message that's as good as any advice he could ever give. It reads: One Day at a Time. Nine days later, Amelia sits in a room with all of her friends—her family. She doesn't know how to apologize to them, but she does say she wants to try to move forward. She'll also try to never hurt any of them ever again.Pete and Violet are very good together with Lucas around, but things are as awkward as ever during those one-on-one times. Sam tells Pete that things are looking great as far as his bypass recovery. And Pete tells Sam that Addison is destined to have a baby one way or another now that Violet has gotten involved. His wife doesn't do anything halfway.
Two weeks pass as Violet helps Addison with more aggressive moves to get the baby thing happening. Addison wonders how her relationship with Sam will ever work since he's never wanted a baby. He only wants Addison, who collapses after some side effects from the treatment she's been receiving. She'll be okay. Jake says they can try to implant again after a few days of rest.
Cooper's patient, Tobey, has a lupus condition is intensified when the boy's immune cells start attacking his own body. They need to find a stem cell match as well as find him a foster family to care for him. Cooper doesn't want the boy to go through this thing alone. He also wants to learn how to work his new camcorder in time for Mason's first play. But when a frightened Tobey asks his doc to stay with him during a scary procedure, Coop knows he's going to miss his son's performance.
Mason is upset with Cooper. He wants nothing to do with his dad after he broke his promise to be cheering him on from the front row. Coop tries to explain that Tobey needed him. He knew Mason would be okay because others were there to support him, but Tobey had no one. Mason eventually comes around. He even pays a visit to Tobey in the hospital. He promises the sick kid that he'll be okay because his dad fixed him.
Sam doesn't want Addison to do any other procedures that will put her health at risk. Too late. Addy says Jake already transferred two of her frozen embryos. This is her last shot though. She promises that she'll end the treatments whether she's pregnant or not.
Pete never left his first wife even though he was miserable with her. Violet doesn't want to go down that same road, so she offers to leave him. She still loves Pete, but says she'll walk away if he doesn't love her. After thinking about this for awhile, Pete tells his wife he's so sorry. Violet packs a bag, but believes they should still keep up appearances at Addison's Thanksgiving dinner for the sake of Lucas.
It's Day 50 of Amelia's rehab. Hailey had a relapse, but Amelia promises she'll help her, as they are family now. Speaking of families, all of our favorite docs have gathered at Addison's place for Thanksgiving. Amelia arrives asking if there's room at the table for one more. Of course there is. Everyone is ready to eat, but Addison is nowhere to be found. That's because she's busy taking a pregnancy test. We're not sure what to make of the look on her face as she checks the results. Could Addison finally be pregnant?