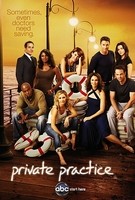 TV Info
---
Episode Premiere
November 17, 2011

Distributor
ABC

Genre
Drama, Comedy

Show Period
2007 - 2013

Production Company
ABC, ShondaLand


Cast and Crew
---
Director
Mark Tinker
Screenwriter
Shonda Rhimes
Main Cast
Synopsis
---
Everyone is stunned to see Amelia walk through the doors since she's been MIA for 12 days. Amelia didn't realize she'd been off the grid that long. She claims she spent the time getting sober at meetings. Amelia credits her addict boyfriend with saving her. Actually, Ryan's not her boyfriend anymore. Now he's Amelia's fiance.
All of Amelia's friends assemble in the main lobby. A woman named Lenny is also there to help with an intervention. When Addison tries to convince her friend to listen, Amelia lets loose with a vicious verbal assault. It's beyond harsh. Lenny says that once Amelia starts going into withdrawal, she'll come back to them if only to get this over with so she can get more drugs. That's exactly what happens.
Violet attempts to chat with Amelia which leads to another venom-filled verbal smackdown. Pete's on the receiving end of this one, too. He and Violet retreat to the kitchen. They should be upset by Amelia's vicious words, but they can't stop laughing. Obviously, they realize that wasn't the real Amelia lashing out. They also realize it's time for drastic measures.
Charlotte spikes some water with buprenorphine, a drug that makes withdrawal symptoms go away immediately. It'll also prevent any drugs from getting the recipient high for 72 hours. Amelia's hip to their plan. She won't drink the water with the bupe. But Amelia will stay and listen to her friends on one condition. She wants some oxycodone.We've been seeing flashbacks of the day Amelia's dad was murdered during a robbery. He didn't want to give up the watch her mom gave him as a symbol of her love. Amelia saw her dad die in that robbery. Now she's giving his watch to Ryan. Why? She says it's because he gives her love.
Back in the present, Jake believes giving Amelia the oxy is the only way to save her from her disease. Later, he takes a seat by a headstone marked "Lily Ann Reilly – Beloved Wife & Mother." Jake talks to his deceased wife promising that he's taking care of her daughter who's away at college. He says his new work family makes him feel less alone. Finally, Jake leaves a box of doughnuts by the headstone. He does this because Lily ate lots of crullers whenever she was trying to get clean. Looks like we just learned a little bit more about Dr. Jake Reilly.
Addison is willing to do whatever it takes to get her friend back even if it means giving her drugs to keep her in the building. Sheldon has her back on this one. Amelia is jazzed to finally be getting the oxy, but confused when Lenny orders her to take the pills in front of her friends. She wants Amelia to show them who she is. Or she can "not" take the drugs and show them who she wants to be. Amelia crushes the pills so she can snort them up her nose. It's a truly troubling moment.
Amelia is zoned out a bit, but at least she's listening. Things finally start to be sinking in. She asks Sheldon if he'll come see her at the rehab facility they've picked out for her. He will. Every single day. Just when it looks like they've finally turned a corner, Ryan steps out of the elevator. Amelia runs into his arms immediately.
Addison notices the watch on Ryan's wrist. She can't believe it. She wants Amelia to tell everyone the significance of the watch. That's not going to happen. So Addy starts to tell the story. Amelia warns her not to continue. She's a total mess. Sheldon tries to stop Amelia from leaving. She tells him that she'll never love him back. With that, Sheldon steps away and Ryan leads Amelia out of the office.
Ryan is surprisingly moved by all the people trying to help Amelia. He speaks of their future together raising kids. But they'd have to be clean. Amelia and Ryan make plans to get sober together. Of course, they'll just get high one last time before they start down that road.
Lenny assures the group that just because Amelia is gone; it doesn't mean they've lost her forever. Sometimes a person has to hit rock bottom first. That time may be now. Amelia awakens from her high to find Ryan dead by her side. She asks the police to call Dr. Addison Forbes Montgomery. Amelia says, "Tell her I said I'm ready to go to rehab."