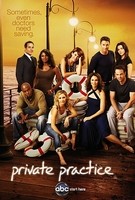 TV Info
---
Episode Premiere
November 03, 2011

Distributor
ABC

Genre
Drama, Comedy

Show Period
2007 - 2013

Production Company
ABC, ShondaLand


Cast and Crew
---
Director
Jeff Bleckner
Screenwriter
Krista Vernoff
Main Cast
Synopsis
---
Addison has a song in her head. It goes a little something like this: "Tempted by the thrill of something new. So now I turn my lonely eyes to you. I promised you that we could have it all. You trusted me but I let you fall." Addison's therapist thinks the song may be about Derek as she moves ahead with choosing sperm donors. The theory is that sometimes moving forward makes people look back.
It's so tough to choose a sperm donor these days, so Addy asks for a consult from the men in her office. Pete, Coop and Sheldon all have various opinions as to who would make the best baby daddy donor. Jake chimes in, too. He suggests that Addison shouldn't be focusing on the sperm. Instead, she should concentrate on all the love she has to give. Nice.
Jake lets Addison know that she has four viable eggs. That's great news considering Addy thought she was an "eggless wonder." Sam comes to visit Addison after she's anesthetized. Jake believes this is all part of his "half way" approach to the whole situation.
Addison feels that if she hadn't cheated on Derek all those years ago, things would be different. Sam asks her to list all his good qualities, which she does. Then he fesses up about kissing Naomi while she was away. His point is that she can't possibly pick the perfect sperm because everyone is imperfect. Later, Addison tells her therapist the song that was in her head before isn't there anymore.
Violet's attorney, Jason, informs her that the medical board has agreed to revisit their case. They have a lot of work to do, but he thinks they have a real shot at getting her back to work. Jason also thinks Violet should join him for dinner. She reminds the guy that she's married. Of course, that marriage is still very fragile. In fact, Pete angrily tells Violet that he's sick of being analyzed by her. These two appear to be in real trouble.
Cooper has a young patient named Ollie who may be suffering from ADHD. The kid's parents want to be put on the fast track to get medication. Coop wants Sheldon to have a chat with the family first. The session does not go well. Sheldon suspects the parents coached him in order to get the drugs. After Ollie has a violent tantrum, Coop learns that his parents have been giving him ADHD drugs that belonged to his older brother so his grades would improve.
Cooper's new experience as a dad has him realizing that what Ollie's parents are doing is child abuse. He won't call the authorities because he doesn't want the boy to be put into the system. But that doesn't mean he's going to let this abuse continue. Cooper says the parents are going to bring him into their office once a month so that he can be sure they aren't pumping Ollie full of drugs. If that ever happens, he'll call the police.
Amelia spends the night with a man whose name she doesn't even know. She makes her way to work where her daily breathalyzer test comes up clean. Amelia angrily asks why Charlotte is constantly harassing her. Their exchange brings up some flashback memories. Charlotte recalls the night she suffered a head injury after catching her first hubby cheating on her. This incident led to her getting hooked on prescription drugs which led to an auto accident that killed another driver.
As for Amelia, she's spiraling more and more out of control as she splits a pack of party pills with that man who slept over. That's unfortunate since a patient at the hospital needs surgery right away. Charlotte has no choice but to let an unsure resident do the procedure. Charlotte confronts Amelia about her drug use. She lets her know that she's banned from the hospital until she cleans up her act. The threat doesn't hold a lot of weight because Amelia abruptly quits.