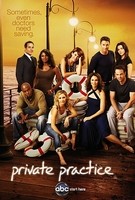 TV Info
---
Episode Premiere
October 27, 2011

Distributor
ABC

Genre
Drama, Comedy

Show Period
2007 - 2013

Production Company
ABC, ShondaLand


Cast and Crew
---
Director
Ann Kindberg
Screenwriter
Adele Lim
Main Cast
Additional Cast
A.J. Langer
Sydney Tamiia Poitier
Theo Stockman
Synopsis
---
We first met Amelia's friend, Michelle, in "Love and Lies" where she was diagnosed with Huntington's Disease. She was going to kill herself until her best friend convinced her to keep enjoying life. Amelia promised that she would step in once the bad started to outweigh the good. That time has come. Michelle wants Amelia to help her die.
Sheldon can't believe Amelia is actually considering euthanizing her friend. Pete has been in this situation before. That's why Amelia asks him what exactly happens during a physician-assisted suicide. Let's just say it takes an emotional toll on you.
Amelia gave Michelle her word that she would be there for her, so she begins the process. Then something goes wrong. Michelle has an unexpected reaction to the first round of meds. She wants to stop the euthanasia. Amelia rushes her to the hospital where Pete takes over. Things don't look good.
Amelia silently, robotically leaves the hospital. Sheldon reads her the riot act for what she did, but that's only because he cares. Amelia breaks down when she finds out that her friend is still alive. She promises Michelle that they'll get through the next steps together.
Amelia is thrown a curveball when she comes home to find that Michelle has committed suicide on her own. Once again, Amelia is in a robotic state as swallows a handful of the pills her friend left behind while washing them down with some wine.
Wes is a young man who needs medication for heart issues as well as psychiatric problems. His mother, Karen, says her son has been spiraling downward ever since he stopped seeing Violet. Karen dismisses any suggestion of having her son committed. But when Wes has a violent episode, Sam has no choice but to order a psych hold.
After Wes is sedated, Violet watches him from afar. One of the things Pete loves about his wife is how much she cares about her patients. He's also glad that Violet is fighting hard to get her suspension lifted. As for Violet, she's just glad Pete is still able to find things he likes about her.
Karen still won't have her son committed to some depressing clinic where they'll keep him locked up and drugged. Her son is an artist. He's funny, sharp and passionate. He needs to be free. So Karen lets him go. But she's not alone. Sam is waiting to see if she needs a ride home.
Erica doesn't want Mason know that Cooper his father just yet. She also wants Charlotte to have zero contact with the boy. Cooper assures Erica that he's ready to be a father. That's good. Because Mason senses something is up. Erica finally feels comfortable enough to tell him the truth. Mason takes the news in stride. He asks Coop if he wants to watch a little Phineas and Ferb. Of course, he does. And not just because it's a really good show.
Addison needs help with her hormone shots since they must be injected into her derriere. It's an angling issue. Jake steps up to the plate. He gives her the shots and massages her butt. Medically, it's the best thing to do. Jake assures his colleague that he's deriving absolutely no pleasure at all from this. And Addison is deriving no pleasure from the wild emotional mood swings she's having.
Addison lets Sam know that Jake has been giving her the hormone shots. It's the first step towards her getting pregnant. Sam doesn't want a child. We already know that one. But he also doesn't want Addison keeping secrets from him. Deal.