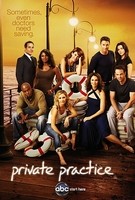 TV Info
---
Episode Premiere
October 13, 2011

Distributor
ABC

Genre
Drama, Comedy

Show Period
2007 - 2013

Production Company
ABC, ShondaLand


Cast and Crew
---
Director
Randy Zisk
Screenwriter
Jennifer Cecil
Main Cast
Additional Cast
A.J. Langer
Michaela Watkins
Andrew Borba
Austin Highsmith
Christinna Chauncey
Synopsis
---
Addison is shocked to learn that her patient, Nina, is going forward with her plans to have a child even though she doesn't have a uterus. No problem. Dr. Jake Reilly is prepared to give her the one that's being donated by her grandmother. Addison doesn't think a transplant is possible. Jake disagrees. It's a chance to make huge advances in the area of fertility. Addison is persuaded to proceed after having a chat with Nina.
Things go south during Nina's surgery. Jake and Addison do their best to get things under control. They save Nina's life, but the transplant fails. Addison tries to convince Jake that the fact the patient survived means they won. As bummed as he is, Jake is terrific when it comes to consoling his patient. He assures Nina that she's going to be a great mother no matter where the baby comes from. An impressed Addison watches the scene from afar.
As humiliated as Amelia is to be back at square one sobriety-wise, she vows at an AA meeting to not drink. At the office, her patient, Laura, has been having impulsive reactions from the meds she's taking for Parkinson's. And by that we mean she's been having sex with random men at the drop of a hat. Her hubby, Will, isn't very happy about this, especially since he now has gonorrhea.
Amelia wants to do a procedure known as deep brain stimulation to help curb Laura's sexual impulses. The patient is clearly nervous about the surgery, but her hubby wants her to have it done. It's the only way he can trust her again. But Laura likes being on her meds and all the perks that come with the side effects. For the first time in her life she feels sexy and alive. She wants Amelia to lie to her hubby by saying the surgery won't work.
The Laura situation sparks some debates amongst the docs. Sam takes it upon himself to have a chat with Laura about her decision. He doesn't see how she could do such a thing to her hubby. Laura says that's because he isn't inside their marriage. Good point. It makes him appreciate his situation with Addison, who has decided to name her cooperative practice Seaside Health and Wellness.
Violet gets Cooper to hook her up with a group of fellow mommies. Seems like a good idea, right? Wrong. The other moms are a tad turned off when Violet's psychiatrist side comes out during a play date. After that, none of her new mommy buddies return her emails. So, Violet chops off all her hair. Okay, not "all" her hair. But it is a lot shorter now. Looks good though.
Addison tells Violet that the reason she didn't mesh with the mommies is because she has nothing in common with them. They have don't much in common with each other either, but that doesn't mean they can't be friends. Violet also wants to get started on another book. Pete's not exactly thrilled when he hears this news.
Sam clears Pete for physical activity. And by that, we mean all physical activity. He and Violet engage in an intense round of lovemaking. The problem is that Pete had a disconnected feeling the entire time. He chats with Sheldon while trying to find the source of his recent anger issues. They may stem from the days when he used to get beat up in his old foster home. Sheldon thinks Pete is scared. He's on the money. Pete admits to Violet that he's afraid he won't live long enough to raise Lucas.
Charlotte's still giving Cooper the deep freeze for the way he violated her trust. She knows she's the sheriff of the hospital, but she doesn't want to take on that role with her husband. Coop assures her that she'll never have to be the sheriff with him again. All is well until Coop hits the office the next day. A woman named Erica stops by. They had a one night stand nine years ago. She has a son. He's eight. Do the math. Cooper is a dad. Oh boy.