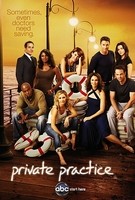 TV Info
---
Episode Premiere
March 24, 2011

Distributor
ABC

Genre
Drama, Comedy

Show Period
2007 - 2013

Production Company
ABC, ShondaLand


Cast and Crew
---
Director
Scott Printz
Screenwriter
Fred Einesman
Main Cast
Additional Cast
Alex Kingston
Marina Black
Kenneth Mitchell
Devon Odessa
Tequan Richmond
Adina Porter
Michael Jace
Synopsis
---
The critics are doling out glowing reviews for Violet's book with one exception. Dr. Marla Phillips of the Times has some scathing things to say about the author's tactics as a shrink. This has Violet sulking at the book launch party. She cheers up when she catches Sheldon telling off Marla Phillips. Actually, Sheldon wasn't chastising. He was flirting. This leads to a hotel room hookup with the abrasive critic. Probably best to not tell Violet.
Pete's patient, Lorraine, shows signs of being cancer-free. The timing of this news couldn't be better. Lorraine's sister, Claudine, is acting as a surrogate for her and her husband, Elliott. What Lorraine doesn't know is that her sister and husband fell in love with each other during the pregnancy. Uh oh.
Addison is forced to do an emergency C-section. The baby girl is fine, but her family is still in turmoil. Addy had to do a hysterectomy on Claudine, who wants to keep the baby now that she can't ever have one of her own. Elliott wants this as well. This leaves Lorraine devastated. Pete encourages her to find the strength to fight for her baby and Addison tells Claudine that she simply can't do this to her sister. She can have Elliott or the baby, but she can't have both. Claudine eventually hands the baby over to Lorraine.
Cooper is feeling a little down about the fact that all of his friends seem to be way more successful than he is. He's also struggling with the fact that his young patient Tyler may have a serious heart condition. The boy's parents want Coop to clear their son for an upcoming wrestling match. If he misses it, it'll cost him a college scholarship. Sam says the odds of anything happening are slim, but Cooper still won't sign off on wrestling.
Tyler's dad comes by the next day for the follow-up exam on his son. It doesn't take long for them to realize that his wife took Tyler to the wrestling finals. They head off to the gym where Ty wins his match. It looks like they dodged a bullet until the kid collapses on the mat. Cooper and Sam get Tyler's heart going but he was without oxygen for some time. He's put into a medically-induced coma to give his brain time to heal.
Tyler's situation seems even more tragic when the family learns that he scored a full scholarship to UCLA before the match even took place. Charlotte tries to cheer up Cooper. The cool titles people get and the books other folks write don't hold a candle to what he does every day as a doctor. When it comes to truly helping others, nobody does it better that Dr. Cooper Freedman.
Addison has been vomiting in the morning. Her stomach could be turning and churning because Sam's had Naomi on his mind lately. They appear to have gotten over that little bump in relationship road. Amelia suggests the possibility that Addy is pregnant. This brings a big smile to the prospective mommy's face. The joy is short-lived when Addison discovers that she's not having a baby.
Sam had said that he needed more time before they made any decisions about having a child. Addison can't wait any longer. She's made up her mind. She wants to have a baby. Now Addison needs to know if Sam is finally ready for that type of commitment. She says, "Are you in or are you out?" We'll have to wait a little longer to learn the answer to that one.