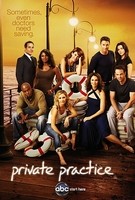 TV Info
---
Episode Premiere
February 24, 2011

Distributor
ABC

Genre
Drama, Comedy

Show Period
2007 - 2013

Production Company
ABC, ShondaLand


Cast and Crew
---
Director
Jeff Bleckner
Screenwriter
Ayanna A. Floyd
Main Cast
Synopsis
---
Pete flat-out tells his wife that he hates her book. Violet is shocked to learn that many of her Oceanside cohorts feel the same way. Amelia isn't thrilled that she's been painted as a bit of a harlot and Sheldon's not keen on being referred to as "sexual leftovers." BFF Cooper isn't jazzed about being dubbed a man-child. Fortunately, Addison hasn't read her copy yet, as she's still out of town.
Violet challenges the gang to say the ugliest thing they've ever thought about her. Amelia jumps right in by calling Violet condescending. Naomi thinks she's cheap. Sam says she can't dance. At the end of this little honesty-fest, Violet apologizes and promises to ditch her book deal if anyone truly can't get past what she wrote. When all the votes are tallied, everyone agrees that Violet should publish not perish.
Sheldon treats Andie, a woman who may suffer from multiple personality disorder. Her sister, Laura, says their parents died when they were young but it's been years since any of Andie's other personalities have shown up. Sheldon learns that's not the case any longer when a personality named Gina advises that he back the hell off. One of Andie's other personalities, Maggie, is upset because Laura's fiancé, Jack, his taking her sister away with him to start a new job in Arizona.
Sheldon eventually discovers that Andie is faking the disorder. The reason is a shocker. It's because she's in love with Jack and she doesn't want her sister to take him away from her. Laura is furious, but Andie is still her sister. That means she still wants her in her life. Jack does, too. With Sheldon's help, they'll figure out away to make it all work.
Cooper and Charlotte are in therapy. A topic of conversation is Charlotte's engagement ring, which she doesn't wear because it's a reminder of her rape. Nevertheless, Charlotte starts donning the ring because Cooper thinks it symbolizes an important step in their relationship. He feels they take one step forward then two steps back. Charlotte disagrees because they don't have any secrets. That's not exactly true. Cooper spills the news that he kissed Amelia after Charlotte was raped.
Charlotte does her best to process Cooper's newsflash. She confronts Amelia about it. Cooper was hurting and what he did was a mistake, but it was also a cry for help. Amelia tells Charlotte that Cooper loves her-only her. And that's a gift. Charlotte forgives Cooper. They've both made mistakes, so this is a good step forward.
Sam treats Tanya, a pregnant teenage girl with Down syndrome. There are cardiac issues that make Tanya's pregnancy high risk, but she should be okay with proper monitoring. Tanya's mom, Erin, wants her to have an abortion. Naomi convinces her to hold off any decision until they do a test to see if the baby will be healthy. The child's father, Ricky, also has special needs. Nevertheless, both Ricky and Tanya are thrilled to learn they made a baby together. Then they are devastated when Erin says they may not get to keep their child.
Sam and Naomi discuss Tanya's case over a late night dinner. The conversation segues into one about Maya, who may be moving to New York to attend Columbia. That means their grandchild would likely be going with her. That conversation segues into one about how Naomi still feels some stinging effects that come with Sam's relationship with Addison.
Naomi and Sam tell Erin that her daughter's baby shows no signs of have Down syndrome. This news comes a little late, as Erin took Tanya to have an abortion a few hours earlier. Naomi can't believe it. Sadly, what's done is done. Back home, Sam comforts Naomi after the events of the day. He gives her a hug which then turns into a passionate kiss. When exactly is Addison getting back into town?