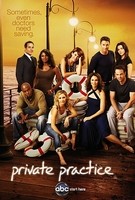 TV Info
---
Episode Premiere
February 03, 2011

Distributor
ABC

Genre
Drama, Comedy

Show Period
2007 - 2013

Production Company
ABC, ShondaLand


Cast and Crew
---
Director
Kenny Leon
Screenwriter
Barbie Kligman
Main Cast
Additional Cast
JoBeth Williams
Cristian de la Fuente
Ann Cusack
Synopsis
---
Addison is in charge of throwing a wedding for her mother and her lesbian mistress lover. Those always make for the best parties. Bizzy and Susan invite Dr. Rodriguez to the wedding. Naomi catches the handsome oncologist flirting with Addison in the hall. Addy wasn't really flirting back, but she does show signs of blushing. Uh oh.
Naomi is worried. Whenever a relationship gets real, that's when her BFF usually screws it up. Addison vows that won't happen with Sam. She later tells Sam about Rodriguez's flirting and her resistance to said flirtations. She then suggests they think about getting married. Seriously!
Sam makes a house call to see Abe (guest star Paul Dooley), a curmudgeonly old man who refuses to take care of himself even though he has a nasty cough. He's driving his daughter, Lisa, up a wall. Abe's caregiver, Simone, has been taking advantage of him. She lets him eat bad food and drink booze at will while she makes personal use of all his credit cards.
Sam confronts Simone about her less-than-stellar caregiver ways. The girl knows that Abe will never press charges against her regarding her liberal use of his credit cards. After all, she's the only thing that's made him happy since his wife passed away. Truth be told, Abe knows Simone is taking advantage of him. But it's better than being a burden on Lisa. Sam convinces father and daughter to meet. Eventually, Abe agrees to let Lisa help him after all those years he took care of her.
Charlotte chats with Sheldon's psychiatrist pal, Dr. Larry Cannon. She talks about her rape and her inability to have sex with Copper. She doesn't believe this talk therapy will do any good and the shrink agrees. He writes a stunned Charlotte a prescription for five month's worth of anti-depressants. It's enough drugs to paralyze an elephant. We did mention that Charlotte is stunned, didn't we?
Sheldon has no idea why his old pal would act so irresponsibly with a patient, or, in this case, his friend. It turns out that Dr. Cannon has become disillusioned with talk therapy. His philosophy now is load 'em up with drugs and send 'em on their way. The longtime shrink has become dependent on drugs himself. A complete mental meltdown in the middle of a restaurant helps Sheldon see that his mentor is spiraling out of control.
Sam shocks Amelia with the news that Addison proposed. He doesn't know if it feels right and seeks her advice on how to say thanks, but no thanks. For now, at least. As for Naomi, she goes ballistic when she hears the big news. She pretty much tells Addison that she sucks at relationships. Needless to say, the conversation doesn't end well.
The wedding day arrives and Addison learns that Rodriguez discharged Susan even though he knew she was still sick. Susan begs Addison not to tell Bizzy that her cancer has come back. If nothing else, she wants to have this day with the woman she loves. Susan gets her wish.
At the reception, Addison is stunned when Bizzy actually thanks her for the beautiful wedding. Addy's equally jazzed when Sam tells her she's free to take back her proposal, which she does. There's good news for Charlotte and Cooper, too. It's been a long time since they been able to be intimate with each other. Not anymore. Charlotte is finally ready. Sure hope the room they duck into at the reception hall has a lock on the door.
Sheldon leaves the reception early to see Larry. He tells his mentor that he's had a psychotic break and he needs help. Larry isn't listening, so it's fortunate that Sheldon brought the cops with him. Fortunate, and sad. Back at the reception, Addison and Naomi make nice as they watch the happy newlyweds dance the night away. The festive mood takes an abrupt, scary turn when Susan collapses to the floor.