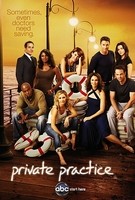 TV Info
---
Episode Premiere
October 14, 2010

Distributor
ABC

Genre
Drama, Comedy

Show Period
2007 - 2013

Production Company
ABC, ShondaLand


Cast and Crew
---
Director
Tom Verica
Screenwriter
Barbie Kligman
Main Cast
Additional Cast
Benjamin Bryan
Rupak Ginn
Mei Melancon
Synopsis
---
Violet is surprised and happy to see Dell's daughter, Betsey, walk out from the elevator at Oceanside. Her joy turns to shock when Betsey's Aunt Monica says she can't care for her niece anymore and abruptly leaves. Betsey is alone and scared. She asks, "Where am I going to sleep tonight?"
Violet asks Betsey if she'd like to stay at with her for awhile. Panic strikes the next morning when Lucas isn't in his crib. As it turns out, Betsey took him downstairs to watch cartoons. Everything turned out okay, but Sheldon is concerned. He thinks Betsey needs years of help to deal with all the trauma she's been through. He believes the best way Violet can help her is by letting her go.
When Betsey spills a drink in the Oceanside kitchen, you can see by the look on the little girl's face that she thinks she's in big trouble. Violet grabs a drink of her own and promptly pours it all over the floor. Soon the two of them are making a major mess by shaking up every soda bottle in the fridge. We're guessing this is the most fun Betsey's had in a long time. She asks if she can stay with Violet forever.
Violet wants to adopt Betsey. Pete thinks it would be too much for them. They need more time to grow as a family. He asks Cooper to talk to Violet, who wonders if she should help Betsey because of what she did to her own son. Cooper says, "Your do-over is not with Betsey. It's with Lucas." As much as it hurts, Violet knows this is the truth.
Addison and Pete treat a pregnant woman who suffers from a painful condition that never shows up on any medical tests. The pregnancy is exacerbating her situation. The woman is three months away from her due date, but if they can't stop her pain then she doesn't want to have the baby. Amelia realizes the woman's pain comes from pressure being put on her brain. Pete is against surgery, as it could possibly kill the woman or the baby. Addison and Amelia feel operating is the best option, as does the woman.
Pete has a lot in common with the woman's husband. They both fell hard for the women in their lives. They also both had to endure some pretty heavy emotional changes along the way. The procedure on the woman appears to be a success. Husband and wife reunite in the recovery room as they both place their hands on the belly of the mom-to-be. They feel a kick. This brings smiles the husband, wife and a few of our favorite docs.
Kenny is a boy who is being bullied in school. Sheldon offers to help and learns the boy's mom puts him in a new school at the first sign of trouble, as she's an overprotective single parent. Kenny just wants to stay in one place long enough to find some real friends. Cooper and Sheldon agree to have a tag team talk with the mom to convince her to give her son time to stand up for himself.
Things take a bad turn when Kenny tries to commit suicide. The mom is a wreck. She's already lost her husband. She couldn't bear to lose her son. Mom finally accepts the help Sheldon and Cooper are offering. She also agrees to keep Kenny in his school. She also will let her son handle things for himself. It's hard to let go, but in this case, it may be for the best.
The Betsey situation brings up questions about children for Sam and Addison. Cooper also wonders if he and Charlotte should take in Dell's daughter. But when Violet asks if anyone would be willing to take Betsey, no one says a word. Nobody steps up. Now she must break the news to Betsey.
Violet tearfully says, "I hope you that you will get to go to a home. A home with a mom and dad who have always wanted a little girl. A mom and dad of your very own who will love you so much because they're gonna see how special you are." It's a heartbreaking moment.
After Violet turns Betsey over to a social worker, she steps back to the room where all of her colleagues, all of her friends, still haven't made a sound. Violet says, "We did a bad thing. You all know it. We did a bad thing." Again, there's complete silence. Makes sense. After what just happened, what could anyone possibly say?