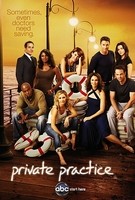 TV Info
---
Episode Premiere
September 30, 2010

Distributor
ABC

Genre
Drama, Comedy

Show Period
2007 - 2013

Production Company
ABC, ShondaLand


Cast and Crew
---
Director
Mark Tinker
Screenwriter
Sonay Washington
Main Cast
Additional Cast
Currie Graham
French Stewart
Shane Johnson
Katie Lowes
Stephen Lunsford
Porter Kelly
Jensen Leflore
Synopsis
---
NEWSFLASH:

Addison and Sam are a couple, Violet is Cooper's best friend and Oceanside Wellness is merging with Pacific Wellcare! Okay, only that last one is worthy of a "newsflash" label.
Naomi proposes a merger after breaking the sad news that William White has passed away. Everyone is onboard with the idea, which catches Naomi a little off guard. She was expecting a little more resistance and kind of waiting to get hit with something she wasn't expecting. Like perhaps the news that Sam and Addison are together now?
Addison tells Amelia that she's with Sam. This has our favorite new neurosurgeon more than a little impressed. Amelia says, "If I had that man in my bed I would be shouting it from the rooftops. I'd write a song." She advises Addy to come clean with Naomi. Easier said than done.
Pete and Charlotte are upset with their significant others. Cooper and Violet are spending a lot of time together, on the phone and face-to-face. No one is saying they can't continue their special friendship, but do they have to spend SOOOO much time together? It's a huge source of tension that gets amplified when Cooper walks in on Pete and Violet having sex on the sofa. He could have knocked!
Charlotte asks Sheldon to assess the mental stability of Jane, a patient who is a gender reassignment candidate. Jane believes her outside doesn't match what's inside. She wants to be a woman completely but needs Sheldon's recommendation before Charlotte can operate. Jane once tried to commit suicide and Sheldon worries she may be hiding a pain that never truly went away.
Charlotte wonders if Sheldon's reluctance to help Jane has something to do with the fact that she chose Cooper over him. It doesn't. Charlotte has a chat with Jane who then has a follow-up talk with Sheldon. He still doesn't think she's ready. Charlotte makes a heartfelt argument on Jane's behalf that catches Sheldon off guard. He says, "You keep showing off your humanity like that and we might actually become friends again." Hope so.
A desperate Jane takes matters into her own hands by doing the procedure herself. Charlotte and Sheldon rush her to the hospital where she pulls through. Sheldon assures Jane that, even after all that's happened, she can still feel better. He'll help. Charlotte tells Sheldon to be careful because now his humanity is showing. Sheldon playfully responds, "Mine was never in doubt."
Pete prescribed medical marijuana to Sydney (guest star Justine Bateman) who gave it to her autistic son, Zack, to control his fits. Cooper is upset that Pete's patient is giving his patient pot. Things go from bad to worse as Zack's fits become more and more intense. Sydney ends up giving him some weed she bought on the street. Unfortunately, it was laced with PCP.
Pete is upset about the role he played by prescribing the medical marijuana. Cooper assures him there was no way he could have foreseen how things would turn out. They share a nice little moment which includes Cooper's vow to try to cut down on his Violet-time in the future. Right now, they both have no choice but to turn Sydney over to the police. Cooper says he'll stick around to explain things to Zack when he wakes up. Pete can go home if he wants. Nah, Pete's not going anywhere.
At the end of a long day, Addison finally musters up the courage to tell Naomi about her relationship with Sam. Naomi has a mini-breakdown but a lot of it has to do with emotions she's feeling after losing William. Addison wants to know what she can do. Naomi says, "I just want you and Sam to back me with this merger." She also tells Addy that she can never talk to her about Sam. Not ever. Sounds like a plan.