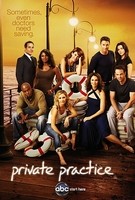 TV Info
---
Episode Premiere
May 06, 2010

Distributor
ABC

Genre
Drama, Comedy

Show Period
2007 - 2013

Production Company
ABC, ShondaLand


Cast and Crew
---
Director
Mark Tinker
Screenwriter
Fred Einesman
Main Cast
Additional Cast
Brian Benben
Caterina Scorsone as Dr. Amelia Shepherd
Michael Patrick Thornton
Geffri Maya
Sarah Hagan
Larry Clarke
Amy Aquino
Timothy Bottoms
Joann Willette
Synopsis
---
Cooper and Charlotte were supposed to go on a simple dinner date but end up in bed together. Their road to romantic recovery may not be the best news for Sheldon, who admits that he may be in love with Charlotte. Addison says, "Go get her. You have to try. If not, you'll spend the rest of your life kicking yourself and wondering why you didn't man-up and go for it." Yeah, uh, pot...this is your old friend the kettle...
When Charlotte wants to talk to Cooper about what's happening between them, he clams up. She storms into Sheldon's office ranting about how Cooper will never be all that she deserves. Sheldon says he will. He says, "I'm throwing my hat in the ring." Charlotte is stunned and we're thoroughly impressed. Way to go, Sheldon!
Claire, one of Violet's patients with anger issues, is back. Her husband believes there may be something wrong because she's been so happy and they're having lots of sex. That's not typical for their marriage. Amelia determines that Claire has a tumor that's stimulating her feelings of bliss. It needs to be removed. Claire says she'd rather die than go back to being as unhappy as she was.
Amelia tries to convince Claire to have the operation. She gives a passionate speech that's well-received. Claire agrees to the surgery. But her husband doesn't know if he has it in him to love the old Claire if she returns, which she does. Violet will try to help her get back the happiness that was always inside her.
William is back after the ALS treatment he received from overseas. Naomi believes he may have come home to die. She asks a bitter Fife to try his experimental protocol on William. He won't do it. Pete wonders if Fife is refusing to help because he's literally trying to kill the competition. The desperate look on Fife's face suggests that he's starting to realize that might be true. He tells Naomi he'll help William. For her.
Addison treats a young pregnant girl named Kim who has been having back pain. The girl's dad, George, won't leave her side. Kim has an aortic aneurysm. She needs surgery for a condition that is inherited from the father. But George doesn't have the disease that would lead to Kim's problem. He's not her father. So, who is he?
Sheldon thinks George may be a kidnapper. When Kim's condition takes a turn for the worse, she's rushed to surgery as George flees. Sam and Addison work in perfect unison to pull Kim through. They share a look leads us to believe they may be perfect together outside of the OR, too. Our hopes are quickly dashed when, after surgery, Sam says they'll be friends but never more than that.
When Kim wakes up, she's confused. George kept her so isolated that the only love she ever knew was his. Addison says that Kim will love her baby when she's born, but not with George. Because she doesn't want her daughter to go through what she went through. The police are able to find Kim's real parents who will hopefully help her on her long road back to the world she left so long ago.
After what Cooper said about her in court, Violet gives him the silent treatment. Cooper rattles off a bunch of times in the past where he forgave Violet for things she did to him. She eventually does forgive him and tells him to go after Charlotte if he loves her. Violet also asks Pete to forgive her. Not now, but someday. Pete suggests starting with overnight visits with Lucas. Violet smiles and hugs Pete, leaving him a bit shaken.
Dell has been accepted to UCLA medical school. He only shares the news with his patient, Maya, who goes into labor early. They head to the hospital where Sam and Addison wait in the ambulance bay for their arrival. A man involved in a head-on collision arrives in need of a heart operation and Sam's on-call. Addison promises to update Sam as soon as Dell and Maya arrive.
The people from the other car involved in the head-on collision are air-lifted to the hospital. Addison's face is consumed with confused concern as she sees an injured Dell heading her way. Behind him, a stretcher is wheeled toward the emergency room. As an unconscious Maya passes by, Addison watches helplessly. We're feeling pretty helpless, too.