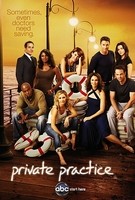 TV Info
---
Episode Premiere
January 14, 2010

Distributor
ABC

Genre
Drama, Comedy

Show Period
2007 - 2013

Production Company
ABC, ShondaLand


Cast and Crew
---
Director
Michael Zinberg
Screenwriter
Krista Vernoff, Kathy McCormick
Main Cast
Synopsis
---
So, is crossover one word or two? It's listed both ways in the dictionary but neither definition refers to those always-compelling Grey's-Private crossovers. As you may have guessed, we're going with the "one word" option re: this follow-up to Grey's Anatomy's Blink. Mark Sloan has changed his mind and wants Addison to operate on his daughter to save her baby. So, he's off to Oceanside.
Addison reveals to Mark that her entire childhood was a sham and he, in turn, tells her that Lexie dumped him. Their lives are in shambles and they wonder how to numb the pain. Mark has a thought. We'll give you a hint. It involves him stripping naked in Addison's office. Too bad he forgot to lock the door. Sam and Pete pop in to catch them both naked and rolling around on the floor. Pete says, "Too bad I joined the other practice. This place has perks." Love it!
Addison, Sam and Naomi are shocked to hear that Mark is considering a move to L.A. It makes sense. The guy is a plastic surgeon. He'd make a fortune! That discussion will have to wait. Right now, Addison has to operate on Mark's daughter. Complications arise and Sloan starts to bleed out. She pulls through physically, but is a wreck emotionally. Sloan is just not ready to be a mom.
Because of her past with Mark, Addison is unsure about counseling Sloan. Eventually, she does discuss the possibility of adoption with her patient. Sloan is all over that option. This leads to a discussion between Addison and Mark, as he paints a pretty nice picture of starting a new life with her. But Addison is so vulnerable right now. She needs to know if he genuinely wants to be with her or if it's just the easy way out. It's a heartbreaking moment when they both realize Mark will be heading back to Seattle to stay.
When Cooper makes a house call to a young patient named Cody, he sees that his mom is a hoarder. Violet thinks the woman's obsessive-compulsive disorder may stem from her ex-husband's death. Cody was home sick when her husband and her daughter died in a car crash during one of his visitation weekends. The woman feels guilty for having tossed out her ex, which may be why she's afraid to throw anything away now. But with Violet's help, she's able to finally get rid of one thing. Then another. And another.
The dissention between Cooper and Charlotte has kicked up to a nasty new level, culminating in an epic fight. He says, "The problem is you are a sex toy I found on the Internet. The problem is you're just a trashy little girl who's trying to please her dead daddy and I shouldn't have expected much from you. My bad."
Charlotte responds, "You act warm...all cute, cuddly Cooper. But the bitch of it is you're the one who's heartless. Not me. You. You're a mean, cold, miserable bastard who doesn't know a thing about forgiveness." Told you it was nasty. Now it looks like it's definitely over.
In other random relationship news, Naomi feels Maya hates her for no discernable reason. Dell has been having trouble with Betsey ever since Heather's death. Naomi has been gentle with Dell because he's been in mourning. But it's time for the gloves to come off. She tells Dell that he should have let Betsey see her mom before she died. Pete was right and Dell owes him an apology.
The tough love speech works and Dell does, indeed, say he's sorry, not just to Pete, but also to Betsey. This inspires Naomi to suggest to Maya that if she doesn't want to talk to her, at least try to find someone else to confide in. She says, "The hard stuff. It always gets easier when you let it out." Maya takes this advice to heart and tells Addison her problem. Actually, she shows it to her by handing over a home pregnancy test.