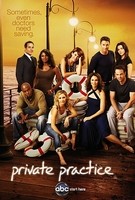 TV Info
---
Episode Premiere
October 15, 2009

Distributor
ABC

Genre
Drama, Comedy

Show Period
2007 - 2013

Production Company
ABC, ShondaLand


Cast and Crew
---
Director
Rob Corn
Screenwriter
Dana Baratta
Main Cast
Additional Cast
Synopsis
---
Dr. Miranda Bailey is in L.A. and she wastes no time taking charge. Her patient, Sarah, desperately needs a kidney, and complications have forced her to do the transplant at St. Ambrose instead of Seattle Grace. Sarah's sister, Emily, is only a partial match, but after three years without finding a donor and time slipping away, partial is going to have to be good enough. Emily pushes for them to do the surgery right away, but Miranda takes charge, as usual, and insists that she be properly tested before they move forward. Sam, who has taken over as the sisters' internist, agrees.
Addison, glad to have one of her best friends from Seattle in town, quickly swaps highlights with Bailey. While all of Miranda's news is bad-George O'Malley's dead, Seattle Grace and Mercy West are merging and she's getting a divorce-she can't help but get a kick out of some of the drama at Oceanside Wellness, even comparing it to a telenovela. Muy emocionante! She does notice that something's bothering Addison, and when Ad's former patient, Morgan, shows up with her new baby in her arms demanding to know if she slept with her husband Noah-she didn't, barely-Bailey's got an idea what it could be. Addison tells Morgan that nothing happened between her and Noah, and Morgan believes her, but it's obvious that both women know there's more to it than that.
Cooper gets involved in a domestic violence case involving a family he knows. Eleven-year-old Tammy was allegedly thrown across the room by her dad. Tammy's mom, Michelle (guest star Kellie Martin), has also been roughed up and says she stabbed her husband. Coop tells Charlotte to page Sam and Addison, as Michelle is pregnant.
Michelle says the stabbing was an accident, but the police still have no choice but to arrest her right in front of her daughter. Meanwhile, the dad begins to crash and Sam has to induce a coma to keep him from dying. Based on the looks they give each other, we get the feeling this family isn't being totally truthful. After some prodding by Coop, Tammy says she was cutting a cantaloupe when she got really mad at her dad. These feelings of rage come over her sometimes. Her dad saw what was happening and tried to calm her down when she stabbed him.
Cooper asks Addison for help and she orders some tests, playing out a hunch. Tammy has a tumor on her ovary which intermittently releases an excess of adrenaline triggering her mood swings. They can fix the medical problem, but they can't fix the guilt Tammy feels for stabbing her dad. When Tammy's dad awakens, he cups his hand around his little girl's cheek. It'll take time, but it looks to us like they're all going to be okay.
After waiting for a miracle, Miranda decides she's going to do the surgery, illegal or not. She convinces Charlotte to give the okay, but things almost fall apart when one of the surgical team backs out. Sam surprisingly steps up to fill out the team, revealing he once did a surgical residency. When there's a heart complication during the transplant, Sam expertly takes control and fixes the problem, saving the patient's life. Turns out it was a cardiothoracic surgical residency. Bailey wonders why Sam quit the program, but he's not telling. What he is doing, is trying to kiss her, but she shuts him down just before it happens. We think Dr. Bailey's a brilliant surgeon and a smart woman, but we have no idea what she's thinking. Sam realizes that she just doesn't have things figured out yet.
Cooper gets a call from his patient's mother and the news is bad. Ryan snuck out. Cooper and Pete know where to find him, so they go to his high school dance to bring him home. And we thought our school dances were embarrassing. At least we weren't dragged home by our doctors. They find Ryan on the dance floor and tell him it's time to go home. He reluctantly agrees, but rushes back to kiss his girlfriend for the first time and let's just say the kid's a natural. He leaves with Pete and Coop, but he passes out on the way out the door. In the hospital, Pete and Cooper get him taken care of, and even as staff are working frantically on him, Ryan tells Cooper it was the best night of his life. Cooper, who's been wanting a little more in his relationship with Charlotte besides the no-strings-attached sex they've been having, is inspired, and goes to her office and literally sweeps her off her feet. He insists that they move in together before carrying her off to bed. Now THAT's romance.
Addison and Naomi continue to have trouble reconnecting, and it's all on Addison. She also can't get rid of Morgan, who comes back to apologize for showing up the way she did before. Addison once again tells Morgan that she and Noah never slept together, but it's clear that there was something there. Morgan goes away again, but she comes back and finds Addison crying outside of the clinic and asks her a new question-does she love Noah? Addison can't deny it, and Morgan tells Addison that what happened between her and Noah is worse than sex. He will always be thinking about her. Addison will always be in her marriage to Noah, as long as it may last, and that's worse than some physical fling. Bailey isn't much easier on Addison, telling her friend that she doesn't get a gold star just for not sleeping with a married man. Bailey reveals that she found emails her husband had been exchanging with another woman before they broke up and that he was guilty of the same betrayal that Addison and Noah were. Just because it wasn't physical, doesn't mean it wasn't cheating.
The parenting love triangle between Pete, Violet and Sheldon reaches a new boiling point when Sheldon finds out that Violet gave her baby, Lucas, to Pete. Sheldon demands a paternity test and Violet, who still can't feel anything for her new son, just agrees. Pete's upset, fearing that he'll lose the baby boy he's been raising for over a month and asks Violet to consent to his name being listed as the baby's father on his birth certificate. Violet refuses and Pete and Sheldon get into a shouting match in Addison's office over doing the test. Finally, Pete agrees to the test, and good thing, because he's the father! Pete's thrilled and Sheldon takes the news well, but we can tell he's disappointed that the adorable little Lucas doesn't have his ears after all.
Addison finally talks to Naomi. We mean, really talks, not about shoes or the weather or whatever. She admits that she knew what she had done with Noah was wrong and she was judging herself through Naomi, and it was easier to take it out on her friend and avoid her than to deal with her own guilt. Addison has a seat in Naomi's office and we think this friendship might have some life left in it after all.