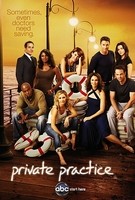 TV Info
---
Episode Premiere
October 08, 2009

Distributor
ABC

Genre
Drama, Comedy

Show Period
2007 - 2013

Production Company
ABC, ShondaLand


Cast and Crew
---
Director
Donna Deitch
Screenwriter
Patti Carr, Lara Olsen
Main Cast
Additional Cast
Brian Benben
Emily Rae
Kellie Martin
Synopsis
---
Violet is still feeling the aftershocks of her attack and Cooper is still feeling guilty for not being able to save her. Meanwhile, Addison and Sam try to deal with the fact that Naomi isn't there for them anymore.
It's been a month since Violet was brutally attacked and she's not doing well. She won't leave the house and doesn't want to hold the baby. Oh, and did we mention she's been prone to hiding in the closet whenever the doorbell rings? As a therapist, Violet is well aware of her condition and knows exactly how to offset all attempts to help her.
Swallowing his pride, Pete asks Sheldon to step in. Sheldon knows that Violet realizes that she doesn't have to leave the house as long as she knows Pete is going to keep coming back. Pete realizes that he can't make her walk out the front door. She has to do it herself. So he leaves. We can see it's hard for him, but we also know it's what he has to do.
Cooper gets involved in a domestic violence case involving a family he knows. Eleven-year-old Tammy was allegedly thrown across the room by her dad. Tammy's mom, Michelle (guest star Kellie Martin), has also been roughed up and says she stabbed her husband. Coop tells Charlotte to page Sam and Addison, as Michelle is pregnant.
Michelle says the stabbing was an accident, but the police still have no choice but to arrest her right in front of her daughter. Meanwhile, the dad begins to crash and Sam has to induce a coma to keep him from dying. Based on the looks they give each other, we get the feeling this family isn't being totally truthful. After some prodding by Coop, Tammy says she was cutting a cantaloupe when she got really mad at her dad. These feelings of rage come over her sometimes. Her dad saw what was happening and tried to calm her down when she stabbed him.
Cooper asks Addison for help and she orders some tests, playing out a hunch. Tammy has a tumor on her ovary which intermittently releases an excess of adrenaline triggering her mood swings. They can fix the medical problem, but they can't fix the guilt Tammy feels for stabbing her dad. When Tammy's dad awakens, he cups his hand around his little girl's cheek. It'll take time, but it looks to us like they're all going to be okay.
Charlotte stops by to pick up Coop's clothes and ends up having martinis with Violet. Now we all know these two aren't exactly BFF's, but they do end up having a pretty candid heart-to-heart chat. Charlotte is bummed because she thinks Coop blames her for what happened to Violet. If she hadn't called as he was about to step into the house, he would have been able to save her. He's feeling very guilty. Cooper finally does go to see Violet and apologizes for not coming sooner. Violet simply says, "You came when you could."
Naomi is having a tough time adjusting to her new job while readjusting her friendship with Addison, who is still smarting from the fact that she sent Noah back to his wife. Naomi pleadingly says, "I miss you. Where are you? Where did you go, Addison?" When Addison coldly blows her off, Naomi looks likes she's been punched in the gut. We love Addison, but she's an ice queen in this scene. Things do not look good for these two. Brrr.
Violet realizes the source of her anxiety is the baby. She finally steps out of the house with baby Lucas in her arms. Pete is thrilled when he opens his door to find Violet and the baby on the other side. But his joy quickly turns to confusion when Violet says she wants to be a good mom. She wants to do what's best for Lucas. She hands Lucas to Pete saying he's what's best for the baby. As she steps away, Violet says, "This is me being a good mom." It's both heartbreaking and heroic. It's also precisely why we love this show.