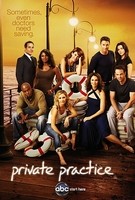 TV Info
---
Episode Premiere
January 15, 2009

Distributor
ABC

Genre
Drama, Comedy

Show Period
2007 - 2013

Production Company
ABC, ShondaLand


Cast and Crew
---
Director
Mark Tinker
Screenwriter
Sal Calleros
Main Cast
Additional Cast
Brian Benben
Sharon Leal
Patty McCormack
Tim Guinee
Matthew John Armstrong
Elaine Kagan
Geffri Maya
Jay Harrington as Wyatt
David Sutcliffe
Synopsis
---
Everyone finds out Violet is sleeping with Pete AND Sheldon. Addison kisses Wyatt even though she's dating Kevin. A single father risks his own health to be there for his kids who have cystic fibrosis. A woman reveals a shocking secret to her son-she's been a lesbian all these years.
Violet runs into Cooper's office and says, "I'm sleeping with two men. Do I get a lecture now?" He gives her a lecture-on how good this is! Violet is relieved when Cooper says "This is good and fun." Um, she works with both guys. You know this is going to come around to bite her.
A single dad and his two kids with cystic fibrosis come in for tests. He's fine but his daughter has a highly contagious and fatal bacterial infection. All the father wants to do is comfort her but he can only watch through the isolation window as his daughter cries out for him. If he comes in contact with her, he could die and his son would be grow up alone. What ever he decides-it would be right and wrong. The father cries as he hands his son to Addison and tells her to make sure he knows why his daddy did this. They try to talk him out of it but he has to be with his little girl-she's dying. His son is wailing uncontrollably as he watches his father hold his sister. We sobbed so hard it still hurts.
Addison tells Naomi that she and Kevin are back together. It's weird but fine. Naomi mentions that their daughter was with Sam and his new girlfriend. She's not jealous just concerned about her daughter. Yeah, right. She wouldn't be spying through Sam's windows if she wasn't jealous.
Cooper runs into Charlotte in the elevator and jokes, "You look like someone died." "Dying," corrects Charlotte. Cooper feels like a jerk for being insensitive when he learns it's "Big Daddy"-her father who's dying. He later flies to Alabama to be with her when she makes the painful decision to pull the plug on her dad.
Sam's senior patient is in danger of having another stroke and he recommends she not live alone. Her son wants her to move to Florida with him but she refuses. He threatens that he'll get a lawyer to force her to move. She doesn't want to leave because she's in love and has been in love with a woman for years. He feels so betrayed. Sam tries to convince him saying, "She would give everything up for you."
Violet comes to Addison and Naomi with a female problem. She's diagnosed with Honeymoon Cystitis which is caused by having too much sex. Ha ha ha. So funny!
Addison runs into Wyatt at the hospital. She turns down his invitation for a date even though you can tell she feels sparks. She later admits to Naomi that she really wanted to say yes but says, "I'm not a cheater. I'm not gonna do that again." How long do you think she can resist Wyatt?
Violet and Pete are talking at the office when Sheldon shows up and asks if she wants to come to his place later. Pete's eyebrows go up. Violet can't take the guilt anymore and admits that she has been sleeping with both of them. Pete walks out fuming but Sheldon says he doesn't mind. Really??? We want to see how this works out.