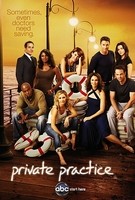 TV Info
---
Episode Premiere
October 01, 2008

Distributor
ABC

Genre
Drama, Comedy

Show Period
2007 - 2013

Production Company
ABC, ShondaLand


Cast and Crew
---
Director
Mark Tinker
Screenwriter
Shonda Rhimes, Marti Noxon
Main Cast
Additional Cast
David Sutcliffe
Blake Robbins
Cheryl White
Synopsis
---
The Doctors of Oceanside Medical Group enter their offices to find a spanking new promotional video for the practice playing. They are collectively concerned about the expense of the high-end video and inquire about the status of their impending bonuses.
Naomi concedes to Addison that the video was expensive but insists they must "spend money to make money." They are interrupted by a distressed Dell requesting to speak with Naomi. Believing he wants revisit the subject of his affection for her, Naomi denies his request.
Violet intercepts Cooper with brochures for their "Annual Bonus Vacation". Cooper says he is not sure he could go this year but does not reveal the reason which is, he is involved with Dr. Charlotte King.
Charlotte insists on keeping the affair private and when Cooper tries to advance their relationship to a deeper emotional level, Charlotte, simply says: "Either get back on top of me and shut up, or keep talking and watch me walk out that door." Cooper gets back atop.
Believing Officer Kevin Nelson is out of her life, Addison tells Pete she'll consider his request for a date. No sooner, Officer Kevin returns to Oceanside Medical Group.
Addison meets Molly Madison and her husband Eric, a couple who conceived their fetus to help their eight-year old son, who is suffering from Leukemia. Six months along, they now insist on a premature birth in order to get their son the urgent help he needs. Addison confronts Naomi who admits she did select an embryo match but believed it was for a procedure further down the road. Addison explains the interim donor has been diagnosed with pneumonia leaving the sick boy in a dire situation.
When a fourteen year-old patient whose parents chose to hide from him that he was HIV positive, reveals to Cooper that he is ready to have sex, Cooper is faced with a Catch-22: Break the trust of the parents and tell the boy his HIV status or break doctor-patient confidentiality and reveal the boy, Dean's, intentions to the parents.
After observing Molly's sick son, Addison still refuses early delivery. In a private stand-off, Naomi tells Addison she received eighty-thousand dollars cash for the matching embryo. She explains that the money was necessary because she refinanced the building and the first balloon payment was due. Addison is stunned when Naomi reveals that without more money the practice is finished.
Violet begins to suspect that Cooper is seeing a real, "non-cyber" woman. Cooper continues his private, purely physical affair with Charlotte but again asks permission to inform others namely, Violet. When Charlotte responds by saying that what they have isn't serious, Cooper kicks her out.
Cooper meets with both Dean and his parents making the difficult choice of whose secret to expose: Cooper tells Dean's parents that he is planning on having sex with his girlfriend. Dean feels betrayed and after learning of his HIV status, blames Cooper. Cooper insists they could work through it but Dean tells him it is too late. He had sex with his girlfriend last night.
Molly goes into early labor and Addison delivers the premature baby.
Dell confronts Naomi about the practice's financial situation telling her he is sick of hiding her mistakes. He turns in his files, keys, and quits. Meanwhile, Sam believes Naomi has given up on their reconciliation but Addison shares the reason for Naomi's isolation explaining: "Naomi is running the practice into the ground."
Charlotte comes crawling back to Cooper; Officer Kevin arrives at Addison's door and Naomi arrives at Sam's door asking "to be us again". The next day, Addison tells Pete that she is seeing someone else and therefore cannot date. Fourteen year-old Dean and his family return with his girlfriend and all of the parents to meet with Cooper.
Sam calls a meeting, hands out one-hundred dollar bonuses, and explains the practice is broke. He tells them: "From now on you look to me. Naomi is relieved of her administrative duties " Naomi, betrayed by both Addison and Sam walks out.