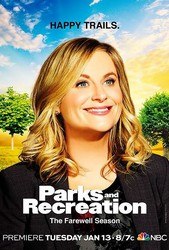 TV Info
---
Episode Premiere
December 06, 2012

Distributor
NBC

Genre
Comedy

Show Period
2009 - 2015

Production Company
Deedle-Dee Productions, Universal Media Studios


Cast and Crew
---
Director
Dan Goor
Screenwriter
Aisha Muharrar, Megan Amram
Main Cast
Additional Cast
Synopsis
---
Merry congratu-Christmas! Leslie, in elf costume, joyfully skips into Ron's office to inform him of his award nomination from the Indiana Fine Woodworking Association for a chair he's recently constructed. Ron realizes this may be the first time he's ever actually wanted to attend an event. He plans on taking Diane, but Leslie jumps right in and invites herself. As Ron's self-appointed emotional guardian, it's her duty to provide boundless love and support.
Now that it's finally December, Tom, April, Andy and Donna are planning their annual, sacred event: the Jerry Dinner. They explain to Ann that anytime Jerry does something stupid, they put a dollar in a box. This year, they've collected over $500, which means a fancy dinner. Ann doesn't approve of this sort of mockery, but her opinion hardly matters to the rest of the gang. This is tradition! Meanwhile, Chris and Ben make plans to hang out.
That night, Ron and Diane stroll hand in hand into the awards ceremony, aka Ron's picture of heaven. They run into Leslie, who's overjoyed at finally getting the chance to meet Diane. As a giddy (yes, giddy) Ron runs off to check out some jackplanes, Leslie eagerly turns on Diane. What are her five biggest hopes, dreams, fears and regrets? If she'd gone to Hogwarts, which house would she have been in? Moments later, Leslie happily admits that Diane is smart, funny, independent and sexy. Diane Lewis? More like Diane Sawyer! While on their way to dinner, Tom has everyone name their favorite Jerry moment from the past year. April's is when Jerry ate an entire bowl of glue, mistaking it for potato soup. Donna doesn't partake in the fun; she admits that Ann was right and turns the car around to go pick up Jerry.
As they drive up to Jerry's house, they're shocked to see that the Gergichs are having a full-out Christmas party. Ben, Chris and even Anne are in attendance! How dare Jerry not invite the rest of them? Inside, Chris accidentally indulges in regular eggnog. Ben fears a breakdown, but Chris is just shocked to find out how much better things taste when there's fat in them. Back at the awards event, Leslie is head-over-heels excited about how perfect of a fit Ron and Diane are. Though Ron neither wants nor needs her approval, Leslie keeps on giving it and giving it. Just as she's musing about how this just may turn out to be the best night of Ron Swanson's life, she hears a familiar voice from across the room. Tammy, Ron's ex-wife, has entered the building.
Tammy beelines straight for Ron, ever eager to mess with him and potentially ruin his life. Though he introduces her to Diane as "human garbage," Tammy continues her flirtations until she's quickly ushered away by Leslie. As Ron's emotional guardian, this is Leslie's toughest job yet: protecting him from a crazy librarian sex demon. Back at Jerry's, the cold foursome is huddled outside a window, peering in at the warm, lovely festivities going on inside. When they get Ann's attention, Ann ends up letting Donna inside, but keeps the rest of them out.
Chris introduces Ben to Jerry's wife Gayle, who is an absolute bombshell. Ben cannot contain his shock; Jerry's wife... looks like that? Minutes later, Jerry, Gayle and two of their beautiful daughters Miriam and Gladys joyfully perform a Christmas tune for the guests. It's a picture-perfect family, and Ben's still having trouble processing. Outside, Tom and April suddenly have a realization: the Jerry filter! On account of Jerry's annoying emails, Tom put a filter on their inboxes so that all of Jerry's emails go directly to spam. Looking through their emails, they uncover three years worth of emails from Jerry: wedding congratulations, birthday messages and, of course, their party invitations.
At the ceremony, Tammy plops herself down at Ron's table. When Ron is announced as the winner of the "Achievement in Chairs" category, Tammy distracts him from his heartfelt speech by crossing and uncrossing her legs, flashing him Sharon Stone style. Later, as Diane and Leslie are both looking for Ron, Diane admits that she's not actually threatened by Tammy. Rather, she's concerned with Leslie. She and Ron have an intimacy that Diane doesn't understand, and if anything is a threat to their relationship, it's Leslie. When Leslie finally finds Ron, she tells him about Diane's misconceptions. While Ron is anything but romantically connected with Leslie, he does finally admit that they're friends. Leslie hands him her car keys so that he can go find Diane, while she goes off to deal with crazy Tammy hiding out in Ron's car.
At the Christmas party, Ben panics when he sees Chris looking at a picture of Millie Gergich, his ex. Surprisingly, Chris is calm and reflective. Ben figures that going to therapy a thousand times a week really must be of help, but he and Chris both freeze when they see Millie appear in the living room, fiance in hand. Moments later, after Chris shares a few words with the happy couple, he approaches Ben. If therapy has taught him anything, it's that he's got to face his fears. He thanks an impressed Ben for looking out for him. Ann, meanwhile, finally lets the others into the party. They hand over the wad of cash to Jerry, telling him that they've been trying to find a way to raise money for his hospital bills. Jerry's touched.
Working hard to keep Tammy off Ron's trail, Leslie drives the car to the middle of nowhere and tries to dispose of the keys, but Tammy's too quick for her. They spend the entire night fighting. At a quiet bar, Diane admits to Ron that she's worried that she'll never get as close to him as Leslie is. Is there even room in his life for another woman? While Ron praises Leslie's loyalty and importance, he assures Diane that he likes her. In fact, he took her to this particular bar because he wanted to show her something that no one knows about, not even Leslie. The emcee calls up a Mr. Duke Silver as the crowd goes wild. Diane is dumbfounded to see Ron go up on stage and perform a super smooth version of "Hark, the Herald Angels Sing" on his saxophone. He dedicates this one to his Duchess.