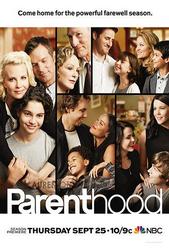 TV Info
---
Episode Premiere
September 18, 2012

Distributor
NBC

Genre
Drama

Show Period
2010 - 2015

Production Company
Imagine Entertainment, Universal Media Studios


Cast and Crew
---
Director
Lawrence Trilling
Screenwriter
David Hudgins
Main Cast
Additional Cast
Synopsis
---
Jasmine and Crosby are wrapping up a hot and heavy session on the kitchen floor, and feeling pretty pleased with themselves. Crosby's just hatching a plan to hit every room in the house when he gets a text from Adam: pick up toner tomorrow. Adam tells Kristina how frustrated he is with Crosby - why does it take him so long to answer a text on a Sunday night at 10 p.m.? Missing Haddie, Kristina is online looking at puppies. They've always talked about getting a dog... and a dog would be a great companion for Max. One thing's for sure, Adam's definitely not up for getting a dog.
The next day, Zeek and Sarah are fully engaged in embarrassing Drew on his first day as a senior in high school. Drew's borrowing Sarah's car to drive Amy to school, and wants to get going, but Zeek wants to impart advice, and Sarah wants to tell Drew about all of her car's peccadillos. The drive to school is fine, but Amy's acting a little weird. When Drew asks what's going on, Amy admits she met a guy at camp over the summer... and she and Drew can still be friends. Wow, what a great first day of senior year! Meanwhile, Victor doesn't want to go to school at all, and is clearly feigning a stomach-ache. Joel doesn't buy it for a minute, but Julia allows him to stay home. Joel wants Victor to get back into bed, but Victor finagles permission to spend the day on the couch in front of the TV.
During a planning session at The Luncheonette, Adam, Amber and Crosby are interrupted by Adam's beeping iPhone. He explains that he and Kristina are networked on a calendar app, which helps keep them in synch. Crosby grabs the phone to make fun - what's the Funkytown entry? It doesn't take Crosby long to realize that Funkytown = scheduled sex. Adam thinks that sooner or later, everyone relies on scheduled sex. Crosby boasts about last night's impromptu sex on the kitchen floor, but Adam shuts him up - their niece is in the room! Meanwhile, Julia calls to check on Victor. He puts down his game controller, and puts on the sick voice.
Sarah is working with Hank when the door buzzer sounds - it must be Drew picking her up. She's just warning Hank that Drew is a little shy when he steps in. After introductions, Sarah demands to know how the first day of senior year went - and is Amy waiting for them in the car? Drew doesn't want to say anything, but when Sarah presses, he lets it slide that Amy broke up with him. Across town, Crosby tells Jasmine about Adam's annoying calendar schedule - Adam and Kristina even schedule sex! If Crosby and Jasmine start doing that, then they're old and married. Jasmine points out they are old and married as she serves up a salmon dinner. Jabbar sighs. He wants pizza. The people pleaser in Crosby comes out. Why not save the salmon for tomorrow? Jasmine's not happy about it, but she caves in, much to Jabbar's delight.
That night, Adam walks into the house with a bottle of wine crooning "Funkytown." Before things get funky, Kristina cops to having a "whoopsie" earlier today: she may have told Max... Max runs in to finish her sentence: they're getting a dog, and he wants a golden retriever. Adam immediately opts for damage control as Max starts ticking off the attributes of golden retrievers - and he has located one not too far away. Regardless of what his parents say, Max is determined they're going to get a dog tomorrow. Adam flames out and walks off, leaving Kristina to apologize to the air, and promise she'll work everything out. They can still go to Funkytown, can't they?
The next morning, Julia takes Victor's temperature - 99.1. Julia wants to keep him home again, but Joel has meetings for a potential remodel. Julia offers to stay home with Victor. She thinks it's one of those moments where they have to earn his trust. And if it means missing a few days of school, it's no big deal - that is, until Sydney claims she's caught whatever's ailing Victor. Over breakfast, Drew shrivels as Sarah and Zeek try to make him feel better about the breakup. When his phone rings, Sarah insists it's Amy, but Drew knows it's not - and indeed, it's a spam text for penis enlargement.
Adam, Max and Kristina visit with serious dog breeders Donna and Leslie. Max has already chosen a puppy and picked out a name, but Adam insists they're just looking. Donna and Leslie are skeptical to hear the Bravermans don't have much dog experience, and they don't intend to show their purebred dog. Adam asks about price, so Donna and Leslie start totaling up everything they'll need. The dog alone is $1,200, which makes Adam gasp. To make matters worse, Max keeps insisting they can afford this - they're rich! Donna allows they can do a 24-hour hold for $200, so Max repeatedly orders Kristina to "Write the check! Write the check!"
Jasmine checks in with Crosby - their potential new couple friends are asking a second time about dinner Friday night. Refusing to be pinned down to a schedule, Crosby fails to understand that to have friends, you have to commit to plans. Can they give them an yes? At home, Adam sounds off about the whole dog thing. He can't agree to being interviewed by the breeders, aka the doggie Gestapo, about dog ownership, and $1,200?! but in the end he caves. Thrilled, Kristina promises anything he wants in return, even Funkytown. That's when the breeders call to say the dog has been sold. Max is up at the crack of dawn the next day, waking his parents up with his bulleted list of why they need this dog. When he finds out the dog has been sold, Max flames out with a major tantrum. Adam's phone rings, so he leaves Kristina to deal with Max all by herself.
On the third day of school, Julia finally manages to get Victor in the car. Nevertheless, he still doesn't want to go. Despite the beeps of the people behind her in the drop-off line, Julia gets in the back seat for a talk. She knows a new school is scary, but Victor needs to be brave. Desperate, she offers a proposition with a pinky swear. She'll be parked outside the school all day, just in case Victor needs her. At work, Sarah asks Hank's opinion on Drew. At first he doesn't want to give it, but then he says she's being a fawning idiot. When Sarah suggests Hank didn't get invited to prom, he explains that he was prom king - he was cool - and his mother never gave him dating advice. What Drew should do is sleep with Amy's best friend, before she does the same to him, because she'll notice that. Sarah's jaw drops.
Crosby returns home looking for Jabbar. Jasmine freaks out - Crosby was supposed to pick him up from school! Jasmine grabs the car keys and drives to the school like a maniac, letting loose on Crosby the whole way. The reason people keep schedules like Adam and Kristina is so stuff like this doesn't happen! Jasmine tried to be all go-with-the-flow, and blow off dinner with their new couple friends because he couldn't commit, but forgetting their son is where she draws the line. When Crosby suggests Jasmine might be overreacting, she gives him the hand. Crosby realizes how dumb he's been when he sees Jabbar, sitting forlornly in the hallway with his teacher.
Drew drops by Hank's studio to pick up Sarah, who's not there. Hank and Drew are getting along famously, talking about women, specifically the one that got away from Hank. Hanks comes off funny, human and still heartbroken after all these years. His advice: happy endings are a myth; Drew will never understand women; and it's okay to be sad. Sarah returns from her errand, concerned to find the two of them talking. Adam comes home from work concerned that Kristina hasn't been returning his calls. Kristina admits she's feeling sad, missing Haddie. And Adam left her alone to deal with Max freaking out for 45 minutes. Adam feels sad too, and while he knows they can't replace Haddie with a puppy, they can get one anyway.
That night, Sarah knocks on Drew's door, wanting to check in on his chat with Hank. She knows he doesn't want to talk to her about Amy, but Hank is deeply weird and troubled, with frightening views of women. Drew laughs - Hank just told him it was okay to be sad. Sarah can't help but be surprised, maybe even a little charmed. Across town, Julia tells Joel about her day, spent outside Victor's school. She explains that the look in Victor's eye reminded her he's a little boy, and she just couldn't leave him. She knows they need to establish some boundaries and get more disciplined, but... Joel gives a teary Julia a kiss, and tells her she's amazing. And no, she did not screw up.
Adam, Max and Nora make plans to look for a dog after school while Kristina's at her doctor's appointment. Across town, Victor approaches Julia to ask why she stayed at school all day yesterday. Julia tells him that in this family, when they say they're going to do something, they do it, then pulls him in for a hug. A chastened Sarah dumps a plate of homemade brownies on Hank's desk, a preamble to her announcement of two things: Hank shouldn't talk to Drew about personal stuff, and thank you. When Hank asks if the brownies contain anything wacky, she tells him to just eat one, even if it is early. Hank gives his honest opinion, the brownies are almost mediocre, but the thought definitely counts.