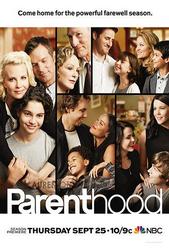 TV Info
---
Episode Premiere
October 19, 2010

Distributor
NBC

Genre
Drama

Show Period
2010 - 2015

Production Company
Imagine Entertainment, Universal Media Studios


Cast and Crew
---
Director
Adam Davidson
Screenwriter
Sarah Watson
Main Cast
Additional Cast
Synopsis
---
Adam suggests to Kristina that they take Max over to Zeek and Camille's for Halloween this year. Kristina initially says no, knowing that Max has always been frightened of Halloween, which is why they always stay at home. Kristina suggests that Adam ask Max directly. Max doesn't want to go over to his grandparent's house; he wants to go trick or treating. This development catches Kristina completely off guard, but thrills Adam to bits. Motivated by candy, Max wants to go trick or treating dressed as a cockroach.
Julia and Sydney grab their bags and are out of the front door to head to school. Just as Sydney gets into the car she tells her mom that she wants to be a beauty queen, more specifically Miss California, for Halloween. Julia suggests that she be a ladybug again, but Sydney disagrees. Over at Zeek and Camille's, Sarah gets ready to head out the door to work, but not before Zeek reminds her about the family Halloween festivities. He needs all hands on deck to help decorate for his favorite holiday. Camille comments on Sarah's tight pants, suggesting that she's dressing to impress someone at work. Drew thinks it's for Mike, the forklift operator, but Sarah confirms that things between them are over, leaving the family wondering who it might be for.
Crosby and Jasmine drop Jabbar off at his first day at school. Crosby has a special way of making Jabbar feel at ease. After Jabbar sets his backpack in his cubby, another student comes over to introduce Jabbar to the class pet. Crosby and Jasmine watch as Jabbar walks hand-in-hand with his new friend into the classroom. Over at T&S, Sarah casually strolls by Gordon's office in hopes of bumping into him. When she does, things are awkward. Just when she thinks Gordon is going to say something sweet, setting her mind at ease, he reminds her that a report she owes him is late.
Kristina and Adam meet with Max's therapist to discuss Max's interest in trick-or-treating. He confirms that Halloween can be a very difficult holiday for children with Asperger's and suggests the family hold a practice run the day before to get Max comfortable. He also suggests that they keep trick-or-treating to just the immediate family, so as not to add pressure. After dropping Jabbar off at school, Jasmine and Crosby go apartment hunting. Jasmine needs to find a place for her and Jabbar to live. Jasmine calls Crosby out on using the term "we" in casual conversation while looking at apartments, but Crosby backtracks and changes the subject, disappointing Jasmine.
Kristina takes Max on a trial trick-or-treat run around the neighborhood. Max doesn't understand why he would say "trick or treat" when all he wants is a treat, not a trick. Max also doesn't understand why Kristina is making him practice if Haddie didn't have to practice when she was his age. Sarah stops by Julia's office with coffee to confess to kissing Gordon. Sarah explains that Gordon made her feel smart, but when she saw him at work, he ignored her. Julia gives Sarah the pep talk she needs. Sarah's going to march back over to T&S with her head held high and not let Gordon derail her career.
At home, Sydney shows Joel and Julia the Miss California costume that she wants for Halloween. Still disturbed by Sydney's choice, Julia tries to explain to her six-year-old the struggles for women's equality throughout history, and how her costume choice goes against everything women have been fighting against for the last 50 years. It falls on deaf ears. Sydney wants to be a beauty queen and that's that. Crosby and Jabbar are carving pumpkins while Jasmine looks over paperwork for the apartments she's looked at. Sensing something's going on with Crosby, Jasmine asks Jabbar to go out onto the deck to look at the nearby sail boat while she and Crosby talk. Jasmine gives Crosby every opportunity to ask them to move in together, but he retreats, agreeing that it's her decision on where she and Jabbar live.
Sarah stops by Gordon's office to drop off the report he asked for. When she asks about a potential order from the shoe show, Gordon schools her on business practices and reminds her that things don't happen overnight. Deflated, Sarah confronts Gordon on his parking lot kiss. Not sure how to handle the conversation, Gordon tells Sarah that they have very different lives. He has a boat, she has kids. Realizing where the conversation is going, Sarah cuts him off and leaves his office. Over at Adam and Kristina's, Kristina listens as Zeek tells Max why Halloween is such an important holiday to the Braverman family. Zeek then hands Max a personalized candy bag for the special night.
Kristina and Adam roam their neighborhood, passing out glow sticks to the neighbors. They are hoping the neighbors will use the glow sticks instead of real candles in their jack-o-lanterns since Max is afraid of fire. Sensing there's never a good time, Adam breaks the news to Kristina that the whole Braverman clan will be joining them on Halloween. Kristina is now even more concerned about Max's first trick-or-treating experience. Haddie and Kelsey get ready for a Halloween party at a college fraternity house that Howard, their SAT tutor, invited them to. At Julia and Joel's, Julia helps Sydney put the finishing touches on her Miss California costume, much to her dismay.
Dressed in a cat suit, Sarah works at the bar, serving a crowd of adult Halloween partiers when she spots Gordon. He's comes to apologize. Gordon admits Sarah has him pegged. He usually dates younger women, kids are always a deal breaker, and the fact that he's her boss complicates things. After explaining all the reasons why Sarah is wrong for him, he admits he can't stop thinking about her.
Everyone gathers at Adam and Kristina's for Halloween night. Once Kristina has briefed everyone about their trick-or-treating plan and approved route, they all hit the street. Dressed as a cockroach, Max seems to be getting the hang of trick-or-treating. Meanwhile, Haddie and Kelsey arrive at the fraternity party in search of Howard. Within minutes of arriving, the girls spot Howard making out with another girl. Kelsey is crushed.
Crosby seeks advice from Adam on whether or not to move in with Jasmine and Jabbar. Adam shares the story of when he knew Kristina was the one for him, hoping it won't be lost on Crosby. At the bar, Gordon watches as Sarah takes a phone call from Amber. Kelsey's drunk and unable to drive home. Amber needs Sarah to pick the two of them up from the party. Sensing Sarah's upset, Gordon offers to go with her. The trick-or-treating crew go slightly off course. The big haunted house Kristina and Adam were specifically trying to avoid is now the main everyone's main focus, including Max, who wants to go. Despite Kristina's plea to turn around, Adam agrees to let Max go to the haunted house.
Sarah and Gordon arrive at the fraternity party to find Kelsey drunk and in the pool. Sarah tries to talk Kelsey out of the pool, but it doesn't work. While Sarah talks to her, Gordon gets into the pool and pulls Kelsey out himself. Back at Zeek and Camille's house, Kelsey sobers up. Sarah thanks Gordon for his help with Kelsey and Haddie, telling him he's a natural with kids. He leans in and kisses her again. Over on Elm Street, Max battles the burning candles at the haunted house, surprising everyone. Trick-or-treating is a huge success!
After a successful night of trick-or-treating, Adam thanks Kristina for being such an amazing mother and wife. After putting Jabbar to bed, Crosby and Jasmine dive into Jabbar's candy bag. Crosby apologizes to Jasmine for getting weird with the house hunting. He doesn't want her and Jabbar to move into a place without him. Then, Crosby takes the spider ring from Jabbar's candy bag, gets down on one knee and proposes to Jasmine.