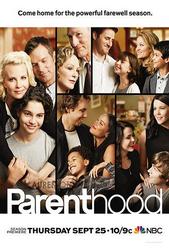 TV Info
---
Episode Premiere
September 21, 2010

Distributor
NBC

Genre
Drama

Show Period
2010 - 2015

Production Company
Imagine Entertainment, Universal Media Studios


Cast and Crew
---
Director
Lawrence Trilling
Screenwriter
Tyler Bensinger
Main Cast
Additional Cast
Amanda Foreman
Nicholas Lobue
Synopsis
---
While getting ready for work, Adam discusses his concerns about hiring Sarah at T&S with Kristina. He's hoping Sarah will respect his authority at the office, and not cause any unnecessary issues for him with Gordon, his boss. Just as he's about to leave for the office, Adam notices Suze Lessing walking up their driveway. Adam and Kristina met the Lessing family after Max was diagnosed with Asperger's. The Lessings' son Noel also has Asperger's. Over at Zeek and Camille's, Sarah gets ready for her first day at T&S, making sure Amber and Drew are taken care of and Zeek and Camille are on board to help them with their homework after school. Sarah will continue working at the bar at night to make money, since the job at T&S is technically an internship.
Julia drops off Sydney at school, where Amy, a student in Sydney's class, stops to ask for a playdate with Sydney after school tomorrow. Delighted with Amy's direct approach, Julia agrees. At the airport, Crosby waits for Jabbar and Jasmine's much-anticipated arrival from New York. After meeting up with Crosby, Jasmine lets him know they need to discuss a few things in private. Sarah arrives at T&S for her first day of work. Adam promptly takes her to the design area to meet the team, encouraging her to listen and learn in her new environment, and apply herself to her full potential.
Back at Adam and Kristina's, Suze Lessing pours her heart out to Kristina about the breakup of her marriage. Phil, Suze's husband, thinks she's obsessed with their son Noel and doesn't focus on their relationship. Suze doesn't want to spend every waking second thinking about how to get Noel through the day, but as a parent of a child with Asperger's, how do you live any other way? She looks to Kristina for advice and comfort during this difficult time. Kristina offers to watch Noel while Suze and Phil meet with his teacher to discuss breaking the news of their pending divorce. At T&S, Sarah walks into Adam's office and begins bashing the design team without noticing Gordon. Sarah quickly changes her tone about the design team, apologizes for her rant, and thanks Gordon for the job opportunity.
Julia returns home after a day at the office to find Joel working on Sarah's desk in the backyard and Sydney playing on the deck. Joel asks Julia if she made a playdate for Sydney with Amy at school. Julia explains that Amy actually scheduled a playdate with her, but yes. Joel lets Julia know that they're going to have to cancel the playdate. Apparently Amy was mean to Isabelle, Ashley's sister. Since Ashley is Sydney's best friend, a play date with Amy complicates the relationship between Ashley and Sydney. Unaware of the complex rules of relationships for six-year-olds, Julia agrees to cancel the playdate the following morning.
Adam gets home from work to find Noel with his head in the refrigerator, grabbing as much food as he can hold. When Kristina walks into the kitchen, Adam asks why Noel Lessing is in their home. She explains that Suze and Phil are separating, so she offered to watch Noel for the evening. Adam piles the family, including Noel, into the car to head to his parents for a dinner to celebrate Jabbar and Jasmine's visit home. Over dinner, Sarah asks Adam if he would mind picking her up for work the following day. Adam is happy to do it and considers it good for the environment. Amber shows Sarah her contributions to dinner, surprising her mom with her culinary abilities.
Jasmine steals Crosby away from the kids' table to talk in private for a moment. Crosby takes her upstairs, and they begin to make out just as Jasmine drops the news that she's been chosen to join the dance troupe's European tour company. She came home to leave Jabbar with her mom while she's away. Crosby asks if Jabbar can stay with him for the four weeks she's away. Initially hesitant, Jasmine agrees that Jabbar can stay with Crosby.
Adam picks Sarah up the following morning, and they head into the office together. Adam's already thrown from his morning routine; Sarah brings him a cup of coffee, knocks his choice in music, and talks his ear off. Julia drops Sydney off at school and speaks with Amy's mother to cancel the playdate. When asked why, Julia explains the situation between Amy and Isabelle. To Julia's surprise, Amy's mother has no idea what she's talking about. At T&S, Sarah bonds with Gordon over lunch in the break room. Just as he's about to join them, Adam is called away by his assistant. Phil Lessing has dropped by the office to tell Adam about his pending divorce, and warn that the same thing could happen to him and Kristina.
Jasmine brings her mom Renee over to Crosby's houseboat to see where her grandson will be living while Jasmine is touring Europe. Not pleased with the living conditions, Renee reminds Crosby that she has a bedroom for Jabbar waiting at her house. Back at T&S, Phil confides in Adam about his relationship issues. Gordon later tells Adam that he thinks Sarah is "awesome." Jasmine stops by the music studio to speak with Crosby - her mother is insisting Jabbar stay with her. Crosby finally gets Jasmine to admit that she wants Jabbar to stay at her mom's, too.
After the argument with Jasmine, Crosby heads over to T&S to discuss the situation with Adam and Sarah. Crosby's surprised to hear Adam's opinion. They try to get Julia on the phone to join the conversation but she's tied up on an important conference call - with Joel regarding the Amy-Sydney-playdate situation at school. Amy's mother wrote Julia a nasty email regarding her comments from earlier in the day. After work, Adam drops Sarah off at their parents' house, and confesses he'd rather not pick her up before work, because it's the only time of day he has to himself. He also asks Sarah not to spend so much time with Gordon, and not to discuss his personal life with people at work. Sarah doesn't take this conversation lightly, and ends up quitting.
After his argument with Sarah, Adam returns home to find Max playing in the family room, Noel bouncing all over the living room, and Haddie crying in the kitchen. After surveying the situation, Adam turns right back around and heads to his car. He reclines the seat and takes some much-needed alone time. Kristina notices his absence and heads out to the car to join him. The following day, Crosby visits Jabbar and Jasmine at her mom Renee's home. After taking some time to think things over, Crosby explains that although he wants Jabbar to live with him, he's okay with him staying at Renee's.
Despite all the drama, Sydney has a playdate with Amy. Julia's way of fixing the problem was to tell Amy's mother that she got her Amy confused with another Amy in the class. Joel breaks the news to Julia that the other Amy's mom is not happy about this turn of events. Julia seems to be doing more damage than good for Sydney's social life at school. The next morning, Adam pays Sarah a visit to apologize for his behavior the day before. He does reiterate that there should be some boundaries between what personal information gets shared at the office. With that, Adam tells Sarah to get dressed for work. He's not letting her quit.
Crosby, Renee and Jabbar drop Jasmine off at the airport as she leaves on her four-week adventure in Europe. It's tough to say good-bye, but Jabbar is in good hands with both Renee and Crosby to look after him. After a long day at the office, Adam arrives home to an empty house. Kristina has left him a note: she took the kids out to dinner so he could have a quiet house all to himself for the evening. After sitting down for a moment, Adam gets up and heads out to meet them for dinner.