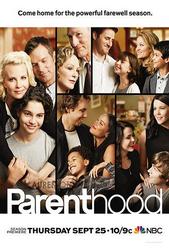 TV Info
---
Episode Premiere
March 16, 2010

Distributor
NBC

Genre
Drama

Show Period
2010 - 2015

Production Company
Imagine Entertainment, Universal Media Studios


Cast and Crew
---
Director
Lawrence Trilling
Screenwriter
Jeff Greenstein
Main Cast
Additional Cast
Synopsis
---
Max does his best to concentrate while taking a test, but he just can't keep his attention away from the classroom's large, bubbling fish tank. When his pencil tears into his paper, he's overwhelmed with frustration, and leaves his seat to stare at the fish, ignoring his teacher. Jasmine drops off Jabbar at Crosby's houseboat. Jabbar has brought his board games to play while Jasmine attends her first dance audition in many years. Crosby reassures Jasmine that she's a great dancer, and she'll do fine. Once she's gone, he offers Jabbar a drink--whiskey or beer?
Julia stops by the YMCA where Sydney and Joel take a swim class, also attended by hot Raquel and her daughter Harmony. Julia asks Sydney to demonstrate her swimming, and is disappointed when all her daughter does is blow bubbles. Sydney could do that when she was two! Joel claims it's all about getting acclimated and feeling safe, as Sydney draws Julia's attention to Raquel, looking hot in a bikini and sporting a new tramp stamp tattoo, a Tibetan character which means "abundance." Having heard about Max, Raquel climbs out of the water to gift Julia with a Tibetan prayer stone to give to Adam, for "comfort and good luck."
Adam takes an emergency call from Sullivan Elementary. It's not long before he and Kristina are surveying the broken fish tank. Max has been expelled. Meanwhile, Sarah stops by Berkeley Coffee to see Jim. Jim has obviously told his co-workers about Sarah, who fawn over her with free coffee. Sadly, Sarah has come to break up with Jim, armed with a boatload of excuses. It's not him, it's her. Jim has heard this song before, and obviously, so have his co-workers. Sarah quickly retreats to her car, which won't start. When her cell phone fails to work, she re-enters the coffee shop to ask to borrow the phone, but the cold stares tell her that she's not welcome.
Zeek and Sarah watch as the Chevette is towed into the driveway. Zeek suggests that they work on it together, just like the old days, but Sarah has already done all the work she can; the Chevette may be a goner. On the way in from school, Drew asks about the car. When Sarah insists that she and Zeek can fix it, Drew gets snarky, commenting that he better get used to taking the bus.
Haddie bursts through the door triumphant--her soccer team won their game and they're going to the finals! Adam and Kristina apologize for missing the game, and Adam asks for the date of the finals, but Haddie knows something's wrong. When Max admits that he got kicked out of school, Haddie comforts him. It's their loss. Besides, that school sucked.
Candy Land genius Jabbar wins yet another game against Crosby. With another six hours to go before Jasmine returns, Crosby isn't that excited about more board games or Sponge Bob, and Jabbar isn't excited about watching ESPN. Crosby get a bright idea--they can go for a car ride! That's what Zeek used to do when he was a kid. Pretty soon, Jabbar is munching on a candy bar and getting a little queasy as Crosby hurtles down the twistiest streets. Jabbar is just remembering that his mom won't let him eat chocolate because he's lactose intolerant when he throws up in the back seat.
Agitated about Max's future, Adam and Kristina meet with Dr. Pelican to explain that Max got kicked out of school. They've looked into a few alternatives, and the school they've heard most about is Footpath Elementary. Pelican agrees that it's a good fit for Max, but it's very hard to get into and very expensive. They'll have to contact Dr. Sam Robertson. Kristina has already called several times. Will Pelican call on their behalf? Adam and Kristina promise to sit in his waiting room until he does...
Blowing bubbles in the bathtub, Sydney tells Julia that she's swimming. Julia's concerned that Sydney still doesn't know what swimming is after five lessons, but Joel's not. Recalling her days as a high school swimming champion, Julia tells Sydney that she's not swimming, then notices magic marker on Sydney's wrist. It's a felt-tip tattoo, just like Raquel's.
Crosby stops by Adam's for advice--how do you clean the stench of kid puke out of car upholstery? And how does Adam do the kid thing? It's stressing Crosby out. Jabbar's coming over again tomorrow, and he'll have to bring him to work. Adam tells Crosby to man up and deal with it, take responsibility for his son. Crosby wants to know what makes all the hard work of parenting worth it. Adam explains it's the connection, the bond of family. Crosby's not sure he's connected to Jabbar, but Adam promises him he will be.
Sharing a small room and a single bed is a nightmare for Amber and Sarah. They wake up in the middle of the night fighting for space. Amber declares that tomorrow she's going to ask Grandpa if she can sleep in his office. Sarah refuses to allow it. Disgusted, Amber wants to know why Sarah is always so weenie around Grandpa when she's usually so ballsy?
Julia stops by Adam's office for a quick chat about Sydney's "Zen" swim class. Julia was a great swimmer - doesn't she get a say in teaching her daughter to swim? Adam reminds Julia that she doesn't have to choose between being a mom and having to work. She may not be able to be there all the time, but she can maximize what time she has. Julia should teach Sydney to swim; they'll remember it the rest of their lives! Pumped up, Julia hugs Adam, and rushes out, then rushes back to give him Raquel's Tibetan prayer stone.
Sarah is checking out the box of condoms in Zeek's desk drawer when Camille steps into the office. Jim called and they had a great chat. Sarah can't believe it--she just broke up with him! It's all about Camille disrespecting Sarah's choices. If she had married Jim, her life wouldn't be so screwed up. Telling Sarah not to be oversensitive, Camille offers to buy her a new used car, but Sarah won't stand for it. Meanwhile, Adam and Kristina visit Footpath Elementary and peek into a classroom. When they spy a kid in a sailor suit, they realize this school may be the perfect place for Max.
Adam and Kristina meet with Footpath principal Dr. Sam Robertson. Too high functioning for a special needs program, Max is a perfect fit for Footpath, but the school is full up and not accepting new students. The Bravermans should try again in September. Desperate, Adam and Kristina play hard ball, and manage to convince Robertson to at least meet with Max and reserve her final decision until then.
Julia takes a break from work, dons her racing suit, and dives into the YMCA pool during Sydney's swimming class. Sydney is amazed--Mommy is just like a fish! Julia's going to teach Sydney to swim like a fish, too. Depositing Sydney at the edge of the pool, Julia asks her to trust that nothing bad will happen and swim to her. Scared, Sydney balks, then lets go and sinks. Worried, Joel closes in, as Sydney kicks to the surface and screams for her father. Julia is delighted that Sydney succeeded in swimming, but Sydney, Joel and all the other moms think they just witnessed a near drowning.
Sarah and Zeek walk through the junkyard reminiscing about old times and admiring the wrecks. Sarah tentatively asks if she can sleep in Zeek's office. When Zeek claims the office is moldy, Sarah asks about the condoms in his drawer. Zeek doesn't want to talk about it. Back at the pool, Julia realizes that Joel is mad at her. Julia thinks she can just pop in and pop out and have everything the way she wants it. She should have told him that she was going to try to teach Sydney to swim. Chastened, Julia apologizes.
At work, Crosby shows Jabbar the mixing board, which looks like a giant, fun toy with lots of levers. When the band arrives to discuss their session, Crosby assures them that Jabbar won't impinge. Crosby sets up as the band starts running through their first song, leaving Jabbar to his own devices in the control room. Jabbar starts playing with the levers on the board and breaks one off! Unable to fix it, and sure that he's about to get in big trouble, Jabbar takes off.
Drew finds Sarah under the hood of the Chevette. Maybe she should let Grandma and Grandpa buy her a car... Sarah refuses and explains. In this family, people take care of themselves and don't expect others to help. Adam, Kristina and Max wait for their appointment with Dr. Robertson. Max wants to know if something's wrong, because Adam and Kristina keep repeating themselves, like they always do when something's wrong. Adam pulls out the Tibetan prayer stone when Max is called into Robertson's office.
Freaking out, Crosby finds Jabbar in the studio's kitchen with Katie, who's returned early from her trip. She's making chocolate milk for Jabbar, which Crosby realizes the instant before it hits Jabbar's tongue. When he explains that Jabbar is lactose intolerant, Katie looks quizzical. Crosby claims he doesn't know who Jabbar is; one of the girls up front asked him to babysit. Jabbar looks like he might cry.
Sarah shows up at Footpath with coffee to support Adam and Kristina while they wait for Max. When Max's appointment finishes, Sarah asks if Haddie won her game. Adam and Kristina guiltily realize that they forgot all about the game and rush to the field, where Haddie sits alone, after her team won the finals. Adam and Kristina apologize profusely, but Haddie just wants to go home. That night, Sarah finds Drew working under the hood of the Chevette. Touched, she grabs a wrench and starts working with him.
Adam knocks on Haddie's bedroom door. Some days you just blow it, and he did that today. He's really sorry. It's been a rough couple of weeks. Haddie corrects her father--it's been a rough bunch of years. Max's needs are never ending and ever since she can remember, it's been all about him. Stunned, Adam realizes that Haddie's absolutely right. He picks up her discarded trophy, and tearfully tells her that he's so proud of her, in so many ways.
Julia returns home late from work. Sydney runs up with a flip camera to show Mommy some video--Sydney is swimming for real! Even though she missed it, Julia is thrilled, and Joe admits that Sydney wouldn't have been able to do it without Julia's "torture." Crosby and a downcast Jabbar return to the houseboat to wait for Jasmine. Crosby admits that he was scared; the stuff he said to Katie was stupid. Jabbar forgives him, pulling the mixing board lever out of his pocket. Realizing this is why Jabbar ran off, Crosby pulls him in for a hug. He would have done exactly the same thing.
Sarah cries as the tow truck hauls off the Chevette to kingdom come. She's had so many good memories in that car... Zeek admits that he and Camille aren't doing that well. He's been sleeping in the guest house, but that's selfish, and Sarah can go ahead and move in. He's going to fix things with Camille. Later, Sarah stops by Jim's house, looking vulnerable. Jim asks if Sarah likes lasagna and invites her in.
Adam and Kristina wake up at the crack of dawn on the morning when Dr. Robertson is slated to call them about Max's fate. They're not sure they'll be able to survive the waiting. Luckily, the doorbell rings. Julia, Joel and Sydney summon the entire family to the pool--Adam can bring his cell phone, so he won't miss the call. Everyone is splashing around and having fun when Adam's phone rings. Max got into Footpath! The whole family cheers. Later, Adam and Kristina drop off Max for his first day at Footpath, relieved to have gotten over the first of many, many humps.