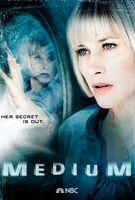 TV Info
---
Episode Premiere
May 18, 2009

Distributor
CBS, NBC

Genre
Drama

Show Period
2005 - 2011

Production Company
Picturemaker, Grammnet, Paramount Network


Cast and Crew
---
Director
Patricia Arquette
Main Cast
Additional Cast
Synopsis
---
In Allison's dream, she sees Cynthia Keener meet a masked man to pay ransom. The kidnapper then lets Cynthia know that he buried Bethany alive, the girl she has been looking for. He tells Cynthia that Bethany has about five to six minutes of air left before she dies. Cynthia gets to her and rescues her in time. Allison wakes up from the dream. The next morning, while Joe gets dressed to meet his boss Terry, Allison is busy researching the story from her dream.
Allison calls the prison to arrange a meeting with Cynthia Keener, who is currently serving time for murdering her daughter's killer. While on the phone, Allison overhears a conversation in Devalos' office. A man, Christopher Sipes, is there to report his wife missing. A little later, Allison receives a call back from Cynthia. Allison lets her know that she was in her dream, but won't tell her anything. Allison forces Cynthia to agree to a visit.
Joe meets with Terry, who breaks the news to Joe that he has sold the company. Terry explains that he needed to get the company off his books and out of courtesy he gave Joe an opportunity to buy it back. When the deadline passed, Terry had to look at other buyers. The company that purchased it is based in San Diego.
Allison visits Cynthia in prison. Allison asks her about Bethany and her kidnapping. Allison mentions she saw the masked man in her dream and the bite mark scar left on his hand. Cynthia lets Allison know that Bethany fought back when he buried her alive and sunk her teeth in as deep as they would go. She wanted to permanently mark him, as he had her.
Cynthia fills Allison in on what she knew of Bethany's whereabouts, but it wasn't much. After the kidnapping, Bethany's father had committed suicide; mother died not long after. Bethany was bounced between foster homes, but nothing stuck. After their brief conversation, Cynthia asks Allison to not visit her again.
In another dream, Allison sees Bethany enter a hotel room. She's working as an escort. When she meets the man in the room, she notices his hand -- imprinted with the bite mark. The next day, Allison pays Cynthia another visit at the prison despite her request for no visits. Allison tells Cynthia about her dream and says she needs to find Bethany. Because the dream was unfinished, Allison is unsure if the man recognized Bethany.
Despite Cynthia's anger over Allison's visit, she lets Allison know that she called several people asking about Bethany, but came up empty handed.
Back at his office, Joe sits on the floor watching as all of the furniture is removed and he is left with nothing. Just as he is about to leave, a young gentlemen walks in. Simon is the owner of the company that just purchased Joe's company. He is there to offer Joe a job... in San Diego. Simon would rather have the guy that started the project see it through, than hire a cheaper, not-as-qualified engineer to do his work. Joe is intrigued.
Scanlon pays Allison a visit. He brings her all the reports on Bethany's kidnapping years before. Allison reviews the files and finds the ransom note that was sent to her parents. Scanlon also lets her know that Christopher Sipes, who reported his wife missing a few days before, called and dropped the issue, saying the wife had gone out of the country and contacted him. It was a mistake.
Joe breaks the news to Allison that his new boss has asked that they relocate to San Diego. Allison is not pleased with this development. Joe is pushing her to accept that there might be some sacrifice involved, especially at a time when no one is getting offered a job, and that he needs this. But they both agree that the family can't move to San Diego.
Allison dreams of Christopher Sipes. He is on the phone with Devalos, letting him know that he's heard from his wife, who has gone to Mexico for personal time. However, Allison sees him holding a ransom note similar to the one in Bethany's kidnapping file. Allison goes to Devalos the next day with the information from her dream. She thinks that Christopher Sipes' wife was taken by the same man who abducted Bethany years before.
They pay him a visit. Christopher is adamant that his wife is fine and will not discuss it with them any longer. He insists that she is not missing. Allison disagrees with him. When Allison gets home that night, Joe is packing for a trip to California to meet with Simon, who wants to make him another offer.
Allison dreams of Christopher and his wife. He meets the masked man in the desert, drops the ransom and finds a shovel with a note that his wife was buried an hour ago -- the same situation that Cynthia walked into with Bethany years before. Only in this one, the masked man shoots and kills Christopher before he can do anything. The next day, Allison pays him another visit to warn him of going to pay the ransom.
After an unsuccessful visit with Christopher, Allison gets back in her car and receives a collect call from the women's prison. Cynthia wants to let Allison know that Bethany reached out to her; she had gone off the wagon and started taking drugs again, but is now back on track. Joe, in San Diego, meets with the company's new owner, Simon.
That night, Joe tells Allison about Simon's proposal to work in San Diego three days a week and telecommute the other day. Allison is really happy for Joe, but sad that he isn't going to be around for those they days a week and all the things he is going to miss. They agree to take this opportunity and keep Joe employed.
In Allison's dream, Bethany is back in the hotel room. This time Allison sees that guy who hired her is Christopher Sipes. Bethany gets him to go back into the shower while she looks in his wallet for personal information, including his name. The next morning, Allison pays Cynthia another visit at the prison, only this time she's brought a change of clothes for her.
Allison tells Cynthia that Bethany did cross paths with her kidnapper. And that in revenge, Bethany has kidnapped Christopher's wife and plans to shoot him when he makes the ransom drop. Allison needs Cynthia's help to find the location in the desert where Bethany plans to kill him. Cynthia goes there and finds Bethany in all black, with a shovel.
Cynthia tells Bethany that they are surrounded by sharpshooters and the police. She also knows that Bethany would never bury another woman alive, after what happened to her. Cynthia tells Bethany that even though she killed her daughter's murderer, is doesn't take all the hurt away. She asks Bethany to give her the gun. Bethany wants Sipes to pay for what he did, but Cynthia eventually gets Bethany to surrender.
After Bethany is arrested, she tells the police where they can find Amy Sipes, who is unharmed. Allison lets Cynthia know that Devalos will be speaking at her first parole hearing as thanks for all she's done.