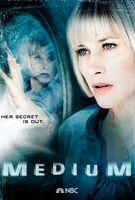 TV Info
---
Episode Premiere
May 11, 2009

Distributor
CBS, NBC

Genre
Drama

Show Period
2005 - 2011

Production Company
Picturemaker, Grammnet, Paramount Network


Cast and Crew
---
Director
Aaron Lipstadt
Screenwriter
Travis Donnelly, Corey Reed
Main Cast
Additional Cast
Synopsis
---
Marie awakes a vision of her own. She is in a school play about fruit and vegetable servings. As a pea pod, she forgets her line in front of the entire audience. The next morning, Bridgette is scaring Marie more by telling her horror stories from being in front of an audience. Just then, Allison feels faint and falls to the ground. Everyone is concerned.
Allison still goes to work. She meets Devalos at a crime scene. While he is telling her about the details and looking at the dead body, she passing out and remains unconscious. Devalos immediately calls for paramedics. Just as Allison passes out, a man in a hospital bed awakes.
Joe meets Devalos at the hospital after hearing of Allison's event. Just as Joe enters the hospital door, the man who awoke upon Allison's event leaves the hospital in a gown, no shoes with his IV pole. The doctor finally comes out to give Joe the news on Allison. Although she remains unconscious, there are no medical explanations for her condition. She just doesn't seem to be present.
Joe picks up the girls from school and takes them home. When they pull up to the house, the man from the hospital in his gown with his IV pole is standing in front of the house. Joe asks the girls to stay in the car while he goes to talk to him. The man finally leaves the yard after Joe asks him to several times.
After dinner, Joe is cleaning up in the kitchen when Bridgette tells him the man in the hospital gown is back in front of their house. Joe approaches the man asking to leave again. The man then tells Joe that he is his wife, that he is Allison. Just then, the doctor calls Joe to let him know that there isn't any change in Allison's condition.
After speaking to the doctor, Joe goes back outside to confront the man in the yard. He reads the man's hospital tag; his name is Todd Emmry. 'Todd' then gets aggravated and tries to get Joe to believe him that he is in fact Allison. He breaks down crying. The man doesn't respond to 'Todd' but does respond to 'Al.' Joe might actually believe him.
Joe decides to let the man stay in the house, despite Ariel's hesitation and concern with the other girls. Joe tries to explain, without going into detail, that 'Todd' needs a place to stay. Once the sleeping arrangements are settled, the girls lock themselves into their rooms.
That night, 'Todd' has a dream that he placed the body, from the earlier crime scene, into the hole in the woods. He awakes and goes to tell Joe. Joe helps 'Todd' with his IV and asks him to explain everything he saw again. They then go out to the living room to look up everything they can find on Todd Emmry on the internet. Apparently he too was in a coma in the same hospital as Allison, until the day before when he was listed missing from the hospital.
'Todd' grabs a pair of scissors and cuts a small sample of hair from his head. He asks Joe to take it to Devalos who had told Allison that the victim had several hair samples on his body. Todd thinks he might be the murderer and if so, his hair will be a match.
The next morning, Joe takes the girls out for pancakes in the morning while leaving 'Todd' to stay at the house. Bridgette tells Joe that Marie is worried if Allison doesn't come home she may not have her costume in time for the school play.
At the hospital, Joe visits Allison. Devalos, also visiting Allison, is confused when Joe hands him a hair sample. Joe asks Devalos to trust him and test the sample.
When the girls get home from school they find 'Todd' sewing a peapod costume for Marie's school play. Ariel, still hesitant, asks Marie to go to her room. That night, Joe knocks on his bathroom door where 'Todd' is taking a bath. Joe tells 'Todd' that he is going to have to take the girls to see Allison in the hospital. He's not going to be able to keep the coma under wraps for much longer.
Devalos pays Joe a visit at home. He lets him know that the hair sample was not a match for the ones found on the victim's body. However, they were able to ID the body; the victim's name was Porter Hayes. He was a PI specialized in divorce work. Before leaving, Devalos asked Joe if he recognized a picture of a man â�" Todd Emmry. Joe said he hadn't, but before Devalos could leave, 'Todd' walked out after hearing what Devalos asked.
'Todd' was taken back to the hospital. His wife, Samantha, pays him a visit, but obviously 'Todd' doesn't know who she is. Just as Samantha asks him if he remembers anything, 'Todd' mentions the name Porter Hayes. After being given a sedative to sleep, he has the same dream of dropping the man into the hole in the woods. But, this time, he sees Samantha, the wife, pointing a gun at him.
She then asks Todd to get into the hole with Porter, telling him to get comfortable. But before Samantha can shoot him, Todd grabs the gun from Porter's ankle holster and shoots at her. He then runs away. When he runs into the street, a car hits him which is what sent him into a coma in the first place.
'Todd' awakes startled from his dream, to realize that his wife Samantha injected an air bubble into his IV while he was sleeping. While he is coding, 'Allison' appears in the hallway with Joe. But, it's not Allison. Allison is Todd. Todd has appeared to accuse his wife of murdering Porter Hayes and attempting to murder him.
While Allison chases after Samantha Emmry in the hospital, she gets knocked out. But when she wakes up, she is actually Allison and Todd is back to being Todd.