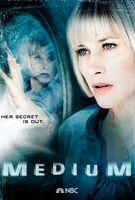 TV Info
---
Episode Premiere
March 02, 2009

Distributor
CBS, NBC

Genre
Drama

Show Period
2005 - 2011

Production Company
Picturemaker, Grammnet, Paramount Network


Cast and Crew
---
Director
Ronald L. Schwary
Screenwriter
Moira Kirland
Main Cast
Additional Cast
Darcy Rose Byrnes
Seth Isler
A.K. Murtadha
Synopsis
---
Allison Dubois dreams that Devalos is working at a drug store when Lynn, Scanlon's girlfriend enters. She tells Devalos that the pregnancy test she took is defective. The plus sign looked more like an equal sign and she wants another test. Devalos says it's her third test today and to face it, "Your eggo is definitely preggo." Lynn grabs the test and walks off, determined to find alternative results. Devalos tells Lynn she still has to pay for the "pee stick" even if she marks it with her urine. Allison wakes, amused.
During breakfast at the Dubois household, Bridgette doesn't want to go to the doctor for a routine checkup. Joe says they're all going since they now have health insurance that will pay for it. Bridgette scares Marie when she says that going to the doctor means getting shots. After Allison and Joe calm her down, Bridgette tries to barter toys for shots, an idea she got from television. Pun very intended... that idea gets shot down by Allison.
Councilman Leaming asks Devalos for help in finding his daughter Meredith, who's been missing four days. Meredith sent them an email saying she'd hit rock bottom and needed to get away. But, not to worry, she'll be back. Her husband, who got the same email, and her mother think she'll return, but Leaming says Meredith never went more than 48 hours without calling home with some crisis. Leaming doesn't want to go to the police since he's a councilman and Don, Meredith's husband, is a big time banker. He knows the press would get ahold of the story and sensationalize it.
Remembering her dream, Allison greets Scanlon with an amused look on her face. Scanlon asks her what that's about. Allison says she's just been thinking about him and Lynn. Scanlon briefs Allison on Meredith's history. Meredith married Don, whose daughter Phoebe needs a heart transplant. Don's first wife disappeared when she couldn't deal with their daughter's illness, and Meredith, who was the daughter's nurse, "took her place." Scanlon will check Meredith's credit card and phone records, but figures she's relaxing at a four-star hotel. Allison notes a photo of Meredith posing by her nice car.
Later at home, Allison tells Joe that while getting their shots, Marie smiled but Bridgette had a meltdown. Joe tells Allison the doctor thinks he's suffering from sleep deprivation because he fell asleep in the waiting room. Joe gently relays that the doctor thinks the cause is Allison's constant waking from her dreams and startling Joe from his sleep. Joe assures Allison it's not her fault, but when she wakes him and talks about her dreams he can't get back to sleep. The doctor suggests they sleep in separate rooms for a week. Allison worries that may become permanent if it proves effective.
Allison dreams about Meredith's car stopping on a dirt road. The trunk opens, revealing a person inside a duffle bag squirming to get free. Another person, unseen except for their arms, beats the person in the duffel bag with a bat until they go still, then drags the bag past a sign warning of a contaminated lake. After the splash, Allison wakes. She turns to talk to Joe, but he's not there. Meanwhile, Scanlon gets home in the middle of the night, tired. Lynn wakes and says with humor that she's had a bad night with morning sickness. Scanlon is distant, which Lynn notices.
Next morning, Marie wakes Joe to ask if he's getting a divorce. Ariel says Marie got the idea from Bridgette, who told her that her friend's parents divorced soon after the dad slept on the couch. Joe assures her that's not happening. Allison tells Joe about Devalos' party. Later, Allison and Scanlon visit the morgue after a badly decomposed body was pulled from the lake that Allison saw her dream. The body, estimated to have been there over two years, had a wedding ring on the finger engraved to Claire, Don's first wife who disappeared around that time.
Allison and Scanlon go to Don's house to talk to him about his two missing wives. Meredith's mother Louise answers, saying she can't see Scanlon's ID because she lost her glasses a few days ago. However, she'll take his word for it. Louise, convinced Meredith is fine, says she loves her but she thrives on attention like this. They meet Don and tell him about Claire's murder, which changes how they're investigating Meredith's disappearance. Don is cooperative and gives them permission to search his house, but says to tell Devalos that both women were taken "from me, not by me."
Later at home, Allison volunteers to sleep on the couch, saying they'll alternate. Allison dreams of Meredith arriving at Claire's house for work, bringing her coffee. Claire tells her that Phoebe had a hard night, then jokes that Meredith is too good to be true. Claire sips her coffee, then starts gasping for air. Meredith, unconcerned, tells Claire not to worry, that it will be over soon. Claire reaches toward Meredith for help and gets none. She falls off her chair as Meredith calmly washes out the coffee cup. Allison wakes with a start.
Next morning, Allison wakes to a very rested Joe cooking breakfast. She tells him about her dream. Joe wonders why Meredith would kill Claire. At their apartment, Lynn talks to Scanlon about his being distant. She sympathizes with his reservations about their unplanned baby, and that she doesn't expect him to marry her, but he needs to be there for her. She explains she's been getting to work early so she can slip behind her desk and avoid any questions. But, she asks that Scanlon not ask her to walk into Devalos' party, obviously pregnant, by herself.
Bridgette has a numb mouth after her trip to the dentist as Allison wonders where Meredith could be. Joe is confident she'll find her, then says Marie has requested that Allison sleep with her. Allison dreams about Meredith bringing a sickly Phoebe some milk to which she added vitamins to help her get well. Phoebe takes a few sips, then offers Louise the rest. Meredith quickly grabs it away, saying she doesn't want grandma to catch Phoebe's fever. Louise thinks that's odd, especially when Phoebe feels nauseous and says she always feels worse after she eats.
Louise meets with Allison and Devalos at the D.A.'s office at their request. Allison notes that Louise found her glasses. Louise says she never found them and had to buy new ones. After explaining her role in the department, Allison tells Louise about her dream and that they are learning more about Meredith as they go along. They ask if she encouraged her, or helped her get away. At that, Louise shuts down the meeting. But first, she asks Allison, as a mother, "What would one of your daughters have to do for you to say, 'I'm done, I can't protect her anymore.'"
At the station, Devalos asks Scanlon if he's coming to the party and gets an evasive answer. Devalos notes that Lynn is coming and asks if things are okay. Scanlon says everything is fine, but Devalos can tell it isn't. At home, Allison poses Louise's question to Joe only to see that he's nodded off. Apparently, Allison's constant waking isn't the problem.
Allison dreams of Meredith having tea at Louise's house. Meredith half jokes that her feelings aren't hurt that Louise is building a pool 15 years after she left home, for a girl who isn't really her granddaughter. Used to it, Louise takes Meredith's jab, then asks why Phoebe is constantly getting stomach problems when she has a heart condition. She suggests a second opinion and more tests. Meredith gets defensive and says no, then starts to become dizzy. Louise, painfully realizing her sociopath daughter was born with something "missing," suffocates her to death after she passes out.
Allison visits Louise's home and finds her overseeing the pool construction. She tells her about her dream and that she has to tell Devalos. Allison asks why she didn't go to the police. Louise says because Meredith is her daughter, and she had to protect Phoebe. This way, Meredith is still a loving mother and wife who is just gone. Allison admits she doesn't know where her body is. Louise, seeing she's conflicted, leaves her with the decision on whether to tell Devalos. The construction foreman hands Allison some broken glasses that he dug up and asks if she'll give them to Louise. Instead she pockets them.
At Devalos's party, Allison looks at the broken glasses. She's about to tell Devalos when he gets an urgent call. Lynn texts saying she's outside the party and, does he want her to wait for him? As Allison tries to tell Devalos about Louise, he ecstatically says they've found a heart for Phoebe. At that, Allison decides to keep Louise's secret. Lynn enters the party alone, she thinks, until Scanlon surprises her, wishing her congratulations. Allison throws away Louise's glasses. Joe says his new doctor prescribed naps instead of separate beds, which makes Allison happy.