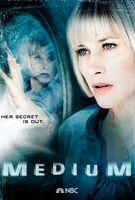 TV Info
---
Episode Premiere
April 14, 2008

Distributor
CBS, NBC

Genre
Drama

Show Period
2005 - 2011

Production Company
Picturemaker, Grammnet, Paramount Network


Cast and Crew
---
Director
Vincent Misiano
Screenwriter
Robert Doherty, Craig Sweeny
Main Cast
Additional Cast
Julieta Ortiz
Zak Lee
Greg Thirloway
Synopsis
---
FBI Agent Edward Cooper enters a hotel room with gun drawn, closing the door. Quietly, he seeks another man hiding in the room. When the maid knocks at the door, no one answers. She hears two gun shots, then looks down to see a red string and a growing pool of blood. Allison wakes up from her dream, convinced that Cooper is back in town. She knows that he's a killer of killers, but she's the only one who knows, and there's nothing she can do to prove it.
In the morning, Joe nervously prepares to pitch his idea for solar cell amplification to a venture capital company. After seeing Cooper on a local newscast, Allison waits for Scanlon in a parking garage. Cooper's in town to profile a serial killer who's been stabbing prostitutes, leaving a silver wedding band on each victim. Nina, another potential victim is being exhumed from her grave, and Scanlon points Allison to the cemetery.
Joe's presentation goes well, but when it's all over, Meghan Doyle tells him that the company won't fund his project. Cooper finds a silver wedding band on Nina's corpse. Van Dyke offers to act as Cooper's liaison for the investigation, promising to provide him with whatever he needs. Cooper spies Allison watching the proceedings and approaches her, sorry that she's no longer working for the DA's office. She tells him about her dream; once again, she believes he will murder a murderer.
Cooper claims that he only kills when the system fails to deliver justice, and asks Allison to provide a description of the man from her dream. When Van Dyke asks if Allison is a bother, Cooper calls him on his offer to provide whatever he needs. Cooper needs Allison. Back at home, Joe is surprised to learn that Allison is working with Cooper. She claims that Cooper promised not to kill this killer.
That night, Allison dreams of the man from the hotel room, pumping iron as he watches Cooper present his profile on TV, and getting angrier and angrier. The next morning, Cooper is happy when Allison confirms his profile. He presents a sketch of the serial killer based on Allison's dream to Van Dyke, who is none to happy to have her working in his office. Meanwhile, Meghan asks Joe to lunch, offering to fund his project with her own money.
After a long day of looking through mug books with no success, Allison knocks on Cooper's office door. He's not there, but she notices a red string, which he explains is his low-tech security system. She apologizes for not being more help, but Cooper assures her that he's weeks ahead of where he would be ordinarily. It's been a long time since Allison has been taken seriously in the DA's office, and it feels good. Cooper promises he would never ignore her talent.
Tired after a long night, Cooper returns to his hotel room, instantly on alert when he spies his red string on the floor. He draws his gun and enters his room, but when the maid knocks, he is shot twice and killed by the serial killer. Scanlon calls Allison, waking her up to report the news. Cooper's service weapon is also missing. Scanlon thinks the killer took it as a trophy.
Devastated that she got it all wrong, Allison is called to Van Dyke's office in the morning. She stops by Cooper's office, surprised to find him at his desk. He wants to get to work, but she informs him of last night's events - he's dead! Van Dyke brings Allison back to reality, informing her of her immediate termination. Later that night, Joe informs that Meghan offered him a deal, but only if he will give her He wants to get on with his life, but doesn't want to give up control. Allison advises him to wait until the right investor comes along.
Allison dreams of a young couple in the car. Going home after a date, they are just about to be broadsided by another car when she wakes up. Going to the kitchen for a glass of water, Allison runs into Cooper, who still wants to work with her on the case. Now that he's dead, he needs Allison's help to catch the killer, whom he claims looks nothing like her description.
In the morning, Scanlon informs Allison that a valet at Cooper's hotel spied a man matching Allison's sketch and got a partial license plate. She tells him her description was wrong according to Cooper, and persuades him to let her look at the mug books with Cooper standing over her shoulder. They identify a likely suspect, Donald Kessler. Meanwhile, Joe meets with Meghan to turn down her offer in person.
At home, Joe tells Allison that he signed Meghan's deal after all. She explained that nobody in his shoes gets even close to ownership. Allison and Joe decide to be officially happy about the deal. That night, Allison dreams about the aftermath of the car accident, which the young couple has survived. Cooper wakes her up, urging her to find Scanlon and go to a bar downtown immediately. There, they'll find the serial killer with evidence on his person.
Scanlon and Allison find the bar, but it's long been condemned. On the way home, they encounter a car accident. Allison insists that Scanlon pull over, recognizing the couple from her dream. The other driver, Julian Pierce is dead, and he matches Allison's description of the serial killer. Cooper's service weapon is found in his car, along with photos of the victims. Allison realizes that Cooper has been lying to her from beyond the grave. If they had found Pierce before now, he wouldn't have died in the car accident.
Cooper waits for Allison at home to apologize for lying, assuring her that he did so for the greater good. Had Pierce lived, he would have strangled a prison nurse four years in the future. Cooper wants to capitalize on their unique connection, asking Allison to help him in similar cases, but she refuses. She doesn't know how Cooper lost his way, but is sure that he'll end up in the same terrible place as Pierce.