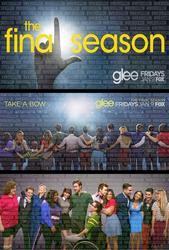 TV Info
---
Episode Premiere
January 31, 2013

Distributor
FOX

Genre
Comedy, Musical

Show Period
2009 - 2015

Production Company
Ryan Murphy Productions


Cast and Crew
---
Director
Ian Brennan
Screenwriter
Ryan Murphy
Main Cast
Additional Cast
Synopsis
---
Hunter Clarington assaults reporters when the media surrounds him and grills him about the steroid allegations against the Dalton Academy Warblers - but the scandal means New Directions is back in the running for Regionals, again needing to raise money for their travel budget. Tina proposes shooting a calendar featuring the sexy men of glee club.
Brittany welcomes Marley to her Internet show "Fondue for Two," and Marley is put on the spot when Brittany suggests she make her feelings for Jake known to him. Later Brittany and Sam discover they've earned, respectively, the highest and lowest SAT scores at McKinley (Brittany's high score was the result of creating random patterns out of the test answers). She consoles Sam by assuring him his great body will earn him a good future, while she makes ambitious academic plans for herself as "one of the smartest people in America."
Rachel lands a leading role in a student film but must commit to appearing in a topless scene - her divided natures literally argue out her options in her head as two Rachels, dueting on the Natalie Imbruglia song "Torn" until she ultimately decides to do it.
When Sam walks the halls in a Speedo, Blaine suggests he's overcompensating for his SAT flop. Sam conducts a "seminar" in which he offers tips and techniques for posing for the sexy calendar, warming the glee guys up with "bro-ga" - "yoga for bros" - and working out to a mashup of The J. Geils Band's "Centerfold" and Nelly's "Hot In Herre." Finn and the girls are impressed by the guys' efforts, but Artie remains dubious about the shirtless photos.
Sue accuses Finn of peddling smut and vows to stop the calendar, but Finn calls her a hypocrite and suggests that he might investigate the long-standing rumor about a McKinley coach who posed nude for a Penthouse centerfold. Sue denies it (but not without tremendously revealing details) and insists he'll never find such a thing, but the threat clearly gives her pause.
Kurt's disgusted by Brody's casual nudity around the apartment, but Brody claims he's just showing his support for Rachel's decision - which Kurt opposes, insisting serious actresses don't do nudity. Just a year ago she was fretting over losing her virginity to Finn, Kurt admonishes, "and now you're Slutty Barbie." But Rachel insists she's going through with it, with or without his support.
Hoping to redeem herself after her fainting incident at Sectionals, Marley rehearses a romantic duet - Christina Perri's "A Thousand Years" - with Jake, culminating in a kiss. She comes close to admitting she's in love with him but falters. Meanwhile, Finn taps Artie to scour through years of vintage porn for the Sue centerfold, and Artie expresses his fears about posing shirtless: "My body is broken, and I'm not really eager to start showing it off." Finn understands and praises Artie for his bravery in admitting to his body issues.
Catching Jake and Ryder in a shirtless pose-off, Tina and Kitty reveal the sexy scenarios envisioned for their calendar. Jake confesses that feelings are getting deeper between him and Marley, and Ryder insists that Jake tell her - getting "naked emotionally" is the key to her heart. Jake ponders his next move, singing Ne-Yo's "Let Me Love You (Until You Learn to Love Yourself)" in the choir room. Meanwhile, Quinn and Santana both strongly advise against filming the topless scene.
The glee guys shoot their calendar pics, but Sam starts stressing about maintaining his pumped-up look - he admits to Blaine that he believes he has to hook people in with his physical qualities because it's the only thing that makes him special. Blaine urges him to lighten up on himself - he'll still be loved.
Finn confronts Sue with an envelope containing the infamous issue of Penthouse, and she says she's surprised he's succeeded, as she thought she'd purchased every existing copy on eBay. She can't resist taking a look at herself but discovers the envelope only holds an issue of Highlights - Finn's tricked her into confessing the truth while he secretly taped her.
Sam's called into Emma's office after Blaine enlists her help to find schools that are receptive to students who didn't perform well on the SATs, as well as researching other options for Sam. She's even targeted scholarship opportunities - he just needs to write an essay about his experiences and accomplishments.
On the set, Rachel balks at dropping her robe for the topless scene. She asks for the rest of the crew to go topless too; to her surprise, they quickly doff their shirts. But she can't go through with it - she's simply not ready. The director kicks her off the set, and Rachel breathes easier, singing Sara Bareilles' "Love Song" with Quinn and Santana.
When Sam struggles with his personal essay, Blaine presents him with a video in which his friends reveal the many things they believe he's accomplished and what he's brought to their lives.
Sam appeals to Artie to help fill out the empty calendar pages, but Artie's wary of being the only one fully clothed - but when the calendar comes out, Sam himself is also dressed in his shots. Jake offers Marley a signed calendar, having written "I love you" on it. "I love you back," she tells him. Reenergized by the success of the calendar - which impresses Sue enough to deem Finn a "worthy adversary" - New Directions celebrates future possibilities with A Great Big World's "This Is the New Year."