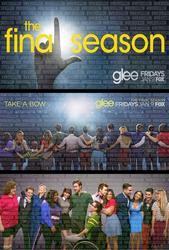 TV Info
---
Episode Premiere
November 29, 2012

Distributor
FOX

Genre
Comedy, Musical

Show Period
2009 - 2015

Production Company
Ryan Murphy Productions


Cast and Crew
---
Director
Bradley Buecker
Screenwriter
Russel Friend, Garrett Lerner
Main Cast
Additional Cast
Synopsis
---
Making her first return visit to McKinley for Thanksgiving, Quinn strolls across the auditorium stage and is joined by a guitar-playing Puck on a mashup of Simon & Garfunkel's "Homeward Bound" and Phillip Phillips' "Home," and gradually they're joined by more harmonizing alumni: Mike, Santana, Mercedes and Finn. "Home for the holidays," says Quinn, as the former classmates join in a group hug. "Just like we promised."
Marley recalls her longtime dream of stepping onto a stage to perform for a crowd - and her dream's about to come true at Sectionals. She vows not to let up on her weight-loss efforts before the competition, out of concern about letting down the glee club - especially Jake and Ryder.
At Breadsticks, the alumni note the absence of Rachel and Kurt, not expecting them to show. Later, Finn pairs them up with his students to help master whatever's necessary for Sectionals. Finn plans PSY's "Gangnam Style" to be the centerpiece of their performance, and he needs the students to up their game to compete with the Warblers. Jake admits to Ryder that he hung out with Marley, but offers to pull back if it will put them at odds again; though disappointed, Ryder doesn't object.
Kurt and Rachel agree that returning to Lima feels sad and unproductive, so they plan to indulge each other at their first New York City Thanksgiving away from home. Meanwhile, Mike leads the guys in their dance training: Ryder demonstrates smooth moves, but Jake's footwork isn't so hot - Ryder gets the dance lead. Quinn, Santana and Brittany offer an improvised example of their uncanny dance synchronicity for the newbies to The Supremes' "Come See About Me." Kitty reveals intense hero worship of Quinn, who notices that Marley seems under pressure. Kitty assures her she's been trying to help Marley, and she leads Quinn to believe that Marley's distraction stems from another case of a good girl dating a Puckerman - something Quinn knows all too well.
Brody admits he slept with Cassandra because Rachel took herself out of play in favor of Finn. When Rachel reveals that she and Finn are over, Brody vows not to hook up with Cassandra again and even offers to cook Thanksgiving dinner for Rachel and Kurt.
Quinn confronts Jake, believing he's pressuring Marley for sex. Jake insists he isn't, and Puck tells Quinn that she's out of line, but she warns them both: "The only way you're going to win Sectionals is if Marley's at her best, and if you keep distracting her, she's not going to be."
Learning that his Vogue.com boss Isabelle has no holiday plans, Kurt invites her to the "orphan Thanksgiving." She agrees, wondering if his renewed cheerfulness means traction in his breakup with Blaine. Kurt tells her he's texted Blaine to stop with the repeated apologies. Isabelle suggests that the easiest way for both of them to move on is if, one way or another, Kurt's able to accept Blaine's apology.
Santana tells Quinn she believes "pure evil" Kitty is responsible for giving Marley laxatives, but their old jealousies resurface, with Quinn mocking Santana for hiding out in cheer college and Santana scoffing at Quinn's new relationship with a much older, supposedly soon-to-divorce professor. Their sniping escalates into an exchange of slaps until Brittany walks in on them.
After Jake reveals his superior skills, having been trained in ballet, he admits he downplayed his talents because he didn't want to show up Ryder. He insists Ryder - who thinks Jake should take over the lead - keep quiet about it and let Jake help him train for Sectionals. Marley's exhausted and hungry, "but at least my dress fits" - and she continues popping laxatives to stay thin. Wade makes a return as Unique, defying his parents' wishes to keep his alter ego out of his performances and refusing to be ashamed of who he is and how he looks.
Just when Kurt's had his fill of Rachel and Brody's cutesy flirting while prepping their turkey, he's surprised by the arrival of a large group of Isabelle's friends: after a wet and challenging day, she's invited an entire party to liven up the celebration, which explodes with a raucous mashup of Scissor Sisters' "Let's Have a Kiki" and "Turkey Lurkey Time" from the Burt Bacharach/Hal David musical "Promises, Promises."
The Warblers open the Sectionals competition with dynamic performances of Flo Rida's "Whistle" and One Direction's "Live While We're Young" - and it's so good that Marley's more anxious than ever. Will joins Emma and Sue in the audience, and just before New Directions takes the stage, Blaine gets a call from Kurt, who tells him he believes he's sorry and is trying to forgive him but isn't there yet. Kurt can't stand not talking to Blaine, though, and asks for a mature heart-to-heart at Christmas time. Blaine is tearful and thrilled.
Jake tries to calm Marley's frazzled nerves as she admits she hasn't slept in days and is terrified of letting everyone down. Ryder unconvincingly fakes an injury, hoping to get Jake to replace him as the dance lead. Ryder persuades Jake that they each need to give their all for the group to win, and that means Jake should take the top spot. Jake agrees, promising Marley, "You're going to kill this." The glee club's high-energy "Gangnam Style" routine does indeed impress the audience - but ends on a tense note when Marley unexpectedly collapses onstage.