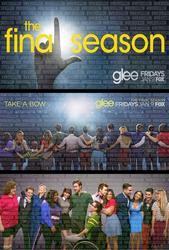 TV Info
---
Episode Premiere
September 13, 2012

Distributor
FOX

Genre
Comedy, Musical

Show Period
2009 - 2015

Production Company
Ryan Murphy Productions


Cast and Crew
---
Director
Brad Falchuk
Screenwriter
Ryan Murphy
Main Cast
Additional Cast
Synopsis
---
In her first dance class at the New York Academy of Dramatic Arts, Rachel is intimidated and insulted by her demanding, trash-talking instructor, Cassandra July. When Rachel stumbles, Cassandra makes it clear she thinks Rachel sucks.
At McKinley, the returning New Directions students are basking in newfound popularity after their Nationals win: Artie's dating a Cheerio, Sam's swarmed by admirers, and a diva-like Tina has a freshman personal assistant (although she's down following a breakup with Mike Chang after their romance went long-distance). The big question on everyone's mind: Who will be the glee club's "New Rachel"?
Lonely after receiving no word from the Army-enlisted Finn in weeks, and tired of being teased for her elaborate grooming routine, Rachel's taken to wee-hours primping in the coed bathroom, where she encounters a hunky, shower-singing Brody Weston. A junior who's majoring in musical theater, Brody believes Cassandra's tough demands pay off, and he reminds Rachel that she's enrolled because she's among the best of the best.
Aimless Kurt visits McKinley, meets Sue's baby daughter Robin (named to evoke hope, springtime and "my favorite dead Bee Gee"), and encounters Sue's new Cheerio captain and "head bitch," Kitty. Wade Adams, aka Unique, transfers to McKinley and joins New Directions, but his presence only serves to fan his teammates' competitive fire. They plan a secret performance showdown in which Artie will determine the New Rachel -- and they'll present the winner to Will.
As Kurt struggles with his job waiting tables at the Lima Bean coffee shop, sophomore Marley Rose dreams of joining the glee club. When Wade wears partial drag makeup to lunch, the boys fear he could upset the fragile popularity they're enjoying. As Kitty and some jocks mock the overweight lunch lady, Artie caves in and joins them -- upsetting Marley, who hides the secret that she's actually the lunch lady's daughter. Her mom has been pretending they're not related and sweetly sews designer name labels into Marley's bargain-priced clothing, hoping to help her fit in better at McKinley.
Marley auditions for New Directions, impressing Will but making the glee veterans feel even more threatened. Another glee aspirant, Jake, is cut off by Will before he finishes, leading him to angrily knock over a music stand and storm off.
The show choir roster is posted: Marley's in, Jake is not. And Artie has chosen the New Rachel: it's Blaine, with runner-up Brittany -- a choice that greatly irritates Tina and Wade. Will introduces Marley to the glee club, but after Marley stumbles on the designer name when Sugar admires her top, Sugar suspects she's hiding something.
Blaine makes Kurt realize that staying in Lima is a mistake -- he should head to New York now rather than wait for a second shot at NYADA. Meanwhile, when the glee kids again join in mocking Marley's mom, she reveals the truth and expresses her disappointment: "I thought you guys were different."
Back in New York, a supportive Brody inspires Rachel to stand her ground against Cassandra, and Rachel vows she'll land on top. Meanwhile, Kurt's dad, Burt, provides an emotional farewell as he urges Kurt to live his New York dreams.
Sam apologizes to Marley: he assures her that the glee club isn't about labels. The other New Directions students admit that their rare taste of popularity briefly went to their heads. Then Kitty and her football jock flunkies -- who refuse to accept Wade or Marley into their cool group -- disown the entire glee club, sealing the deal by slushie-ing everyone.
Will meets with Jake after learning that he's Puck's half-brother -- Puck's unaware of Jake's existence -- and he explains that he cut Jake off because he'd already decided Jake should be in New Directions. But Jake turns down Will's offer.
As Marley performs the lead on her first number and clearly establishes herself as the New Rachel, Rachel herself is breaking down, tearfully calling Kurt to tell him she's not doing OK. When Kurt suggests that maybe a new roommate might help, she turns to see that he's arrived in New York.