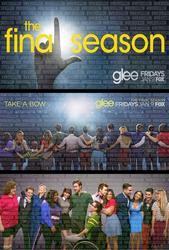 TV Info
---
Episode Premiere
June 01, 2010

Distributor
FOX

Genre
Comedy, Musical

Show Period
2009 - now

Production Company
Ryan Murphy Productions


Cast and Crew
---
Director
Elodie Keene
Screenwriter
Ian Brennan
Main Cast
Additional Cast
Synopsis
---
The glee club is surprised to see Vocal Adrenaline perform in the McKinley auditorium. Yet an even bigger surprise is seeing Jessie on stage. He announces that he's returning to his old group.
Artie explains to the others that this is a show choir tradition, and Vocal Adrenaline's "funkification" to psych them out. Yet they arrive at the choir room to find it's been toilet-papered. Sue tells them that she gave Vocal Adrenaline the keys to the auditorium. She plans to turn the choir room into a trophy annex when New Directions loses Regionals.
That night, Terri and Will meet to sign their divorce papers. As Terri leaves, she reminisces that Will is still the same sixteen year-old boy to her.
Will discusses the idea of regrets with glee. He thinks they will regret it if they allow Vocal Adrenaline to psych them out. Will suggests they retaliate. Puck knows it will come down to him and Finn doing the dirty work, and they guys let the air out of all the tires on the Vocal Adrenaline members' matching cars.
In Figgins' office, Puck and Finn admit to Shelby what they did. Figgins wants to expel them, but Shelby says she won't press charges as long as the boys replace all of the tires. Since the glee club doesn't have the money, Finn says that he and Puck will get jobs to pay for it.
Will admits to Sandy that he's stuck in a funk, and Sandy tells him that Vocal Adrenaline has a weakness -- they cannot do a funk number. Will assigns the glee club to make this a "funky town." Mercedes knows she can bring it, but to the surprise of everyone else, Quinn says she wants to get funky in song.
Rachel tells Will that she thinks Jessie had planned to break her heart right before Regionals to mess her up. This inspires Will, who flirts with Sue and asks for her advice on a funk number. Will seductively sings to Sue. Although she seems uncomfortable, Sue says his performance has bored her.
Finn and Puck start working for Terri at Sheets N' Things, and the boring job depresses them. While talking to Finn, Terri imagines that he is a young Will.
In her journal, Sue confesses that somehow Will has stirred romantic feelings in her. Will interrupts her writing with flowers to match her track suit's color. Then Will gives her a tub of CarboGels in her favorite flavor, Appletini. Will says that she cannot deny that they have chemistry together. Knowing that the cheerleading national championships are that weekend, he invites Sue to dinner on Wednesday.
Finn confides to Terri about the troubles with Vocal Adrenaline. At first she is annoyed to still have to listen to glee club woes, but then Terri calms down and acknowledges that she can't help herself killing other people's dreams. Terri wants Finn to be her "second chance." She plans to help him with his glee club assignment, and she also promotes Finn to assistant assistant manager over Howard Bamboo.
At glee club, it's Quinn's turn to get funky. She brings in the "Unwed Mothers Connection" to sing backup on her lead of "It's a Man's Man's Man's World." At the end of the song, everyone hugs Quinn -- except Mercedes, who stays seated.
Sue waits alone at the restaurant for her first date with Will, but he doesn't show. She goes to Will's apartment, and he says that cruelty is the only thing she understands so he gave her a taste of her own medicine.
Walking down the hall the next day, Will sees Santana crying and the other Cheerios behaving strangely. Kurt tells him that Sue won't get out of bed. If the Cheerios don't perform at Nationals that weekend, some of the girls will lose their college scholarships. Although Sue doesn't need another trophy, the Cheerios do.
Puck and Finn have Mercedes cameo on "Good Vibrations." Although it's a great performance, Will says it's not funk but a rap song. Quinn apologizes to Mercedes. Although she has experienced being a minority for nine months, Mercedes has had to put up with people making assumptions her whole life. Quinn asks why Mercedes isn't angry like she is. Mercedes can tell that Quinn isn't angry but hurt, and she just needs a safe place to let out her emotions. Mercedes invites Quinn to move in with her family.
Will goes to Sue's house to apologize to her, saying that her Cheerios need her. He convinces Sue to return to school and take her team to Nationals.
Meanwhile, Rachel gets a call from Jessie. She's ecstatic that he wants to meet her in the parking lot, but it's a trap. Vocal Adrenaline throws eggs at her, and Jessie breaks the last one on Rachel's face.
Puck gathers the guys to get revenge on Vocal Adrenaline, but Will stops them. He says violence isn't the answer and they just need to remind themselves that they're better. Will calls Jessie and to invite Vocal Adrenaline to come to the McKinley High auditorium.
At home, Will watches Sue being interviewed on television after winning Nationals. The interviewer asks her where she'll put her trophy and she says she has just the place. Suddenly, Will's doorbell rings, and the Cheerios carry in their huge trophy. Sue gives Will two options: she can build a bulletproof case for the trophy in the choir room. Or, he can kiss her with tongue. Will agrees to the second option, but Sue backs out at the last moment. The Cheerios trophy is wheeled into its choir room case.
In the auditorium, Vocal Adrenaline is forced to watch New Directions do the one thing they cannot -- sing a funk song. Jessie and his team are worried.